PearlSyema
First you have to create a database and add a privileged user to it from your cPanel -> MySQL Databases .
How to Connect to MySQL Databases via DreamWeaver Tutorial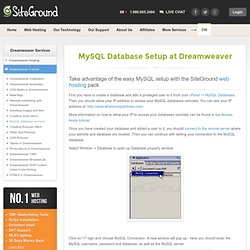 XAMPP is an easy-to-use multi-platform package that installs Apache, MySQL, PHP, phpMyAdmin, and a whole slew of other software useful for dynamic web development on your computer. Installation is painless, and configuration minimal.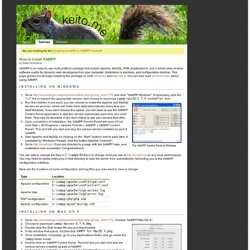 How to install XAMPP | keito.me
PHP,Free source code for the taking. Over five million lines of programs.
Using MySQL with ASP
I have been working with labs.9lessons application hosted at Amazon Web Services. Few days back I had enabled email notification system using Amazon Simple Email Service SMTP implemented with PHP Mailer class, I hope the following tutorial will help you to enable email notification system for your web projects.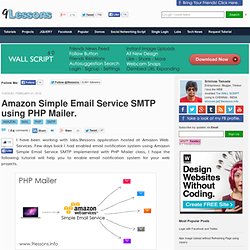 Amazon Simple Email Service SMTP using PHP Mailer.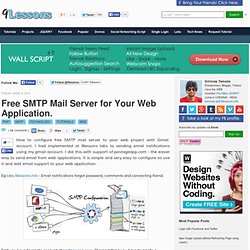 Free SMTP Mail Server for Your Web Application.
How to configure free SMTP mail server to your web project with Gmail account.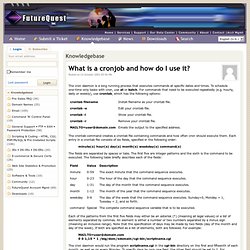 What is a cronjob and how do I use it? - Powered by Kayako Resolve Help Desk Software
The cron daemon is a long running process that executes commands at specific dates and times.
PHP Installation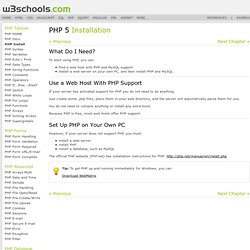 What Do I Need? To start using PHP, you can: Find a web host with PHP and MySQL support Install a web server on your own PC, and then install PHP and MySQL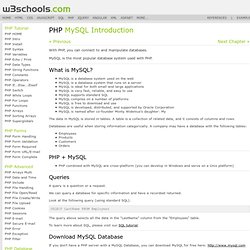 PHP MySQL Introduction
With PHP, you can connect to and manipulate databases. MySQL is the most popular database system used with PHP. What is MySQL?
DramaBicaraHati's Channel
tonton-home
Web Hosting Tutorial
Gmail to innowacyjne spojrzenie na pocztę e-mail, które zakłada, że poczta może być bardziej intuicyjna, efektywna i użyteczna (a czasem nawet zabawna). Gmail zapewnia: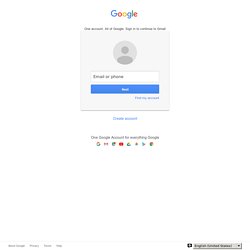 Visual Basic 2008 / 2010 Tutorials