Press Round Up Week of July, 16, 2012
ATL Food. Homegrown Wagyu Brings Japan's Best Beef to U.S. | Clifford A. Wright. Not many people eat a steak they love so much they become a rancher, but, in essence, that's what Robert Estrin did.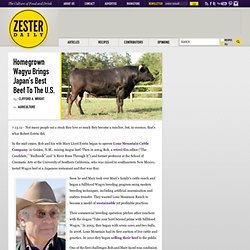 In the mid-1990s, Bob and his wife Mary Lloyd Estrin began to operate Lone Mountain Cattle Company in Golden, N.M., raising Angus beef. Then in 2004, Bob, a retired film editor ("The Candidate," "Badlands" and "A River Runs Through It") and former professor at the School of Cinematic Arts at the University of Southern California, who was raised in southeastern New Mexico, tasted Wagyu beef at a Japanese restaurant and that was that. Bob Estrin Soon he and Mary took over Mary's family's cattle ranch and began a fullblood Wagyu breeding program using modern breeding techniques, including artificial insemination and embryo transfer. They wanted Lone Mountain Ranch to become a model of sustainable yet profitable practices. My dinner with Nancy Pelosi#comments. My dinner at Aziza with Nancy Pelosi Radishes, carrots and turnips in edible soil Nancy Pelosi after our 3+ hour meal at Aziza The one request Nancy Pelosi's staff delivered to Mourad Lahlou at Aziza was that the Minority Leader of the House loves dark chocolate and that he should incorporate that ingredient in some of the courses, if possible.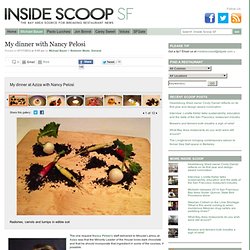 In fact, during our 3-plus hour meal, she talked of dark chocolate with the same zeal and studied approach as she did about the Defense of Marriage Act, the Affordable Care Act and her annual Mother's Day visit to troops in warring countries. By some miraculous quirk I still don't fully comprehend I had a one-on-one dinner Friday night with Pelosi, who has been one of my idols for her commitment to public service and for the way she's built and grown her career. Sometimes, 4Chan Users Do The Right Thing : The Two-Way. 4Chan is a cesspool.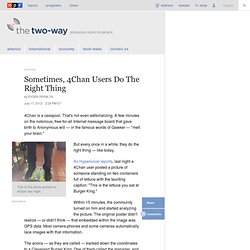 That's not even editorializing. A few minutes on the notorious, free-for-all Internet message board that gave birth to Anonymous will — in the famous words of Gawker — "melt your brain. " Smashburger Is Taking On In-N-Out. Our Money Is On Smashburger. The Smashburger was invented by the guy behind Stuffed Crust Pizza and the McGriddle.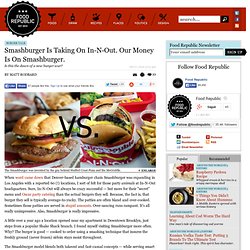 When word came down that Denver-based hamburger chain Smashburger was expanding in Los Angeles with a reported 60 (!) Locations, I sort of felt for those party animals at In-N-Out headquarters. Brooklyn Brine Opens a Shop for Its Preserves. Coping With Summer's Bounty of Vegetables. Whose Side Is the American Farm Bureau On? Produced in collaboration with the Food & Environment Reporting Network.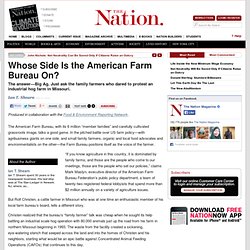 The American Farm Bureau, with its 6 million "member families" and carefully cultivated grassroots image, talks a good game. In the pitched battle over US farm policy—with agribusiness giants on one side, and small family farmers, organic and local food advocates and environmentalists on the other—the Farm Bureau positions itself as the voice of the farmer. About the Author. Greg Voakes: British Food Myths and the 'Summer of Sport' A summer of sport is being celebrated across the pond in the UK.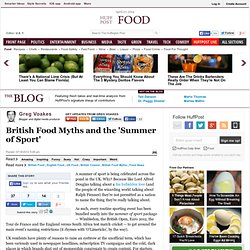 Why? Because like Lord Alfred Douglas talking about a his forbidden love (and the people of the wizarding world talking about Ralph Fiennes) they're not permitted as a nation to name the thing they're really talking about. Hot Or Not? Potato Board Tries To Un-Dud The Spud : The Salt. Hide captionTiny spuds decked out with cheese fondue sauce and a sprinkling of broccoli shavings at a dinner sponsored by the U.S.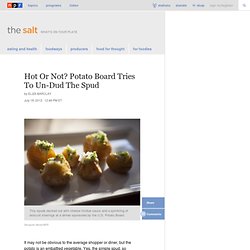 Potato Board. Benjamin Morris/NPR Tiny spuds decked out with cheese fondue sauce and a sprinkling of broccoli shavings at a dinner sponsored by the U.S. Potato Board. This Is Your Chicken on Drugs: Count the Antibiotics in Your Nuggets - Lifestyle. Forget a secret blend of herbs and spices: Your factory-farmed chicken is packed with hidden pharmaceuticals, too.
In a new study , researchers tested samples of feather meal— the poultry feathers that are ground up and added to pig, cattle, fish, and, yes, chicken feed. The scientists found traces of banned antibiotics, arsenic, and seven other household medications, from Tylenol to Prozac. Take a big bite, America—this is your chicken on drugs. Researchers chose to examine feather meal because—much like human fingernails—chicken feathers readily absorb the chemicals and drugs birds consume. The study, which was conducted by researchers at the Johns Hopkins Center for a Livable Future and Arizona State University, analyzed 12 feather meal samples from the U.S. and China. Mexicocina in the South Bronx - Restaurant Review. Bite-size foods are more rewarding, suggests study.
Smaller pieces of food are more 'rewarding' and lead to a greater feeling of fullness than one large piece of food with equal energy values, say researchers.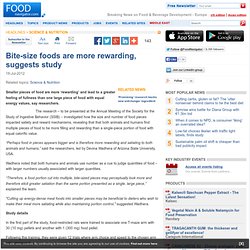 The research – to be presented at the Annual Meeting of the Society for the Study of Ingestive Behavior (SSIB) – investigated how the size and number of food pieces impacted satiety and reward mechanisms, revealing that that both animals and humans find multiple pieces of food to be more filling and rewarding than a single-piece portion of food with equal calorific value. "Perhaps food in pieces appears bigger and is therefore more rewarding and satiating to both animals and humans," said the researchers, led by Devina Wadhera of Arizona State University, USA. Wadhera noted that both humans and animals use number as a cue to judge quantities of food – with larger numbers usually associated with larger quantities.
Why I Talk to Americans about Food. Atera in TriBeCa.
---