Editeurs d'Instruments de musique Virtuels
POLYEDRIC. Audio Applications. SPECTRASONICS. Omnisphere - Power Synth This epic 'Power Synth' breaks completely new sonic ground by combining a wide variety of hybrid realtime synthesis techniques, an epic library of remarkable 'Psychoacoustic' sounds, and many innovative features that have never been seen before in any hardware or software synthesizer....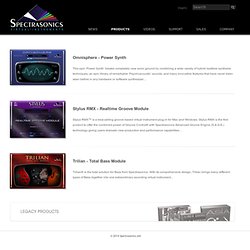 Stylus RMX - Realtime Groove Module Stylus RMX™ is a best-selling groove-based virtual instrument plug-in for Mac and Windows. Prominy. Ueberschall. Propellerhead. Cakewalk. Modartt company. Conception of the physical model by Pr.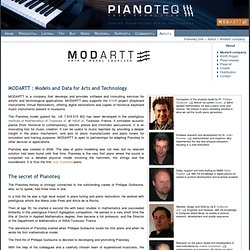 Philippe Guillaume. Before his current career within applied mathematics, he was a piano tuner and restorer. ReFX. Synthogy. Gforce. Synapse Audio Software. Izotope. Rob Papen. FXpansion. Arturia. Ableton. LinPlug. Zicinf annuaire de logiciels. Nord. Tone2. Vir2. Spectrasonics. Virsynth. Angular Momentum. Native Instruments. Steinberg. KVR. The Wizooverb W2 "High-End True Stereo Room Emulator" includes 15 HDIR (High Definition Impulse Response) models providing acoustic fingerprints of excellent sounding rooms with a precision and clarity apparently only possible with this "ground breaking" technology.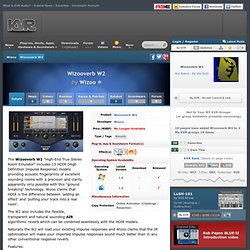 Wizoo claims that HDIR is the difference between 'adding an effect' and 'putting your track into a real room'. The W2 also includes the flexible, transparent and natural sounding AIR algorithmic reverb which can be combined seamlessly with the HDIR models. Naturally the W2 will load your existing impulse responses and Wizoo claims that the IR optimization will make your imported impulse responses sound much better than in any other conventional response reverb. Features:
---