Editeurs d'Instruments de musique Virtuels
Introducing Virtual Grand Piano 2.1 VGP 2.1 offers stunningly realistic piano presets for every possible recording genre, emulating famous piano recordings from the 1950's until today. It plays like a real piano with perfectly authentic touch from every keyboard - just choose your keyboard from a list. There is complete control of all recording parameters in this 1960 Hamburg Steinway Model "B" virtual instrument.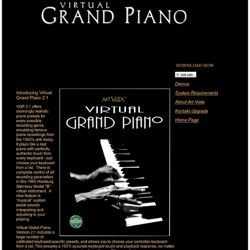 Virtual Grand Piano
ZEROGcs - Products
POLYEDRIC
Audio Applications
Omnisphere - Power Synth This epic 'Power Synth' breaks completely new sonic ground by combining a wide variety of hybrid realtime synthesis techniques, an epic library of remarkable 'Psychoacoustic' sounds, and many innovative features that have never been seen before in any hardware or software synthesizer.... Stylus RMX - Realtime Groove Module Stylus RMX™ is a best-selling groove-based virtual instrument plug-in for Mac and Windows.
SPECTRASONICS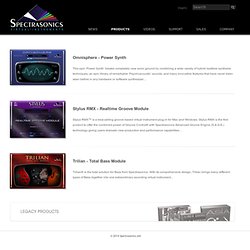 Prominy
Ueberschall
Tone2
IK Multimedia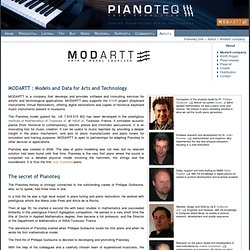 Conception of the physical model by Pr. Philippe Guillaume . Before his current career within applied mathematics, he was a piano tuner and restorer.
Modartt company
reFX
Synthogy
Gforce
Synapse Audio Software
Rob Papen
FXpansion
Arturia
Virtual Grand Piano
LinPlug
Zicinf annuaire de logiciels
New Orchestral sounds added! 2013-03-11 We're proud to present some brilliant new additions to the Nord Sample Library from the The Sonatina Symphonic Orchestra , a Creative Commons-licenced sample library featuring a great symphonic instrument sounds. In cooperation with Sonatina founder Mattias Westlund we've selected wide range of quality sounds from the library covering Strings, Brass, Percussion and Woodwinds - over 50 sounds in total for you to enjoy! Listen to some sound examples here or hop over to the respective Brass , Strings and Percussion sections to download the sounds!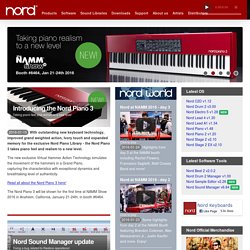 Nord
Tone2
Vir2
Virsynth
Angular Momentum
Native Instruments
The Wizooverb W2 "High-End True Stereo Room Emulator" includes 15 HDIR (High Definition Impulse Response) models providing acoustic fingerprints of excellent sounding rooms with a precision and clarity apparently only possible with this "ground breaking" technology. Wizoo claims that HDIR is the difference between 'adding an effect' and 'putting your track into a real room'. The W2 also includes the flexible, transparent and natural sounding AIR algorithmic reverb which can be combined seamlessly with the HDIR models. Naturally the W2 will load your existing impulse responses and Wizoo claims that the IR optimization will make your imported impulse responses sound much better than in any other conventional response reverb. Features: HDIR standard : High-end room emulation with unprecedented quality, definition, clarity and spatial accuracy.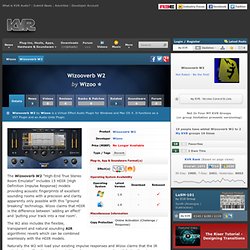 KVR