Editeurs d'Instruments de musique Virtuels
POLYEDRIC
Audio Applications
Omnisphere - Power Synth This epic 'Power Synth' breaks completely new sonic ground by combining a wide variety of hybrid realtime synthesis techniques, an epic library of remarkable 'Psychoacoustic' sounds, and many innovative features that have never been seen before in any hardware or software synthesizer.... Stylus RMX - Realtime Groove Module Stylus RMX™ is a best-selling groove-based virtual instrument plug-in for Mac and Windows.
SPECTRASONICS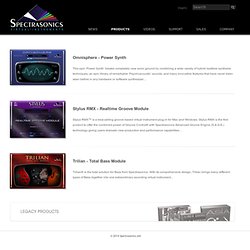 Prominy
Ueberschall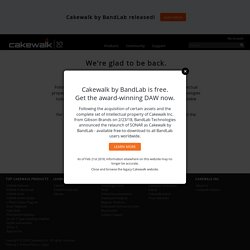 My Store Account | Product Registration SONAR X3 Producer SONAR X3 Studio SONAR X3 Music Creator 6 Touch Z3TA+ 2 Latest News | <div class="home-no-js"><a href="/News/default.aspx">JavaScript is disabled, click here for the latest Cakewalk headlines</a></div> Mix Month Get pro mixing tips designed to help you craft better mixes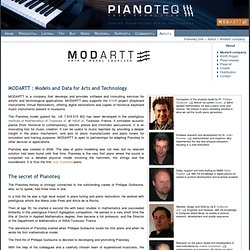 Conception of the physical model by Pr. Philippe Guillaume. Before his current career within applied mathematics, he was a piano tuner and restorer.
Modartt company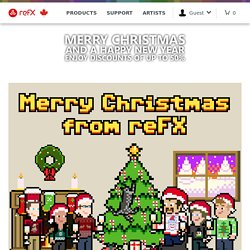 Vengeance Freakz On Beatz is back with more than 2100 awesome minimal samples, an incredible source of sounds and inspiration! Created by leading German minimal house artists including Pascal Feos, Andreas Mugge, Gabriel Le Mar and Frank Leichner, this pack has 750 oneshots (drums, fx, synths) and more than 1350 elaborate Minimal / House loops. Drum loops, construction kits, fx loops, synth loops, a real TB303, sub bass / percussion loops... basically, if you are into cool, grown-up EDM music, you can't afford to miss this!
Synthogy
OSCar Competition - March 2014 We've received lots of entiries, some serious, some odd, but mostly great fun. The winner is ... NEW!
Gforce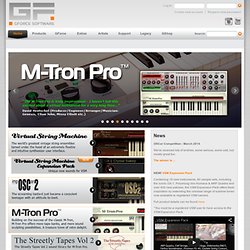 Synapse Audio Software
Izotope
Rob Papen
FXpansion
Arturia
LinPlug
Zicinf annuaire de logiciels
Over 300 Fairlight sounds added to the Nord Sample Library! We're very happy to announce this major addition to the Nord Sample Library, the sounds of the legendary Fairlight digital sampler. The Fairlight was the first commercially available polyphonic sampler when launched back in 1979 and it opened up the doors of sampling to many artists and producer during the 80's. The sounds in this collection were all sampled from a newly overhauled Fairlight CMI System IIx, with detailed mapping to capture that characteristic Fairlight sound! Read more about the Fairlight and listen to sound demos here.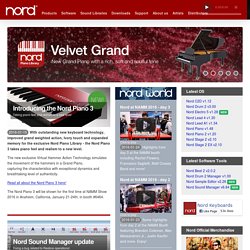 Nord
Tone2
News:Rompler is available. The Rompler soundset utilizes ElectraX' powerful multi-layer capabilities with a rich blend of sampling and synthesis. Arpmania Expansion is available. The expansion also comes with a set of 100 new arp patterns and includes 3 fresh new skins for Nemesis.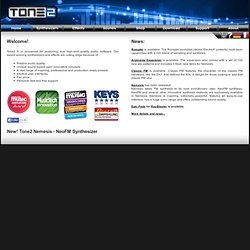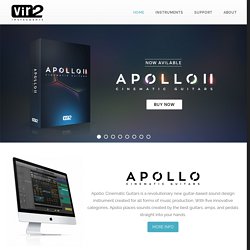 Vir2 Instruments is proud to announce the long-awaited release of Studio Kit Builder . A massive acoustic drum encyclopedia, Studio Kit Builder includes 130 kit pieces and over 50 pre-built drum kits. Studio Kit Builder takes full advantage of the powerful scripting capabilities of the Kontakt 5 engine, making it quick and easy to design a drum kit that is tailor-made to your music production needs. The main interface allows you to easily click-and-choose any kit piece, and thanks to the fast optimized load time, it's possible to audition any drum or cymbal on the fly and build new custom kits within seconds. Shape the acoustics using the versatile mixer, which includes several high quality effects on every channel and bus for precise tonal shaping. For added flexibility, route individual mixer channels to separate outputs for traditional mixing in your sequencer.
Vir2
Virsynth
Angular Momentum
Native Instruments
The Wizooverb W2 "High-End True Stereo Room Emulator" includes 15 HDIR (High Definition Impulse Response) models providing acoustic fingerprints of excellent sounding rooms with a precision and clarity apparently only possible with this "ground breaking" technology. Wizoo claims that HDIR is the difference between 'adding an effect' and 'putting your track into a real room'. The W2 also includes the flexible, transparent and natural sounding AIR algorithmic reverb which can be combined seamlessly with the HDIR models. Naturally the W2 will load your existing impulse responses and Wizoo claims that the IR optimization will make your imported impulse responses sound much better than in any other conventional response reverb. Features: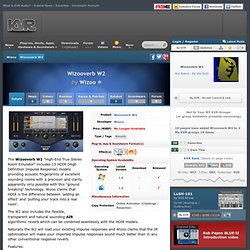 KVR