Ipad in the classroom
Preparing Your School for an iPad Implementation. Planning is imperative for any technology initiative - iPad or otherwise.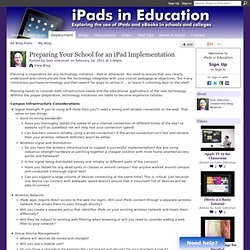 You need to ensure that you clearly understand and communicate how the technology integrates with your overall pedagogical objectives. Too many institutions purchase technology and then search for ways to utilize it ... or leave it collecting dust on the shelf. Planning needs to consider both infrastructure needs and the educational applications of the new technology. Without the proper preparation, technology initiatives are liable to become expensive failures. Campus Infrastructure Considerations. Teaching Kids with iPads – Part 1 of 5 | Elementary School Tech Ideas. #edtech #edchat How to you teach these kids?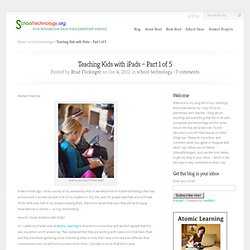 A few months ago I took a survey of my elementary kids to see what kind of mobile technology they had at home and it turned out that 53% of my students in 3rd, 4th, and 5th grades had iPads and 82% had iPods! With over half of my students having iPads, there is no doubt that soon they will be bringing these devices to school — so it go me thinking… How do I teach students with iPads? Evernote in Education. iPads at AES - a snapshot of iPads in school. Www.thespec.com iPhone : iPad pilot puts the touch on independent learning. Hamilton Spectator For Mackenzie Meyer, heading to biotech class used to mean grabbing a pair of heavy textbooks, an oversized binder and a bundle of other school supplies.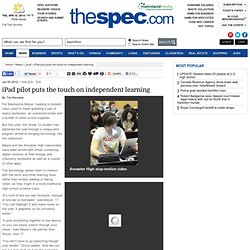 But this year, the Grade 12 student has lightened her load through a unique pilot program aimed at bringing technology into the classroom. Meyer and her Ancaster High classmates have been armed with iPads containing digital versions of their biology and chemistry textbooks as well as a cluster of other apps. iPads in Education - Exploring the use of iPads and mobile devices in education.
Study: iPad Apps Improve Learning. First of its kind evidence shows that an iPad learning app can measurably deliver educational value.
I've tested, rated, tried out, and put tons of educational iPad apps through their paces. Some are worthwhile, some are not worth your time. That's why I was excited to read about a new study that attempted to figure out the actual effectiveness of iPad apps in learning. In a landmark study, a USC professor studied 122 fifth-graders from two schools and four math classes to assess the effectiveness of an iPad app for improving students' fractions knowledge and attitudes. The study is the first to document learning and motivation gains achieved through iPad game play.
The Evolution of Classroom Technology. Classrooms have come a long way.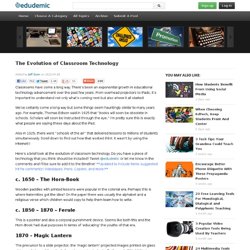 There's been an exponential growth in educational technology advancement over the past few years. From overhead projectors to iPads, it's important to understand not only what's coming next but also where it all started. We've certainly come a long way but some things seem hauntingly similar to many years ago. For example, Thomas Edison said in 1925 that "books will soon be obsolete in schools. Scholars will soon be instructed through the eye." The Ultimate Guide To Using iPads In The Classroom. How Students Benefit From Using Social Media 14.60K Views 0 Likes A lot of criticism has been leveled at social media and the effect it has on the way students process and retain information, as well as how distracting it can be.
However, social media offers plenty of opportunities for learning and interactivity, and if you take a moment to think about it, it's not too hard to see how students benefit from using social media. 100 Web 2.0 Tools Every Teacher Should Know About. iPads in the Classroom. Working in a K-12 environment, I have seen many different teaching tools and strategies.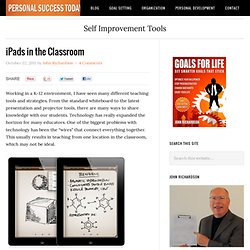 From the standard whiteboard to the latest presentation and projector tools, there are many ways to share knowledge with our students. Technology has really expanded the horizon for many educators. One of the biggest problems with technology has been the "wires" that connect everything together. What It's Like To Actually Deploy iPads In Classrooms.
---