Fonts
If you are looking to find the right kind of font /typeface for your design project, this font selection flowchart should come handy. If you are looking to find the right kind of font /typeface for designing your book, your website logo, for an handwritten invitation letter or a font for annotating an illustration, this flowchart from graphic designer Julian Hansen should come handy. Start from the center of the flowchart, pick the type of your design project – it could be a logo, a book or something else – answer a couple of (sometimes funny) questions and you will quickly discover the most appropriate font family for your project. Also see: Find the Right Chart for your Data Julian has considered only the top 100 fonts for her typeface selection chart and you may therefore not find every single font here. And if you came here looking to pick a font for your website text, this chart again won't offer any help.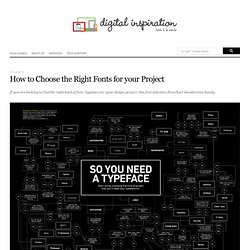 How to Choose the Right Fonts for your Design Project - A Flowchart
For many beginners, the task of picking fonts is a mystifying process. There seem to be endless choices — from normal, conventional-looking fonts to novelty candy cane fonts and bunny fonts — with no way of understanding the options, only never-ending lists of categories and recommendations. Selecting the right typeface is a mixture of firm rules and loose intuition, and takes years of experience to develop a feeling for.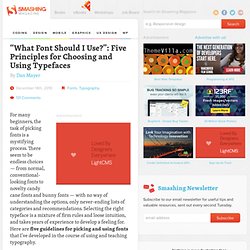 www.as8.it/handouts/mixing-typefaces_U&lc1992.pdf
web-safe-fonts-cheat-sheet-v3.png (2480×3508)