Psychology
Primates expect others to act rationally. Justin Wood Rhesus macaques were one of the three types of primates that responded to an experimenter's actions.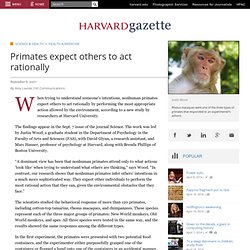 When trying to understand someone's intentions, nonhuman primates expect others to act rationally by performing the most appropriate action allowed by the environment, according to a new study by researchers at Harvard University. Association for Humanistic Psychology.
Tech
Personality Psychology. Misc. Psych. Cognitive Psychology. Psych Blogs. Gaming Psychology. Psychology - Behaviorism. Biological Psychology. Positive Psychology. LGBT Psychology.
---