Photoshop
30 Gadget Design Tutorials for Photoshop
Gadgets like smartphones, mp3 players, and tablets have become a part of our everyday lives, and they are often incorporated into designs. There are a lot of quality tutorials available that will show you step-by-step how to design a great-looking gadget. In this post we'll showcase 30 of the best gadget design tutorials from various sources. They'll have you designing stunning gadgets to use in your own work. Looking for hosting?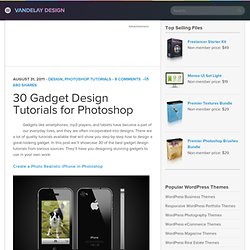 Step 1 1. This is the source image I started with. As you can tell there is a lot of noise in the picture. The first thing I did was download Topaz denoise (demo) and got rid of some of the noise. This was my first time using Topaz and I would highly recommend trying it.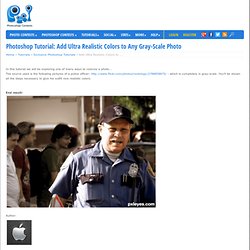 Add Ultra Realistic Colors to Any Gray-Scale Photo - Photoshop Tutorial
Photoshop Training - Old Poster tutorial (part 1/9)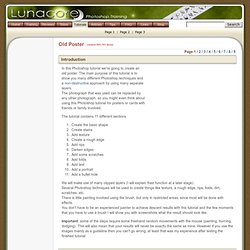 The tutorial contains 11 different sections Create the basic shape Create stains Add texture Create a rough edge Add rips Darken edges Add some scratches Add folds Add text Add a portrait Add a bullet hole We will make use of many clipped layers (I will explain their function at a later stage).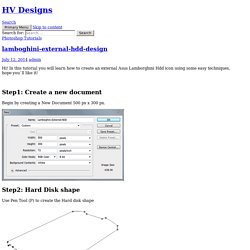 Hello all! Generally everyone needs a card whether if he/she was a web designer, developer, coder, trade business professional …etc. In this tutorial you'll learn how to design your own print-ready card just in some amazing and easy steps. Put in your mind to have an idea of what your final card should look like, that imagination will help you determine every little thing in what you do! Don't forget to download the PSD file at the end of this tutorial, it's free! Now let's get started!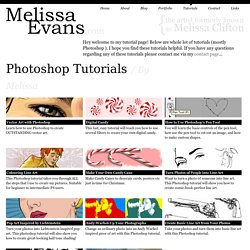 Hey welcome to my tutorial page! Below are whole lot of tutorials (mostly Photoshop ). I hope you find these tutorials helpful. If you have any questions regarding any of these tutorials please contact me via my contact page… Vector Art with Photoshop Learn how to use Photoshop to create OUTSTANDING vector art. Digital Candy This fast, easy tutorial will teach you how to use several filters to create your own digital candy.
How To Draw Ear in Photoshop Adobe Photoshop
Related Topics Magical Forest Photo This photo manipulation tutorial will show you how to create this realistic fantasy image by combining several photos together and finishing it with water lilies and fairy dust. You will learn how to compose an image using multiple photos, simulate depth of field, and warp a persons ear to an elf ear.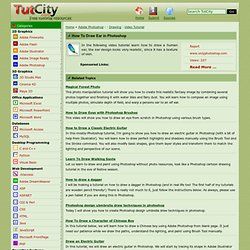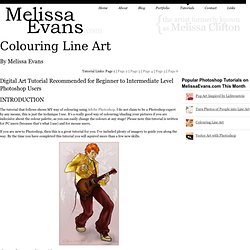 Colouring Line Art Photoshop Tutorial
Tutorial Links: Page 1 | Page 2 | Page 3 | Page 4 | Page 5 | Page 6 Digital Art Tutorial Recommended for Beginner to Intermediate Level Photoshop Users The tutorial that follows shows MY way of colouring using Adobe Photoshop. I do not claim to be a Photoshop expert by any means, this is just the technique I use. It's a really good way of colouring/shading your pictures if you are indecisive about the colour palette, as you can easily change the colours at any stage! Please note this tutorial is written for PC users (because that's what I use) and for mouse users.
Explosion Clip Art Vector Graphics. 762 explosion EPS clipart vector and stock illustrations available to search from thousands of royalty free illustration providers.
WPClipart is an ever-growing collection of artwork for schoolkids and others that is free of copyright concerns as well as safe from inappropriate images. Usage in school research and reports is my main focus when creating, or finding and editing -- but there are photos and clips here that work great for commercial uses, book illustrations, office presentations, and some just for fun... Today's image count: All the images here are Public Domain.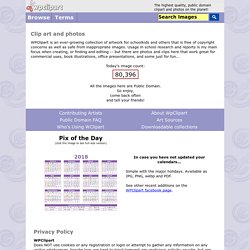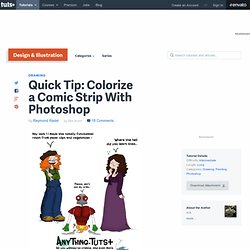 Converting a rough sketch into a polished piece of digital art might not be as hard as you think. In today's quick tip tutorial we will demonstrate how to import a sketch into Photoshop and color it! Let's get started! Step 1 The first step is to sketch out your idea. You can sketch your idea to paper or you can draw directly in Photoshop.
Quick Tip: Colorize a Comic Strip With Photoshop