Motor racing
GrandPrixLegends Ultimate Links
GPL FAQ and troubleshooting guide - GPL-"Help! I'm having trouble with..." - Sim Racing Mirror Zone
GPL Trouble Shooting and Problems FAQ Note #1: All tips and FAQs are in the first posts here and are updated regularly. There's no need to read through subsequent pages looking for solutions. Note #2: Anyone has full permission to reproduce this FAQ in any form or language in whole or part.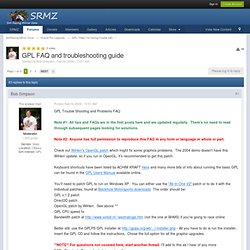 peterwindsor.com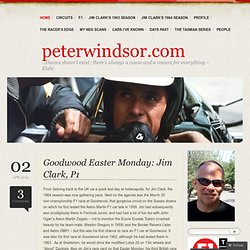 He was an American in Europe, a racer to his fingertips. The previous fall he out-qualified Graham Hill at Laguna Seca. Both were in Lotus 23 sports cars; both were on the limit. In Europe, etching his name in Formula Junior and even in factory Minis, he was always there. He and Peter Revson. Two "East Coast crumple" American stars-in-the-making.
Formula One 2012: track guide
It's probably impossible to say anything new about my personal 'best ever' choice. It is hard to believe that it is now some 44 years since he met a tragic and untimely end at Hockenheim on a damp and miserable April Sunday. It's perhaps even more surprising that Jim Clark is still held in such awe by so many people that books, magazine articles and web sites are still appearing to this day. Just like this one in fact. This interest so long after his career ended probably has a lot to do with the kind of man he was as much as his considerable record as a driver. Nobody seems to have had a bad word to say about him and I can't recall ever reading anything that was not complimentary about him.
Moto Poster :. Formula 1 Posters .:
BMW still holds the record for the most powerful engine every fielded in F1, 1430 hp out of 1500cc in qualifying (i.e. it will blow up after three laps) trim in the late 80s. But the Bavarian's second try at F1 as a race team ended rather badly, just gave up and quit in 2009. The new hybrid engine formula has piqued the interest of more manufacturers. Honda will enter the battle in 2015, there are whispers Ford might revive Cosworth's stillborn design and now BMW is said to be mulling a return to Formula 1 as an engine builder. The source is Giancarlo Minardi who points to a steady presence of Roundel connected engineers observing F1 testing and rumors from Germany of a May decision date in front of the BMW board of directors for a return, possibly as early as 2015.
Axis Of Oversteer
The F1 Circlar
OldRacingCars.com - racing car history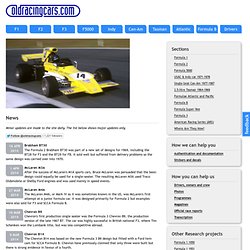 Minor updates are made to the site daily. The list below shows major updates only. 22 Sep 2013
Page 1 of 1 March burst onto the Formula 1 scene in 1970, with the simple but effective March 701. The British manufacturer was formed in 1969 by four friends; Robin Herd, Max Mosley, Graham Coaker and Alan Rees. The governing body's decision to allow for sponsor-markings and the introduction of the 'cheap' Ford Cosworth DFV created a renewed market for privateers. March's goal was to build a chassis for those privateers.
1972 March 721X Cosworth - Images, Specifications and Information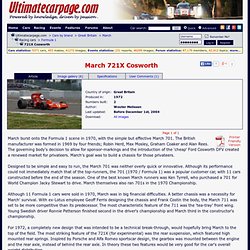 FORIX: Formula One Results, Information, Statistics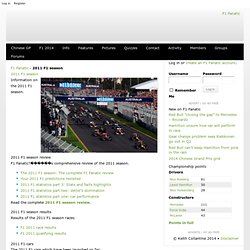 F1 2011 Season |
F1 Fanatic F1 Fanatic - 2011 F1 season 2011 F1 season Information on the 2011 F1 season. 2011 F1 season review
JH Choppers and Machine specializes in the design and manufacturing of custom after market parts for stock and custom Harley-Davidson®. For additional information, visit our about page Our Chrome-E-O Design Series parts are showing up on some of the baddest baggers around. Check out this killer build from Custom Werks Designs SLC out of Utah using our Chrome-E-O Bagger Boards.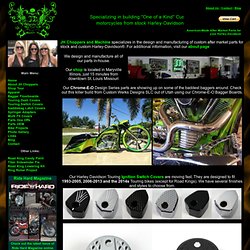 JH Choppers, Creating Custom Harley-Davidson Parts for over 8 Years
The Jalopy Journal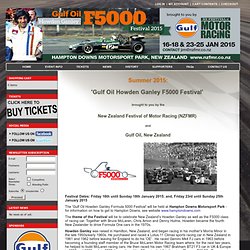 NZ Festival of Motor Racing
Current owners of the ex 'works' 1955 Ferrari 750 Monza sports racing car, the Southward Car Museum in Paraparaumu, have confirmed the iconic Ferrari sports racing car will be on show at the second weekend of the Ferrari Festival to be held at Hampton Downs in January 2014. 1955 Ferrari 750 Monza This Ferrari Monza was one of two Monzas racing in New Zealand in 1957. It was brought to New Zealand by British driver Ken Wharton to race at the NZIGP meeting held at Ardmore in January 1957. It was said the car had been driven by 'works' driver Eugenio Castelotti in the tragic 1955 Le Mans 24 Hour race and driven by to win at Rouen in France, and to third places at Targa Florio in Sicily and the Swedish GP. Sadly, Ken Wharton was killed when driving the car in a sports car race at Ardmore in 1957.
PC Pitstop Techtalk