Paper
How To: Make Typographic Gift Wrap » Man Made DIY | Crafts for Men « Keywords: paper, craft, design, gift. This year, I vowed to only make or buy handmade holiday gifts for my friends and family, and I've kept to it so far.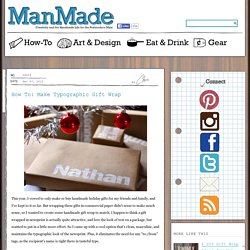 But wrapping these gifts in commercial paper didn't seem to make much sense, so I wanted to create some handmade gift wrap to match. I happen to think a gift wrapped in newsprint is actually quite attractive, and love the look of text on a package, but wanted to put in a little more effort. So I came up with a cool option that's clean, masculine, and maintains the typographic look of the newsprint. Lucky Wishing Stars Tutorial.
You've probably seen these little puffy origami stars before.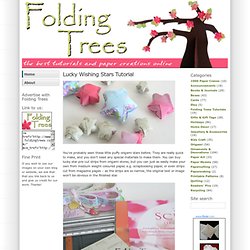 They are really quick to make, and you don't need any special materials to make them. You can buy lucky star pre-cut strips from origami stores, but you can just as easily make your own from medium weight coloured paper, e.g. scrapbooking paper, or even strips cut from magazine pages – as the strips are so narrow, the original text or image won't be obvious in the finished star. Anti-clockwise from top left: pre-cut strips, paper cutter, scrapbook paper, magazine page.
Now on to the tutorial! To give you an idea of size, I've made stars in 3 different sizes to show you: Kusudama Tutorial part 1. The Japanese kusudama is a paper ball made out of multiple identical origami shapes glued together.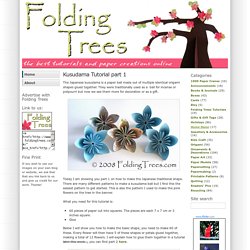 They were traditionally used as a ball for incense or potpourri but now we see them more for decoration or as a gift. Today I am showing you part 1 on how to make the Japanese traditional shape. There are many different patterns to make a kusudama ball but I find this the easiest pattern to get started. This is also the pattern I used to make the pink flowers on the tree in the banner. Wednesday - Blog - DIY Streamer Flowers. In the spirit of all the DIY projects we have going on to prepare for our everee Wednesday fun-shoot with ee photography later this month, I wanted to share one of my favorite projects yet!!!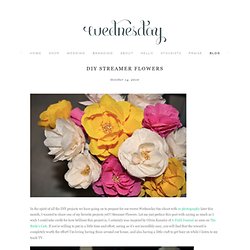 Streamer Flowers. Let me just preface this post with saying as much as I wish I could take credit for how brilliant this project is, I certainly was inspired by Olivia Kanaley of A Field Journal as seen on The Bride's Cafe. If you're willing to put in a little time and effort, seeing as it's not incredibly easy, you will find that the reward is completely worth the effort! Make flowers.
Ages ago I bought a package of crepe paper (like this—the folded sheets, not streamers).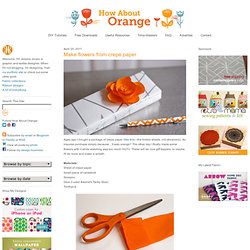 An impulse purchase simply because... it was orange? The other day I finally made some flowers with it while watching way too much HGTV. Kusudama Tutorial part 2. Today I am showing you part 2 of how to make a kusudama ball.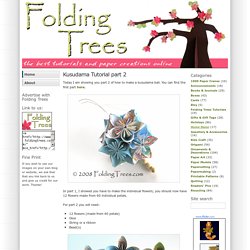 You can find the first part here. In part 1, I showed you have to make the individual flowers; you should now have 12 flowers made from 60 individual petals. For part 2 you will need: 12 flowers (made from 60 petals)GlueString or a ribbonBead(s) Tutorial: How to Make a Pomander Flower Ball. Pomanders, or "Flower Kissing Balls" are gorgeous floral decorations at parties and weddings.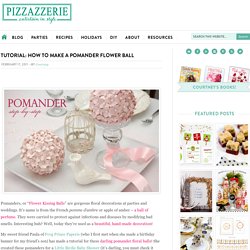 It's name is from the French pomme d'ambre or apple of amber – a ball of perfume. They were carried to protect against infections and diseases by modifying bad smells. Giant Paper Rose Flower. Inspiring DIY / bookhoucraftprojects: Project #53 Cherry Blossom Branch. Paper Fortune Cookie Favors by La La Laurie. How to Make a Snowstorm. November 25th, 2013 Email 355 users recommend Say goodbye to hand-cut snowflakes taped to windows.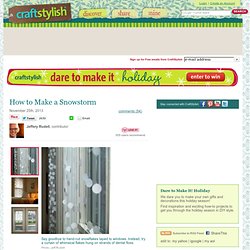 Instead, try a curtain of whimsical flakes hung on strands of dental floss. Over the Gate :: Gift box tutorial - so simple to make. You will need: Card Embellishments Adhesive Scissors Hole punch Ribbon The box Making the creases for the folds In landscape fold the corners so they overlap Where the card dips use your hold punch to make a hole Repeat on the other side.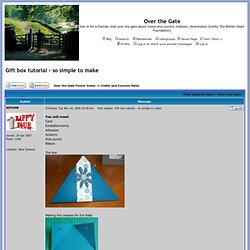 Project doily: star decorations « the happy home. A Tribute to Yulia Brodskaya on the Behance Network. Origami Tropical Turtle. Page corner bookmarks | I Could Make That. This project comes to you at the request of Twitterer @GCcapitalM.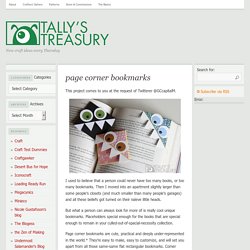 I used to believe that a person could never have too many books, or too many bookmarks. Then I moved into an apartment slightly larger than some people's closets (and much smaller than many people's garages) and all these beliefs got turned on their naïeve little heads. But what a person can always look for more of is really cool unique bookmarks. Placeholders special enough for the books that are special enough to remain in your culled-out-of-spacial-necessity collection. Handmade Tissue Paper Flowers and Pompom Garland. You'd think after making hundreds of these for my wedding, I'd be completely sick of them. But I can't help it, I love them so much! I'm a little sad that I didn't save a bouquet of paper flowers from my wedding, but I never thought I'd want to see them again.
DIY storybook paper roses | DIY Wedding. You're going to love today's DIY project so much that you're going to want to start tearing pages out from old books tonight! Remember the storybook roses in Shanna + Richard's wedding? Sweet, right? Floral designer, Cathy Brim of Bloom Floral Design created the elegant branch bouquets seen in their ceremony using Valerie Lloyd's paper roses design, and now we're jumping-out-of-the-pages excited that Valerie is sharing her DIY secrets with you!
Craft Supplies:Paper Grosgrain Ribbon, ½ Width cut to 4 inch lengths 16 Gauge Wire cut to 15 inch lengths Glue Gun Glue Sticks (low temp) Scissors Wire Cutters.
---