Jewlery to make
DIY: How to Make a Terrarium Necklace | Clossette | Vintage, revamped and DIY fashion. Terrariums – glass containers with little gardens inside – are really popular these days as home accessories, but they make lovely fashion accessories too!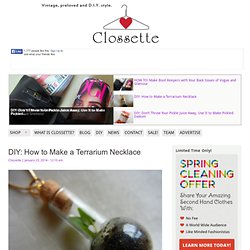 All you have to do is make one on a slightly smaller scale in a bottle like this one with a ring attached to it so that you can wear it as a necklace. If you know someone who loves plants, these terrarium necklaces make really special gifts and will last a heck of a lot longer than flowers. DIY Glam Chain Headband! STEAMPUNK EAR CUFF TUTORIAL by *szilviabead on deviantART. 塑料勺子做滴花花 来自小小艾在堆糖网的分享. Perfect Summer Bangle. Here's a fun tutorial on how to make a message bangle that's one-of-a-kind, done in the sun, waterproof and weatherproof.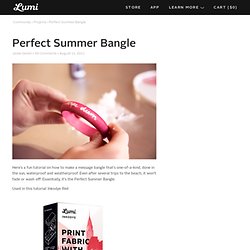 Even after several trips to the beach, it won't fade or wash off! Essentially, it's the Perfect Summer Bangle. Used in this tutorial: Inkodye Red. DIY Macrame Bracelet. Growing up by the beach in Southern California, the ability to knot a macrame bracelet was practically a right of passage.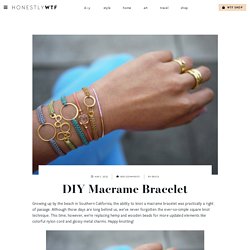 Although those days are long behind us, we've never forgotten the ever-so-simple square knot technique. This time, however, we're replacing hemp and wooden beads for more updated elements like colorful nylon cord and glossy metal charms. Shrink plastic ring tutorial. Thank you to everyone who requested a shrinkydinks ring tutorial!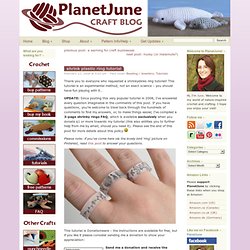 This tutorial is an experimental method, not an exact science – you should have fun playing with it… UPDATE: Since posting this very popular tutorial in 2008, I've answered every question imaginable in the comments of this post. If you have questions, you're welcome to trawl back through the hundreds of comments to find my answers, or, to make things easier, I've compiled a 3-page shrinky rings FAQ, which is available exclusively when you donate $1 or more towards my tutorial (this also entitles you to further help from me by email, should you need it). Please see the end of this post for more details about this policy.
DIY of the Month: Braided T-shirt Bracelet. How To: Give your old t-shirts a second life.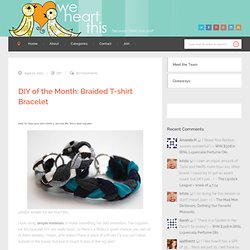 Sorry dust rag pile! Photos: kirsten for we heart this I love using simple materials to make something fun and innovative. The supplies for this bracelet DIY are really basic, so there's a REALLY good chance you own all of them already. Make a Friendship Bracelet the Easy Way. V and Co how to: jersey knit bracelet. I don't know what it is about this time of year that makes me just want to have my bare feet in the sand, be watching the sun setting into the ocean, and breathing in the warm salty air of the beach...as i get older, more and more i find myself missing that place i used to go to almost every.single.day. as a teen.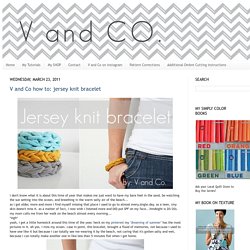 (my skin doesn't miss it. as a matter of fact, i now wish i listened more and DID put SPF on my face...hindsight is 20/20). my mom calls me from her walk on the beach almost every morning... *sigh*yeah, i get a little homesick around this time of the year. heck on my pinterest my "dreaming of summer" has the most pictures in it. ah yes. i miss my ocean. case in point. this bracelet, brought a flood of memories, not because i used to have one like it but because i can totally see me wearing it by the beach, not caring that it's gotten salty and wet, because i can totally make another one in like less than 5 minutes flat when i get home.
How to Make Fried Marble Jewelry.
---