Jewelry Desigh
Lapidary Journal Jewelry Artist - Jewelry Making, Jewelry Arts, Gems, Minerals and More!
Black is back! See what top designers are doing with black in their jewelry and discover how to get a perfect black patina on your sterling silver. For more drama, suspend your next stones for hanging earrings using a saddle setting, which leaves most of the gem visible for maximum impact. Or, create a classic three-stone, Navajo-style silver cuff with turquoise cabochons for a different kind of jewelry with real visual impact.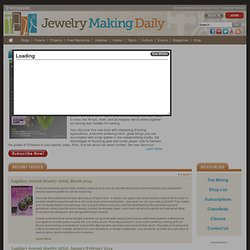 Links to many great free beading lessons, free beadwork tutorials and beading help and how-to's can be found right here! Are you looking to learn a new beadwork stitch or to refine a beading technique? This is the place! Learn Beading and BeadworkThere's a lot to learn when you're a new beader.
Free Beading Lessons and Beadwork Tutorials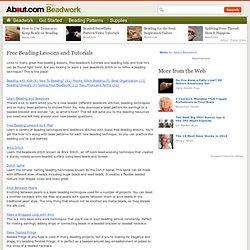 The Beading Gem's Journal
Stitch it In this series, host Katie Hacker, along with our amazing designers will twist it, weave it, tie it and design it – all techniques for creating fabulous jewelry. First, Katie shows that all you need is a needle and thread to stitch your way to beautiful detailing with an embellished leather cuff bracelet using blanket stitch.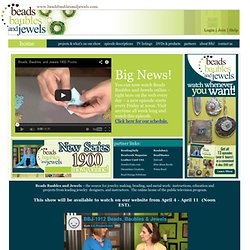 The Beader's Muse - The Beader's Muse
Mineral Index
Jatayu: Metal And Wire Jewelry, Jewelry Fabrication Tools And Supplies, Classes & Turorials By Connie Fox
Metal & Wire Jewelry With Connie Fox August, 2011. When you work with metal you learn the importance of flexibility. Over the past couple of years I have undergone some changes which are also reflected in my website. At one time I was teaching on the road in addition to teaching in my studio. After numerous cross country trips toting heavy suitcases I finally said goodbye to airports (with the exception of an occasional trip for pleasure).