Jewelry Desigh
Lapidary Journal Jewelry Artist - Jewelry Making, Jewelry Arts, Gems, Minerals and More!
Learn how to create four new exciting jewelry designs using soldering, metalsmithing, stone setting, stamping, riveting, and more in this year's April issue of Lapidary Journal Jewelry Artist. Join the online discussion and get instant help from others around the world that share your passion! Learn tips and tricks from experienced jewelry makers that sell their jewelry, with just the click of a button. Discover what forming metal is all about!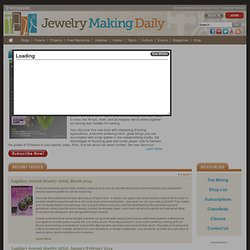 Links to many great free beading lessons, free beadwork tutorials and beading help and how-to's can be found right here! Are you looking to learn a new beadwork stitch or to refine a beading technique? This is the place! Learn Beading and Beadwork There's a lot to learn when you're a new beader. Different beadwork stitches, beading techniques and so many bead patterns to choose from! You may download a bead pattern for earrings or a beaded bracelet and wonder "ok, so what's next?
Free Beading Lessons and Beadwork Tutorials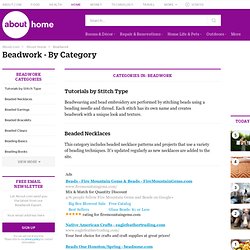 The Beading Gem's Journal
The Beader's Muse - The Beader's Muse
Mineral Index
Alphabetical Index of Minerals, Varieties, Synonyms and other names The database contains thousands of mineral names, varietal names, synonyms, discredited names and other names. You can use this alphabetical index to help you navigate. A: Aabam to Azzurrite B: Bạc to Byzantievite C: C3AH6 to Cziklovaite D: Đồng to Dzintars E: Eakerit to Ezüst F: Fabianit to Fyzelyite G: Gaargoti to Gysinite-(Nd) H: Hồng ngọc to Hyttsjöite I: Ianbruceite to Iztāctepoztli J: Jáchymovit to Juxporite K: Kaadmium to Kyzylkumite L: Lưu huỳnh to Lysspat M: M40 to Mystic Topaz N: NaAlSi3O8-hollandite to Nyholmite O: Oakermanit to Ozokerite P: Pääkkönenit to Pyrrolithe Q: Qandilit to Qusongite R: Òr to Rynersonite S: Sắt to Szymańskiite T: Taaffeit to Tyuyamuyunite U: U130 (of Schnorrer) to Uzuminelite V: Vaalit to Vyuntspakhkit-(Y) W: Wackenrodit to Wyomingite X: Xaga to Xylotile Y: Yafsoanit to Yvonite Z: Zabuyelit to Zýkaite Copyright © Jolyon Ralph and Ida Chau 1993-2013.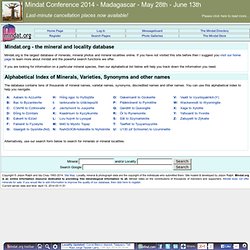 Jatayu: Metal And Wire Jewelry, Jewelry Fabrication Tools And Supplies, Classes & Turorials By Connie Fox