Way Important
Affiliate Marketing Program. New Products From Network Solutions. Our Partner program is tailored to higher volume businesses seeking end-to-end domain name services and technical expertise from a leader in the industry.
Contractually determined pricing, based on volume Option to receive credit terms or pay-as-you-go Personal Account Manager and dedicated support team, with optional multi-lingual support Feature-rich online management tools for flexible, bulk management Domain names, Private Registration, Web Forwarding and SSL available under this program* 6 Successful Twitter Hashtag Campaigns. The Digital Marketing Series is supported by HubSpot, an inbound marketing software company based in Cambridge, MA, that makes a full platform of marketing software, including better B2B lead nurturing.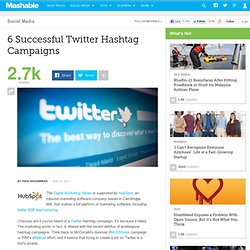 Chances are if you've heard of a Twitter hashtag campaign, it's because it failed. The marketing world, in fact, is littered with the recent detritus of woebegone hashtag campaigns. Think back to McDonald's doomed #McDStories campaign or RIM's #BeBold effort, and it seems that trying to create a stir on Twitter is a fool's errand. 8 Reasons People Aren't Following You Back on Twitter. Whenever you follow someone on Twitter, you hope that they'll follow you back.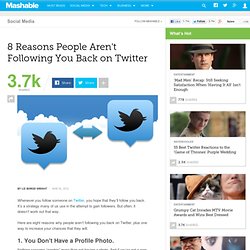 It's a strategy many of us use in the attempt to gain followers. But often, it doesn't work out that way. Here are eight reasons why people aren't following you back on Twitter, plus one way to increase your chances that they will. Trend Watch: Kickstarter Is The New Lead Investor. We all know it.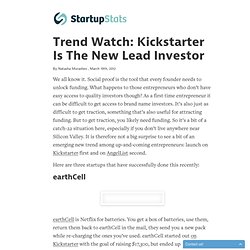 Social proof is the tool that every founder needs to unlock funding. What happens to those entrepreneurs who don't have easy access to quality investors though? Trend Watch: Kickstarter Is The New Lead Investor. Is Kickstarter the Future for Tech Hardware Entrepreneurs? Lance Parker is building something he says will bring a new level of convenience and security to on-the-go computing — and he's funding the project through Kickstarter.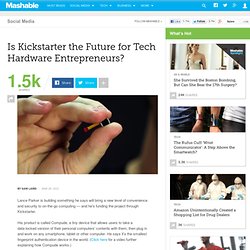 His product is called Compude, a tiny device that allows users to take a data-locked version of their personal computers' contents with them, then plug in and work on any smartphone, tablet or other computer. He says it's the smallest fingerprint authentication device in the world. (Click here for a video further explaining how Compude works.) JOBS Act and CROWDFUND May Pass Today. Despite a pre-vote uproar by a minority group of democratic congress people, it appears as though the highly awaited JOBS Act has been fast tracked.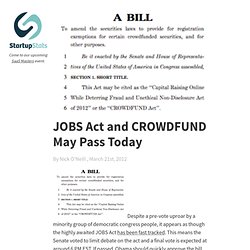 This means the Senate voted to limit debate on the act and a final vote is expected at around 6 PM EST. If passed, Obama should quickly approve the bill effectively putting it into law. What's Working in Digital Non-Profit Fundraising [INFOGRAPHIC] On April 5, M+R Strategic Services, a public relations and communications firm working with leading non-profits, and the Nonprofit Technology Network (NTEN), a membership organization of non-profit professionals who use technology for their causes, will release their sixth annual eNonprofit Benchmarks Study of what is working today in online advocacy, fundraising and social networking.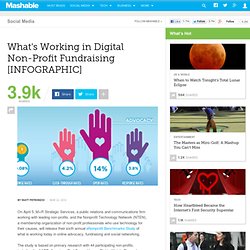 The study is based on primary research with 44 participating non-profits, including the AARP, American Red Cross, Human Rights Watch, Planned Parenthood and the World Wildlife Fund. All of the non-profits covered fall under the categories of environmental, international, human rights, wildlife, animal welfare and other causes. 10 Tips for Raising Money on Kickstarter. Rusel DeMaria is the author of more than 60 books, and currently runs the High Score 3 Kickstarter project.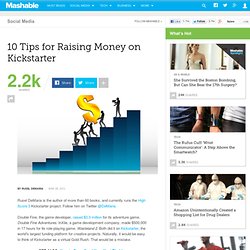 Follow him on Twitter @DeMaria. Double Fine, the game developer, raised $3.3 million for its adventure game, Double Fine Adventures. InXile, a game development company, made $500,000 in 17 hours for its role-playing game, Wasteland 2. Both did it on Kickstarter, the world's largest funding platform for creative projects. Crowdfunding Revolution: Prepare to Launch, Pt 1 - Build Your Structure. Posted by Don Lehman | 16 Mar 2012 | Comments (1) Scaffolding: Construction work at the Lehrter Hauptbahnhof, Berlin.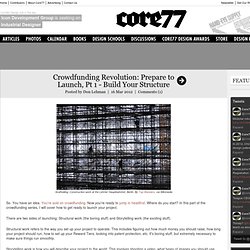 By Tup Wanders, via Wikimedia. How Microlending Works" If you ever come across a trove of battered old hardcover novels published in the United States in the 19th century, take a minute to thumb through them.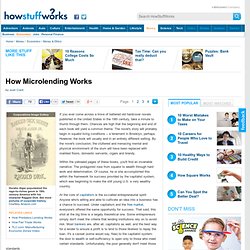 Chances are high that the beginning and end of each book will yield a common theme. The novel's story will probably begin in squalid living conditions -- a tenement in Brooklyn, perhaps. However, the book will usually end in an entirely different setting. Josh Clark: Stuff You Should Know -- About Making an Impact with Microlending.
My Stuff You Should Know podcast co-host Chuck Bryant, our producer Jeri Rowland and I aren't completely unaware of ourselves. As such, we do feel a bit uneasy toasting an effort that ultimately has to do with buying an ox to help plow a small, cold field or a motorbike to drive as a taxi 100 hours a week. But then there's the million dollars. A million dollars most decidedly does have a natural bent toward toasting with champagne. And so the three of us will drink it. 9 Hot Social Networks to Watch Mashable 9 Hot Social Networks to Watch | The top source for social and digital news. Few social services have enjoyed as much success as sites like Foursquare and Pinterest.
However, companies are achieving recognition by applying similar social principles to their own niche networks. We've gathered a list of nine social services to keep an eye on. 10 Top Execs Share Their Social Media Secrets. When you're occupying the C-suite, you may not have time to think about tweets, Facebook posts, Foursquare checkins and Pinterest boards. But you should. Social media is an increasingly important tool for building brands, connecting with customers and boosting customer loyalty and engagement. All of these factors can work together to increase awareness of your brand and drive new business.
Top Social Media Investor on What's Next. The Leaders in Digital Series is supported by Samsung. Follow Samsung USA on Google+ and Twitter, and like them on Facebook. After spending 26 years at Electronic Arts, Bing Gordon moved over to Kleiner Perkins, where in 2008, he led the venture capital firm's investment in the antithesis of EA: Zynga. That investment has netted a nearly 20x return for the firm, and Gordon has since helped steer Kleiner Perkins deeply into the social web, with investments in Spotify, Path, Klout and many others. Gordon also leads the sFund, a $250 million venture between Kleiner Perkins, Facebook, Zynga, Amazon, Comcast, Liberty Media and Allen & Company that launched in 2010.
We had a chance to catch up with Gordon at SXSW, which he described as the place "where the entrepreneurs we work with make a stand." How Facebook Sponsored Stories Can Boost Engagement. Matt Lawson is the vice president of marketing at Marin Software, the largest paid search management provider. In the wake of its $100 billion IPO filing, Facebook is busy bolstering its advertising options. For one, Facebook is hanging its future hopes on "sponsored stories. " Sponsored stories depart from the typical Facebook ad unit. 7 Ways To Hack Your Promotions Into Facebook Timeline. Writing Powerful Descriptions. Will This Platform Change Startup Funding Forever? How To Get Media Coverage For Your Startup: A Complete Guide.
---