StartUp Investors
Investing in start-ups and early stage businesses involves risks, including illiquidity, lack of dividends, loss of investment and dilution, and it should be done only as part of a diversified portfolio. Crowdcube is targeted exclusively at investors who are sufficiently sophisticated to understand these risks and make their own investment decisions. You will only be able to invest via Crowdcube once you are registered as sufficiently sophisticated. Please click here to read the full Risk Warning.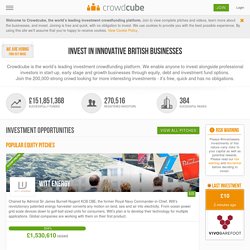 Apply for Free Membership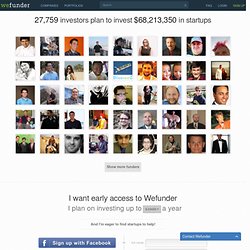 Wefunder
The Journey to Legalize Crowdfunding Thanks to the support of people like you, all Americans will soon have the right to invest in startups they believe in. Congress just passed the CROWDFUND Act, allowing you to invest in what could be the next Facebook or own a piece of your local organic food market.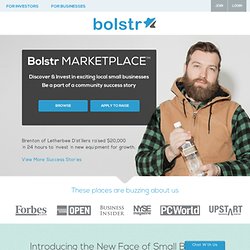 Rebell Conditioning Raises $12k in 48 hours! Rebell Conditioning is a gym located in the Lakeview neighborhood of Chicago. They recently launched a $12,000 campaign on Bolstr, and hit their campaign goal within 48 hours of launch! See their live interview on Fox News Chicago. "Bolstr afforded us the opportunity to open up to our community and provide them with the opportunity to invest in essentially what is their gym, as much as we own it" - Mike Connelly, Co-Owner of Rebell Conditioning
Bolstr