WebDev
The 1140px CSS Grid System · Fluid down to mobile. 11:57AM — Tuesday, April 9, 2013.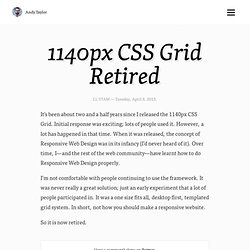 It's been about two and a half years since I released the 1140px CSS Grid. Initial response was exciting; lots of people used it. However, a lot has happened in that time. When it was released, the concept of Responsive Web Design was in its infancy (I'd never heard of it). Web Fonts. Tumblr.
SEO
Domain naming. Best 10 Web Hosting Sites by WPDesigner.com - Free Wordpress Themes and reviews of Top Web Hosts. Wordpress. Web Designer Wall – Design Trends and Tutorials. Web Designers. eCommerce. Hosting.
---