EDC
SGM Engineering Inc.
Bechtel Corporation: Home
Home - Construction, Engineering and Mining Services - Kiewit.com
AECOM
CRB
Matrix Service Company - Industrial Service Contractor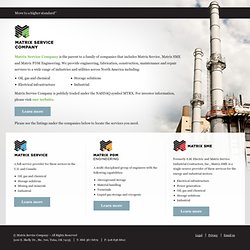 Matrix Service Company is the parent to a family of companies that includes Matrix Service, Matrix SME and Matrix PDM Engineering. We provide engineering, fabrication, construction, maintenance and repair services to a wide range of industries and utilities across North America including: Oil, gas and chemical Electrical infrastructure Storage solutions Industrial Matrix Service Company is publicly traded under the NASDAQ symbol MTRX. For investor information, please visit our website.