Webcomics
Web comic, podcasts, and other ju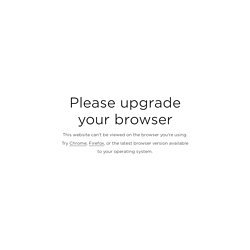 EXTRALIFE – By Scott Johnson Web comic, podcasts, and other junk. Home The Archive
Single Ladies
Penny Arcade! - A Final Fantasy XIII Primer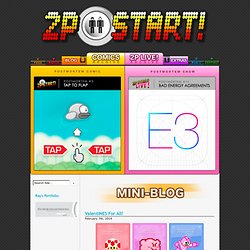 2P START!
ValentiNES For All! February 7th, 2014 It's been awhile since I remembered we had these, but don't forget to send out some Valentine's e-cards, 2P START! style! Just click on the one you want to send and fill out the form.
December 31, 2013As mentioned in late October, I did a piece for the Nelvana of the Northern Lights Kickstarter. Shouri provided the gorgeous colors. You can check it out here and here. See you in the new year! Cheers!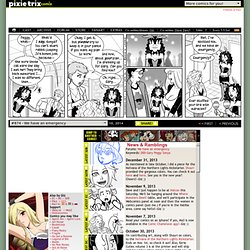 Menage a 3
Questionable Content: New comics every Monday through Friday
Girls with Slingshots: Two girls, a bar, and a talking cactus, f
Webcomic at the Speed of Light » Back In My Day
Least I Could Do: the Webcomic » by Ryan Sohmer and Lar deSouza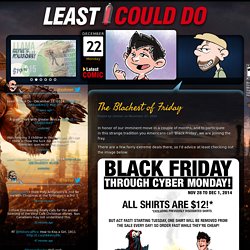 Posted by sohmer on April 17, 2014 We're way past due on this one, folks, but I'm pleased to announce that LICD Beginnings Volume 6: I'm Doing Sport is on its way to our North American Shores. This book differs from others in the past, as it has a whopping 120 pages, as compared to the 60 pages in Book 5, and the 30 pages in Books 1-4. All that to say, I'm Doing Sport is available for pre-order right this very now, and will be shipping out in the 2nd week of May. Order me!
Comics
Saturday Morning Breakfast Cereal
Sinfest
It's the end of this (very long) story arc, so that means it's time for me to take a break from the regular updates in order to prepare for the next (probably also very long) arc. The main comic here on the site will return on March 31st, with a whole new story far away from the desert and Elan's family and all that. Downside: Less dinosaurs. Sorry. As for what I'll be doing for those six weeks, I wish I could say, "tropical vacation," but no such luck.
Giant In the Playground Games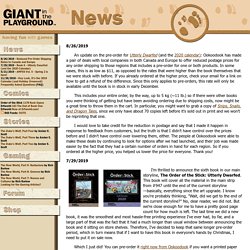 GU Comics by: Woody Hearn
Okay I'm about to make an admission that's going to shock you all. I'm a cynic. No no, really!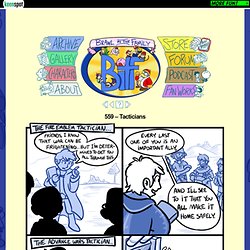 Tuesday, April 15 — 2:00 PM Sorry about this comic running a bit late. But hey, the first-ever Advance Wars appearance in BitF, and I have the eShop to thank for it. Yes, 2013′s Fire Emblem: Awakening showed me how enjoyable strategy games could be, so I had to try out AW myself upon hearing that it hit the VC. It's good fun, and surprisingly dense in content.
Brawl in the Family
New VG Cats and new Super effective! Hey remember that game you guys help Kickstart a while back? Detective Grimoire! Well it's up for Greenlight on steam.
VG Cats
Updated Mondays... HAHAHA... yeah...
Cast your vote! Friday, April 18, 2014 | 12:37 AM | by Tim Choose what happens next: Try and steal a shipTry and get their ship back from Chaug Our first vote for this story is live.
Ctrl+Alt+Del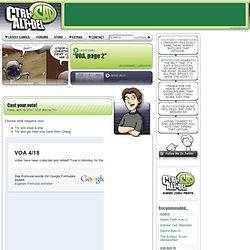 Comics. Often dirty.
Conventions and other Horror Stories June 28, 2013 Holy crap, the year's half over. I better get back to making blos, huh?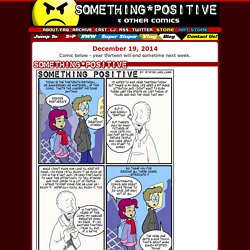 S*P and Other Comics
Court - By Tom Siddell
PvPonline
Emerald City Comicon kicks off con season this weekend and the show is bigger this year than ever before. This is my favorite comic show of the year and I never miss it. This year I'll be at booth 1320 with Brad Guigar and Tavis Maiden. Brad will have all copies of his Webcomics Handbook on sale. The sequel to our co-authored How to Make Webcomics, the Webcomics Handbook is a wonderful tool to help you develop and launch your own webcomic. Tavis Maiden will be bringing some treasures from the recently released Tenko King, including pins, patches and prints.
Comic Strip
white ninja
dinosaur comics
perry bible fellowship
Will it Metablend?
Roza : The cursed mage — *may include possums