Webcomics
Web comic, podcasts, and other ju. Single Ladies. Penny Arcade! - A Final Fantasy XIII Primer. 2P START! Menage a 3. December 31, 2013As mentioned in late October, I did a piece for the Nelvana of the Northern Lights Kickstarter.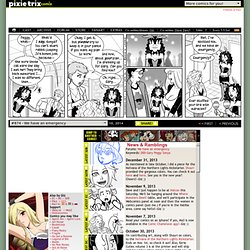 Shouri provided the gorgeous colors. You can check it out here and here. See you in the new year! Cheers! Questionable Content: New comics every Monday through Friday. Girls with Slingshots: Two girls, a bar, and a talking cactus, f. Webcomic at the Speed of Light » Back In My Day. Least I Could Do: the Webcomic » by Ryan Sohmer and Lar deSouza. Comics. Saturday Morning Breakfast Cereal. Sinfest. Giant In the Playground Games. GU Comics by: Woody Hearn. Okay I'm about to make an admission that's going to shock you all.
I'm a cynic. No no, really! Brawl in the Family. VG Cats. Updated Mondays... HAHAHA... yeah... Ctrl+Alt+Del. Comics. Often dirty. S*P and Other Comics. Court - By Tom Siddell. PvPonline. Comic Strip. White ninja. Dinosaur comics. Perry bible fellowship. Will it Metablend? Roza : The cursed mage — *may include possums.
---