Tech Support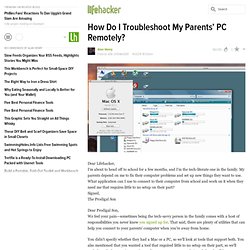 Dear Lifehacker, I'm about to head off to school for a few months, and I'm the tech-literate one in the family. My parents depend on me to fix their computer problems and set up new things they want to use. What application can I use to connect to their computer from school and work on it when they need me that requires little to no setup on their part? Signed, The Prodigal Son Dear Prodigal Son, We feel your pain—sometimes being the tech-savvy person in the family comes with a host of responsibilities you never knew you signed up for.
How Do I Troubleshoot My Parents' PC Remotely?
Eighteen-year-old Soheil Khalilfar probably thought he had struck the jackpot when he ransacked a flat in West Kensington during the recent London riots and walked away with a 13-inch MacBook Pro . What he didn't know was he was stealing from, and that made all the difference in this case. It turns out that Kalilfar stole the laptop of 29-year-old Greg Martin, an information security professional from Texas. Martin's resume is strong, showing that he's been employed as a technical adviser to the FBI, the U.S. Secret Service, and NASA.
Tip: Don't steal a laptop that belongs to an ex-FBI Secret Service employee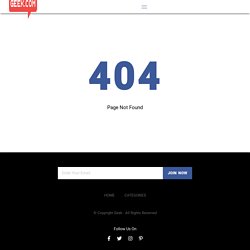 How to Troubleshoot Your Friends' Computers From Far Away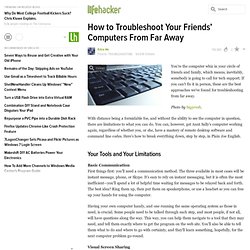 SExpand You're the computer whiz in your circle of friends and family, which means, inevitably, somebody is going to call for tech support. If you can't fix it in person, these are the best approaches we've found for troubleshooting from far away. Photo by bigpresh. With distance being a formidable foe, and without the ability to see the computer in question, there are limitations to what you can do. You can, however, get Aunt Sally's computer working again, regardless of whether you, or she, have a mastery of remote desktop software and command line codes.
tips and downloads for getting things done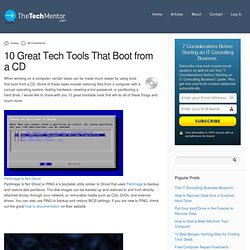 10 Great Tech Tools That Boot from a CD | EmergingTechs.com
When working on a computer, certain tasks can be made much easier by using tools that boot from a CD. Some of these tasks include restoring files from a computer with a corrupt operating system, testing hardware, reseting a lost password, or partitioning a hard drive. I would like to share with you 10 great bootable tools that will do all of these things and much more. Partimage Is Not Ghost Partimage Is Not Ghost or PING is a bootable utility similar to Ghost that uses Partimage to backup and restore disk partitions. The disk images can be backed up and restored to and from directly attached drives, through your network, or removable media such as CDs, DVDs, and external drives.
How to reset expired Windows XP Administrator password without k
EmailShare One or more keys fell off the laptop keyboard and you are not sure how to put them back? Don't worry, most likely you can fix the keyboard and it's not necessary to buy a new one.
Laptop Repair Help » A key fell off the laptop keyboard. Fixing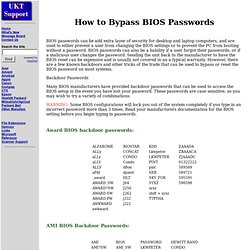 UKT Support - How to Bypass BIOS Passwords
BIOS passwords can be add extra layer of security for desktop and laptop computers, and are used to either prevent a user from changing the BIOS settings or to prevent the PC from booting without a password. BIOS passwords can also be a liability if a user forgot their passwords, or if a malicious user changes the password. Sending the unit back to the manufacturer to have the BIOS reset can be expensive and is usually not covered in an a typical warranty. However, there are a few known backdoors and other tricks of the trade that can be used to bypass or reset the BIOS password on most systems. Backdoor Passwords Many BIOS manufacturers have provided backdoor passwords that can be used to access the BIOS setup in the event you have lost your password.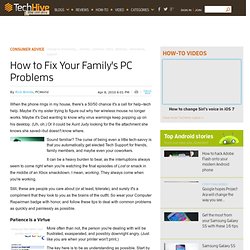 How to Fix Your Family's PC Problems - PCWorld
When the phone rings in my house, there's a 50/50 chance it's a call for help--tech help. Maybe it's my sister trying to figure out why her wireless mouse no longer works. Maybe it's Dad wanting to know why virus warnings keep popping up on his desktop. (Uh, oh.) Or it could be Aunt Judy looking for the file attachment she knows she saved--but doesn't know where.
45 Most Popular Tools Must For Every Geek | scitechie.com