Firefox Addons
Must Have Web Apps for the Hi-Tech College Student. Jul 27, 2011 Find yourself struggling to juggle homework assignments, deadlines, classes and your social life - not to mention organizing all those notes?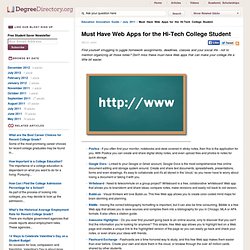 Don't miss these must-have Web apps that can make your college life a little bit easier. Postica - If you often find your monitor, notebooks and desk covered in sticky notes, then this is the application for you. With Postica you can create and share digital sticky notes, and even upload files and photos to notes for quick storage. Morning Coffee. 25 Best and useful Addons for Firefox you should install | PCs P. Mozilla Firefox, undoubtedly the best browser is so famous for its Add-ons.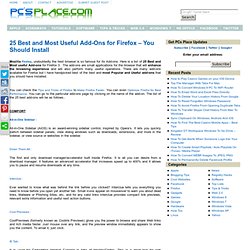 Here is a list of 25 Best and Most useful Add-ons for Firefox 3. The add-ons are small applications for the browser that will enhance the browsing experience and will also perform many useful operations. There are many add-ons available for Firefox but I have handpicked best of the best and most Popular and Useful add-ons that you should have installed. You can check the Tips and Tricks of Firefox to Make Firefox Faster. 13 of the Most Popular Free Programs for the PC | 13tips.com. My hard drive is getting pretty full and I was taking a look at the programs that could be uninstalled, especially ones that cost money on a regular basis.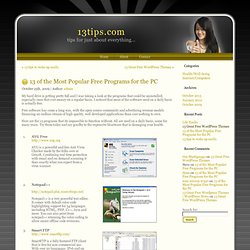 I noticed that most of the software used on a daily basis is actually free. Free software has come a long way, with the open source community and advertising revenue models financing an endless stream of high quality, well developed applications than cost nothing to own. Here are the 13 programs that its impossible to function without.
---