Music
swearingen's Dropbox on SoundCloud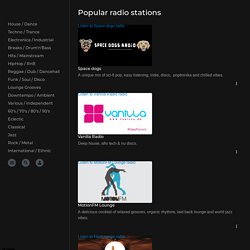 https://googledrive.com/host/0B99lcOwdwe5MUDRsdkgyWS1Kems/santa-claus.jpg https://googledrive.com/host/0B99lcOwdwe5MUDRsdkgyWS1Kems/big-brother-is-watching.jpeg https://googledrive.com/host/0B99lcOwdwe5MUDRsdkgyWS1Kems/reuters3.jpg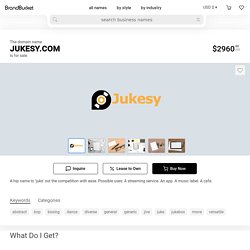 div h1 401 - unauthorized p you're not authorized to access that div h1 404 - page not found p we're having trouble finding what you want div h1 500 - internal error p something went horribly wrong. what did you do?! #search.welcome .hero-unit .span6 h2 Watch music videos on jukesy! p Get started above by searching Last.fm for an artist, album, or track. Or browse from lists of popular artists and tracks below. .span3 h2 Coming Soon ul li tag/genre radio li Last.fm scrobbling li favorites //p.alpha-warning.span9 // i.icon-warning-sign // | Jukesy is a beta release.
Welcome to Gnod's world of music... Even if you don't know what you are looking for - gnod will find it. Gnod is a self-adapting system that learns about the outer world by asking its visitors what they like and what they don't like. In this instance of gnod all is about music. Gnod is kind of a search engine for music you don't know about.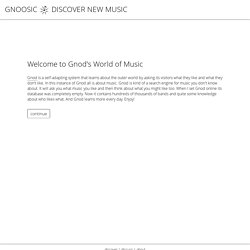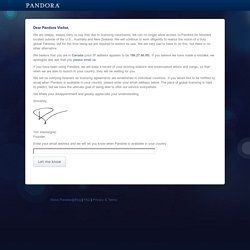 Dear Pandora Visitor, We are deeply, deeply sorry to say that due to licensing constraints, we can no longer allow access to Pandora for listeners located outside of the U.S., Australia and New Zealand. We will continue to work diligently to realize the vision of a truly global Pandora, but for the time being we are required to restrict its use. We are very sad to have to do this, but there is no other alternative. We believe that you are in Canada (your IP address appears to be 198.27.81.83).