Weather
1. Study the weather maps The weather is constantly being measured all over the world. This data goes into weather maps that you can find on the Internet. These maps show cold and warm fronts, rainfall, cloudiness, and other information you need to make your forecast. Enter your zip code below to check the most recent forecast and weather maps for a city near you.
Tips For Forecasting The Weather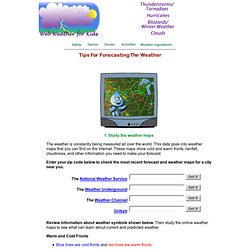 How to Predict the Weather Without a Forecast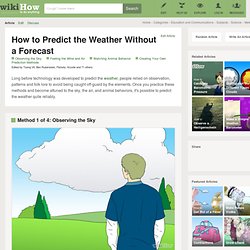 Edit Edited by Tseng VII, Ben Rubenstein, Flickety, Krystle and 60 others Long before technology was developed to predict the weather , people had to rely on observation, patterns and folk lore to avoid being caught off-guard by the elements. Here's how to try predicting the weather on your own.. Edit Steps 1 Look at the clouds .
United States Search and Rescue Task Force Predicting Weather What Is Weather? Weather simply refers to the condition of the air on earth at a given place and time - whether it is warm or cold, dry or wet, blowing or calm.
Predicting Weather