Tips and such
I've edited a monthly magazine for more than six years, and it's a job that's come with more frustration than reward. If there's one thing I am grateful for — and it sure isn't the pay — it's that my work has allowed endless time to hone my craft to Louis Skolnick levels of grammar geekery. As someone who slings red ink for a living, let me tell you: grammar is an ultra-micro component in the larger picture; it lies somewhere in the final steps of the editing trail; and as such it's an overrated quasi-irrelevancy in the creative process, perpetuated into importance primarily by bitter nerds who accumulate tweed jackets and crippling inferiority complexes.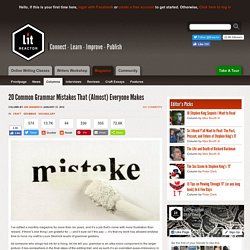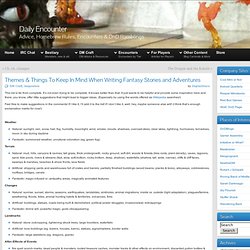 This list is far from complete. It's not even trying to be complete.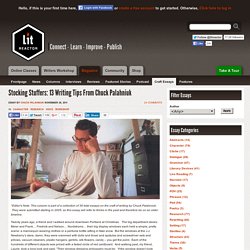 Twenty years ago, a friend and I walked around downtown Portland at Christmas. The big department stores: Meier and Frank… Fredrick and Nelson… Nordstroms… their big display windows each held a simple, pretty scene: a mannequin wearing clothes or a perfume bottle sitting in fake snow. But the windows at the J.J.
When George Plimpton asked Ernest Hemingway what the best training for an aspiring writer would be in a 1954 interview, Hem replied, "Let's say that he should go out and hang himself because he finds that writing well is impossibly difficult.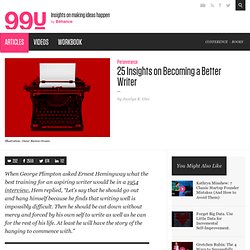 Image from Flickr by Lazurite This is not particularly relevant to the post, but I'm getting an awful lot of comments telling me, often a little snarkily, "it's 'THAT' not 'WHICH'". The "don't use which for restrictive clauses" rule comes (as far as I can tell) from Strunk and White.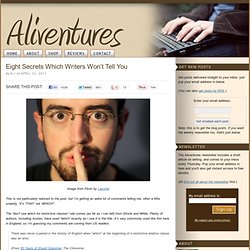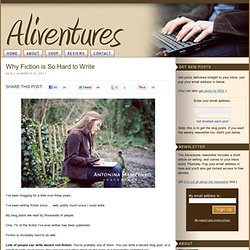 I've been blogging for a little over three years.
Why Fiction is So Hard to Write
Writer's Block Help - Inspired Creative Writing Ideas and Techniques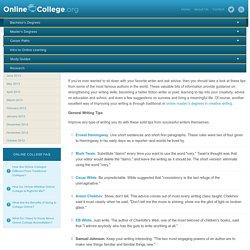 If you've ever wanted to sit down with your favorite writer and ask advice, then you should take a look at these tips from some of the most famous authors in the world. These valuable bits of information provide guidance on strengthening your writing skills, becoming a better fiction writer or poet, learning to tap into your creativity, advice on education and school, and even a few suggestions on success and living a meaningful life.
Story Structure Series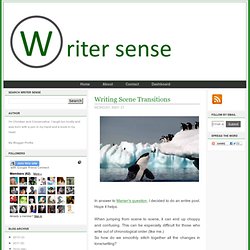 In answer to Marian's question, I decided to do an entire post.
Writing Scene Transitions
Writing Tips – the actual scene changes (transitions)
Help with writing scene transitions
Posted by beckylevine under Scenes | Tags: Revising, Scenes, Transitions | [4] Comments Remember, in the days when you were writing essays for English class, and a teacher would write the word "transition" in the margin of your paper?
Scene Transitions « Becky Levine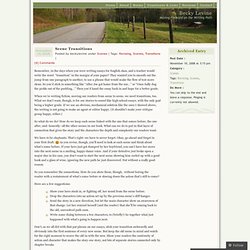 Writer's Block: The Cause and the Cure
Why Writer's Block is Your Secret Weapon
500 Cliches to Avoid in Your Creative Writing
Cliches (properly spelled clichés, with the acute accent) are words and phrases, once interesting, which have lost their original effect from overuse. They are considered trite and should be avoided in writing unless used purposely for effect. We all use them without thinking, sometimes because they fit the bill or are just the ticket (both cliches), but usually because they're metaphors, idiom, or truisms that have become so common we no longer notice them.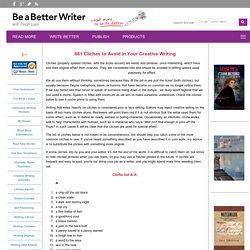 (Image from Flickr by Unhindered by Talent)
How to Cut the Waffle From Your Writing – and Grab Readers' Attention
We have all met people who have the extraordinary ability to talk in clichés: Y'know, not to beat around the bush or hedge your bet, this section is a must-read because it calls a spade a spade and in a nutshell leaves no stone unturned to pull the rug from under those off-the-cuff, old-hat bête noires called clichés.
Writing Tips - Publishers list of phrases for writers to avoid | authonomy writing community
Nobody ever said plotting was easy. And because it's not easy, an alarming number of writers settle for so-called 'plot cliches'.
How to Avoid Plot Cliches: Tips for Writers on Increasing Their Chances of Publication | Suite101.com
Fantasy world
Many fantasy worlds draw heavily on real world history, geography and sociology, and also on mythology and folklore. Plot function[edit] The setting of a fantasy work is often of great importance to the plot and characters of the story. The setting itself can be imperiled by the evil of the story, suffer a calamity, and be restored by the transformation the story brings about.[3] Stories that use the setting as merely a backdrop for the story have been criticized for their failure to use it fully.[4] Even when the land itself is not in danger, it is often used symbolically, for thematic purposes, and to underscore moods.[5]
Good stuff; thanks for the article, and I agree with most of it.
Fantasy: Getting Started
How to write an excellent first chapter for your novel - Writing Tips
How to Write Thousands of Words Every Single Week
30 Skills for Writers
6 Writers Who Broke the Rules and Got Away with It
9 Editing Tips that Make Your Writing Sparkle
Absolute Write Water Cooler - Powered by vBulletin