Clothing
I was inspired to make this DIY tote bag after I took a trip to the farmer's market and realized I needed a comfortable and lightweight bag to carry all my goodies. I love the way this DIY project turned out and, more importantly, there was no sewing involved! A pillowcase already has all the stitching you need to create this easy and stylish tote bag. The cross-body shoulder strap also makes it super comfortable to carry around all day. Just grab a pillowcase from your dresser, stamp it, give it a couple snips and you've got a custom carry-all tote for your next trip to the market!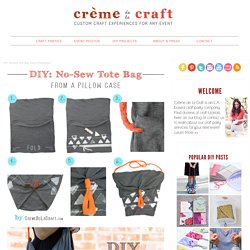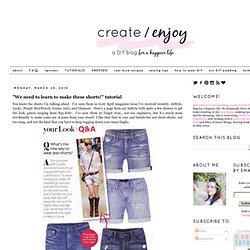 "We need to learn to make these shorts!" tutorial
You know the shorts I'm talking about. I've seen them in every April magazine issue I've received recently--InStyle, Lucky, People StyleWatch, Cosmo (ick), and Glamour.
How To Make An Easy and Cheap Shirt From Silk Scarves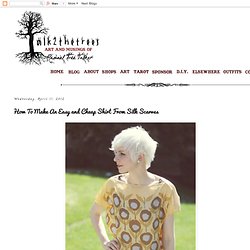 Wanna learn how to make a super cute and breezy summer top? What if I told you it only cost me about 3.50? And what if I told you it took me about 5 minutes?! I thought so.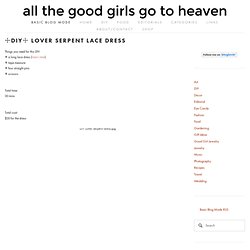 Things you need for this DIY:✝ a long lace dress (here's mine)✝ tape measure✝ four straight pins✝ scissorsTotal time:30 minsTotal cost:$30 for the dress This is the easiest... First, put the dress on and mark with pins the length you want in the front, back and on the sides. I measured 12 inches in front and back and 24 inches on the sides (up from the seam). I have to admit the sides are just a tiny bit higher than I wanted, so I advise you to make it a little longer to be on the safe side.
☩DIY☩ Lover Serpent Lace Dress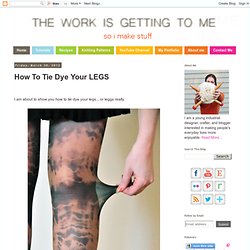 I am about to show you how to tie dye your legs... or leggs really. Yeah, they're just stockings, but the result is still the same. I now have 3 different crazy pairs of tights that each were made from old clothes and food coloring.
I wanted to do a tutorial on sunglasses inspired on the a-morir lace sunglasses. I really like the idea of lace sunglasses and I thought it couldn't be that hard to do a DIY version of these sunglasses. I wanted to make them a little more subtle and give them my own twist. That's why I decided to use white lace and white sunglasses for this project.
DIY - Lace sunglasses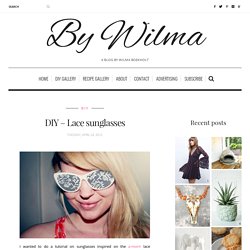 Happy Friday friends! Earlier this week I said I'd be sharing a fashion upcycle using vintage trim, and here it is! Disclaimer: I am not a fashion blogger, or a professional seamstress. You have been fairly warned. So a couple summers ago I got these denim capris that were like my uniform, I pretty much wore them everywhere. But I couldn't really stand the length, they just seemed to hit at an odd spot.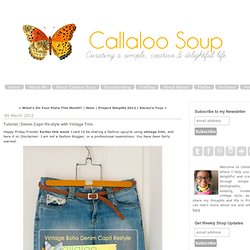 Callaloo Soup: Tutorial | Denim Capri Re-style with Vintage Trim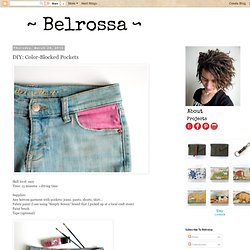 Skill level: easy Time: 15 minutes + drying time Supplies: Any bottom garment with pockets: jeans, pants, shorts, skirt... Fabric paint (I am using "Simply Screen" brand that I picked up at a local craft store) Paint brush Tape (optional) Lift pocket open an simply take your fabric paint and carefully paint the area you want colored. Allow time to dry.
Color-Blocked Pockets
Hey look I finally attempted colour blocking! I can't believe it took me so long, this top was so easy to make! I started by mapping out my measurements and settled on a square-ish top 55cm x 65cm.
Scared Stitchless: Colour Block Top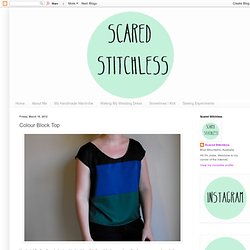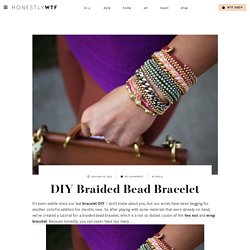 It's been awhile since our last bracelet DIY. I don't know about you, but our wrists have been begging for another colorful addition for months now. So after playing with some materials that were already on hand, we've created a tutorial for a braided bead bracelet, which is a not so distant cousin of the hex nut and wrap bracelet.