Pre-Socratic Philosophy
Anaximander was the author of the first surviving lines of Western philosophy.
Anaximander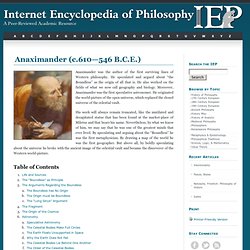 Anaximenes 
According to the surviving sources on his life, Anaximenes flourished in the mid 6th century B.C.E. and died about 528.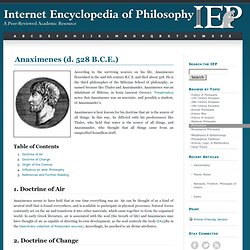 Aristophanes (/ˌærɨˈstɒfəniːz/ or /ˌɛrɨˈstɒfəniːz/;[2] Greek: Ἀριστοφάνης, pronounced [aristopʰánɛːs]; c. 446 BCE – c. 386 BCE), son of Philippus, of the deme Cydathenaus,[3] was a comic playwright of ancient Athens. Eleven of his thirty plays survive virtually complete.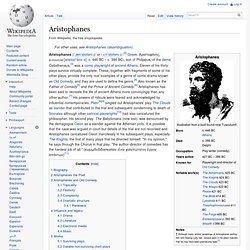 Aristophanes
Parmenides of Elea (/pɑrˈmɛnɨdiːz əv ˈɛliə/; Ancient Greek: Παρμενίδης ὁ Ἐλεάτης; fl. 5th century BCE) was an ancient Greek philosopher born in Elea, a Greek city on the southern coast of Magna Graecia. He was the founder of the Eleatic school of philosophy. The single known work of Parmenides is a poem, On Nature, which has survived only in fragmentary form. In this poem, Parmenides describes two views of reality.