Prarie Style
William H. Pettit Mortuary Chapel This building defintely stands out in a cemetary. This building was built in 1906 as a memorial to Mr. Pettit by his wife Emma.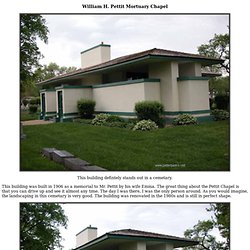 Pettit Chapel
Frank Lloyd Wright's Westcott House
The Graycliff Estate was designed by Frank Lloyd Wright between 1926-31 for Isabelle R. Martin, wife of industrialist Darwin Martin. The family owned the property until, after the deaths of Isabelle and Darwin Martin, their descendents sold the property (c. 1951) to the Piarist Fathers, an order of Roman Catholic Priests from Hungary, who used Graycliff as their motherhouse. The Fathers altered the property substantially for their own uses, adding additional buildings and structures that obscured Wright's vision for nearly fifty years.
Graycliff - Wright on the Lake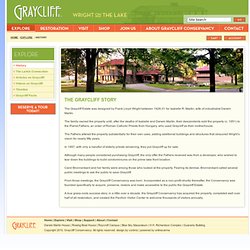 Meyer May Presented by Steelcase
Barton House
Welcome to the Dana-Thomas House
Frank Lloyd Wright Stockman House Museum
Frank Lloyd Wright's Martin House Complex :: Home