Resources - wikis and blogs
Project Instructions - Mrs. Haithcox's Spanish Class
COERLL | Center for Open Educational Resources and Language Learning
iRubric: Spanish Speaking Rubric - F2A4C6: RCampus.com
In 2009, fewer elementary schools were teaching foreign languages than one decade earlier. Read More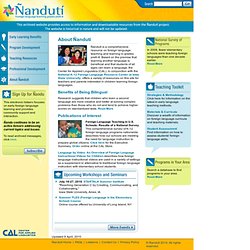 Ñandutí
The Center for Advanced Research on Language Acquisition (CARLA) : Articulation of Language Instruction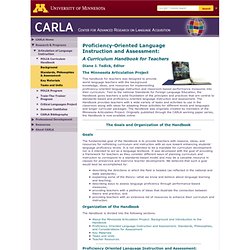 Diane J. Tedick, Editor
Beginning the study of a new language is either difficult or boring. can be difficult and boring, too. Spanish can be a struggle or a joy, and the learning strategies that you employ during the first days of your are most important.
Over Learning Beginning Spanish | Clase Chevere Blog
RED746Showcase - Enhancing the Spanish Curriculum through Web 2.0 Tools
maria laura carlsson's Lists
PBL in WL and #langchat News
Switch to a communicative set-up
This is a real workspace! Please edit this page, create new pages, and invite others to use the workspace with you.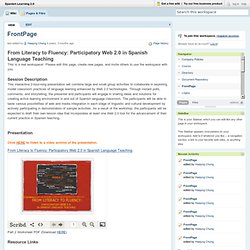 Spanish Learning 2.0 / FrontPage
Thanks to all our dedicated #LangChat twitter participants who shared great ideas and resources to help encourage and increase student use of target language (TL) in class.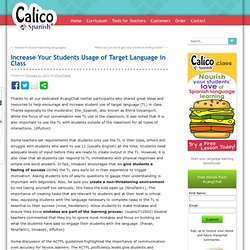 Calico Spanish: Increase Your Students Usage of Target Language in Class
Top Spanish Web 2.0 Apps
Next in my series on top international Web apps is Spain. The previous countries profiled were Germany, Holland, Poland, Korea, United Kingdom and Russia. The information in this post comes from two people: Eduardo Perez Orue from the Spanish Virtual Desktop product EyeOS, plus a R/WW reader named Carlos (sorry I didn't get his last name). An interesting fact about Spain's web apps is that most sites are presented with multilingual engines. Eduardo told me that Spanish Web entrepreneurs think that Spanish-only sites have a limited audience - "only 300 million people or so" (!)
Teaching Spanish with Web 2.0 Tools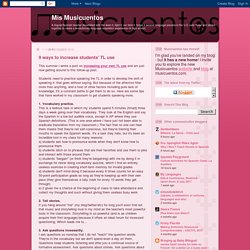 9 ways to increase students' TL use
This summer I wrote a post on increasing your own TL use and am just now getting around to this follow-up post. Students need to practice speaking the TL in order to develop the skill of speaking it; that goes without saying. But because of the affective filter more than anything, and a host of other factors including pure lack of knowledge, it's a constant battle to get them to do so.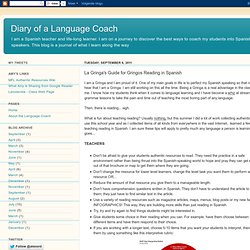 I am a Gringa and I am proud of it. One of my main goals in life is to perfect my Spanish speaking so that natives can't hear that I am a Gringa. I am still working on this all the time.
La Gringa's Guide for Gringos Reading in Spanish
Earlier this year our school district offered high school teachers an opportunity to submit a proposal to "Re-imagine the 21st Century Classroom" .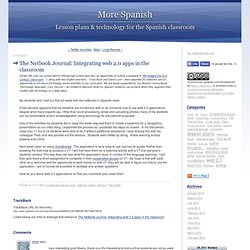 More Spanish: The Netbook Journal: Integrating web 2.0 apps in the classroom
He pensado un número – A guessing game with numbers in Spanish » Spanish Playground
I use this simple game, He pensado un número, to review numbers in Spanish and teach mayor (greater) and menor (less). We play in class and I also give it to my students in their list of at-home activities.