Resources - wikis and blogs
Project Instructions - Mrs. Haithcox's Spanish Class. COERLL | Center for Open Educational Resources and Language Learning. Spanish Speaking Rubric - F2A4C6: RCampus.com. Ñandutí. In 2009, fewer elementary schools were teaching foreign languages than one decade earlier.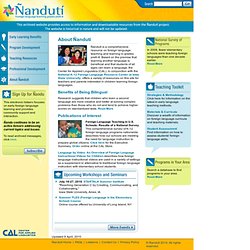 Read More Strategies & Methodology Click here for information on the latest in early language teaching methods. Materials & Curricula Discover a wealth of information on foreign language curricula and teaching materials. : Articulation of Language Instruction. Diane J.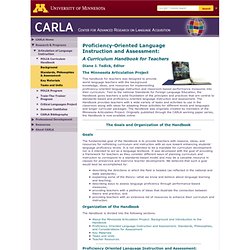 Tedick, Editor The Minnesota Articulation Project This handbook for teachers was designed to provide world language teachers with the background knowledge, ideas, and resources for implementing proficiency-oriented language instruction and classroom-based performance measures into their curriculum. Tied to the national Standards for Foreign Language Education, the Handbook gives teachers a solid foundation of the principles and practices that are central to standards-based and proficiency-oriented language instruction and assessment. The Handbook provides teachers with a wide variety of tasks and activities to use in the classroom along with ideas for adapting these activities for different levels and languages and longer curricular packages.
Over Learning Beginning Spanish | Clase Chevere Blog. Beginning the study of a new language is either difficult or boring.
Can be difficult and boring, too. Spanish can be a struggle or a joy, and the learning strategies that you employ during the first days of your are most important. RED746Showcase - Enhancing the Spanish Curriculum through Web 2.0 Tools. Maria laura carlsson's Lists. PBL in WL and #langchat News. Switch to a communicative set-up. Spanish Learning 2.0 / FrontPage. This is a real workspace!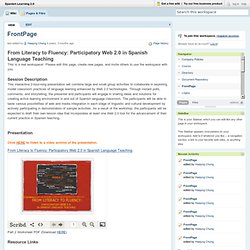 Please edit this page, create new pages, and invite others to use the workspace with you. Session Description This interactive 2-hour-long presentation will combine large and small group activities to collaborate in exploring model classroom practices of language learning enhanced by Web 2.0 technologies. Through instant polls, comments, and storytelling, the presenter and participants will engage in sharing ideas and solutions for creating active learning environment in and out of Spanish language classroom.
The participants will be able to taste various possibilities of web and media integration in each stage of linguistic and cultural development by actively participating in demonstration of sample activities. Home. Delicious. Calico Spanish: Increase Your Students Usage of Target Language in Class. Thanks to all our dedicated #LangChat twitter participants who shared great ideas and resources to help encourage and increase student use of target language (TL) in class.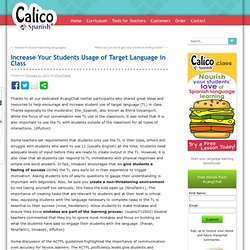 Thanks especially to the moderator, Elle_Spanish, also known as Elvira Deyamport. While the focus of our conversation was TL use in the classroom, it was noted that it is also important to use the TL with students outside of the classroom for all types of interactions. (dlfulton) Top Spanish Web 2.0 Apps. Next in my series on top international Web apps is Spain.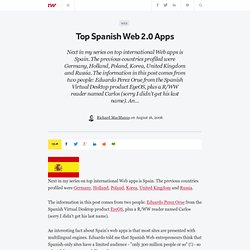 The previous countries profiled were Germany, Holland, Poland, Korea, United Kingdom and Russia. The information in this post comes from two people: Eduardo Perez Orue from the Spanish Virtual Desktop product EyeOS, plus a R/WW reader named Carlos (sorry I didn't get his last name). Teaching Spanish with Web 2.0 Tools. 9 ways to increase students' TL use. This summer I wrote a post on increasing your own TL use and am just now getting around to this follow-up post.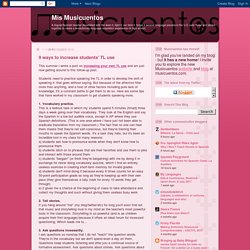 Students need to practice speaking the TL in order to develop the skill of speaking it; that goes without saying. But because of the affective filter more than anything, and a host of other factors including pure lack of knowledge, it's a constant battle to get them to do so. La Gringa's Guide for Gringos Reading in Spanish. I am a Gringa and I am proud of it.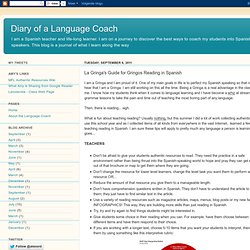 One of my main goals in life is to perfect my Spanish speaking so that natives can't hear that I am a Gringa. I am still working on this all the time. More Spanish: The Netbook Journal: Integrating web 2.0 apps in the classroom. Earlier this year our school district offered high school teachers an opportunity to submit a proposal to "Re-imagine the 21st Century Classroom" .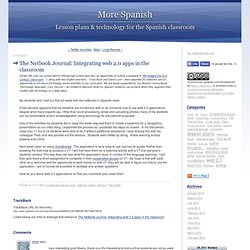 I, along with two English teachers - Tricia Buck and David Lunn - were awarded 30 netbooks and an opportunity to introduce technology driven activities to our curriculum. We are being supported by our district's Instructional Technology Specialist, Cary Harrod. I am thrilled to discover what my Spanish students can achieve when they augment their studies with technology on a daily basis.
He pensado un número – A guessing game with numbers in Spanish » Spanish Playground. I use this simple game, He pensado un número, to review numbers in Spanish and teach mayor (greater) and menor (less).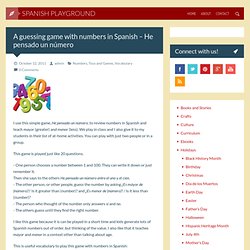 We play in class and I also give it to my students in their list of at-home activities. You can play with just two people or in a group.
---