Transmedia
La Social TV, un autre moyen d'expression pour les Français. « Geek Politics, la démocratie dans les câbles » : Une enquête sur les liens entre les hackers et la politique du net → France Télévisions Nouvelles Ecritures et francetv info viennent de mettre en ligne une série de reportages intitulée « Geek Politics, la démocratie dans les câbles » Une enquête sur les […] Interview des organisateurs du SmartFipa → En marge du FIPA, les 24 et 25 janvier, se déroule un événement inédit entièrement dédié au transmedia : le Smart Fip@.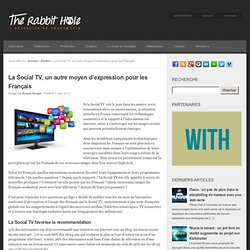 Networked Insights: The World's 50 Most Innovative Companies in 2012. Historically, an actuary would be the last person Hollywood would turn to for advice.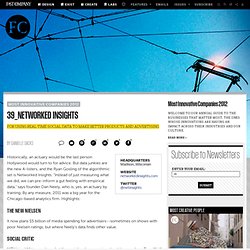 But data junkies are the new A-listers, and the Ryan Gosling of the algorithmic set is Networked Insights. "Instead of just measuring what we did, we can pre-inform a gut feeling with empirical data," says founder Dan Neely, who is, yes, an actuary by training. By any measure, 2011 was a big year for the Chicago-based analytics firm. Highlights: It now plans $5 billion of media spending for advertisers--sometimes on shows with poor Nielsen ratings, but where Neely's data finds other value. Master scénarisation de contenus audiovisuel multisupports Group News.
Your Life Is A Transmedia Experience.
Engaging audience
Blogs à lire. Video. Transmedia Revolution (en français) SHOOT Directors/Producers Forum Panel: The Media Are The Message | The SPW Channel. Literature. ARG. Navigating the World of Multi-Platform & Transmedia Rituals. I have been trying to find a really simple metaphor for clients, students and other industry professionals to help them better understand the complex world of multi-platform.
Also completing the last few chapters of my Networked Media Storytelling book I needed a big but simple metaphor. One of the biggest issues I have faced over the years is rooted in the question "I tell stories on one or two platforms why do I need to reach out onto other platforms and how?". I often reply with a long answer that falls into a few categories (1) Audience have fragmented 2) Business models have shifted (3) Engagement and social needs have altered (4) Have you noticed a general decline in traditional media? (5) Your stories can be improved exponentially if you 'transmediarize' them etc: I obviously leave the more fundamental 'how to's" to my consultations or workshops and a key element of that is what are the new platforms combined with how to design your story appropriately for them. Producing Transmedia Stories – 10 Reasons why Audiences do it Better… …than Agencies and Filmmakers.
Why do transmedia professionals have a difficult time achieving authentic and fluid transmedia stories and why do 'existing' branded entertainment & digital agencies tend towards lowest common denominator, tried and tested formulaic cross media, more about PR, advertising and marketing than real 'story' focused engagement. Against this and rather paradoxically we have the 'so-called' audience/users actually telling their 'life' stories across platforms in a much more natural and engaging way. Having produced and studied cross media since 1997 ("What do Audiences Want" BBC pres) one very large and persistent problem has always been creating authentic transmedia stories – natural story arcs and bridges that lead you onward through a long format, multi platform experience. So why is this?
Video
Reading and Writing Transmedia | Digital Is ... We have told stories to each other since the dawn of human history.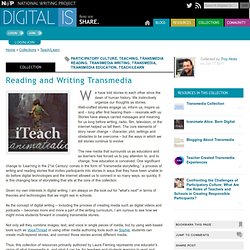 We instinctively organize our thoughts as stories. Well-crafted stories engage us, inform us, inspire us and – long after first hearing them – resonate with us. Stories have always carried messages and meaning for us long before writing, radio, film, television, or the internet helped us tell them. Storytelling. Transmedia Artists Guild - New advocacy for new media. Transmedia Labeling – Updated. I'll jump right to it: here's the symbol I'm proposing to indicate that a page that looks real is indeed fictional.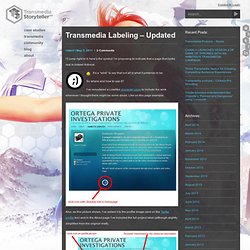 It's a "wink" to say that not all is what it pretends to be So where and how to use it?
Examples of campaign. Crowdfunding. Transmedia activism. The Future Of Digital Media. Will transmedia storytelling enrich popular culture or make it more formulaic? Scott Walker – Transmedia Groups/Events. I'm no longer maintaining this page.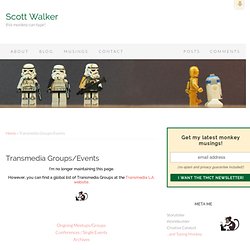 However, you can find a global list of Transmedia Groups at the Transmedia L.A. website. Ongoing Meetups/GroupsConferences / Single EventsArchives Ongoing Meetups/Groups Australia Victoria et al. Conversations transmedias.
Transmedia company. Transmedia @ Universities. Each year I'm emailed by prospective students asking for information about universities in the USA and Europe that would be good for studying transmedia at the undergraduate or post-graduate level.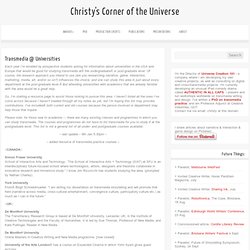 Of course, the research approach you intend to use (are you researching narrative, game, interaction, marketing, media, art, and/or so on?) Influences the choice; and one can study this area in just about every department at the post-graduate level. But attending universities with academics that are already familiar with the area would be a great help. So, I'm starting a resource page to assist those looking to pursue this area. I haven't listed all the ones I've come across because I haven't trawled through all my notes as yet, but I'm hoping this list may provoke contributions. I've included both current and old courses because the person involved or department may help those that inquire. Transmedia Producers Group News. Transmedia Producers – Conducting Symphonies of Narratives.
We hosted the second in a series of exclusive Transmedia workshops last week in Washington D.C. with Starlight Runner's Jeff Gomez.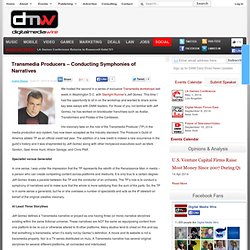 This time I had the opportunity to sit in on the workshop and wanted to share some key take-aways with DMW readers. For those of you not familiar with Jeff Gomez, he has worked on blockbuster franchises such as Avatar, Transformers and Pirates of the Caribbean. His visionary take on the role of the Transmedia Producer (TP) in the media production eco-system, has now been accepted as the industry standard: The Producer's Guild of America added TP as an official credit last year. The addition of a new credit is indeed a rare occurrence in the guild's history and it was shepherded by Jeff Gomez along with other Hollywood executives such as Mark Gordon, Gael Anne Hurd, Alison Savage, and Chris Pfaff.
Specialist versus Generalist.