Business model
Social media did not kill print media (at least not yet..) Print journalism refused to acknowledge a threat from social media in last week's gripping Big Debate; 'Print media is dead – long live social media'. Instead Neil Isaacson, successfully arguing against the motion, pointed out the unique user experiences of each medium and how embracing social media's potential was integral for the continuing success of print media in the digital age. Drawing on his experience as the Managing Director of SAB Media, the exclusive licensee of The Times and The Sunday Times (Middle East & Asia Editions) in the region, Neil crossed swords with Alan Devereux, Communications Officer for the British Business Group Dubai & Northern Emirates.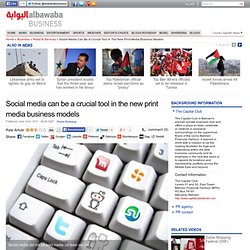 Social media can be a crucial tool in the new print media business models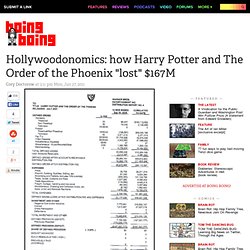 Last summer, Deadline released this balance-sheet ("participation statement") detailing the alleged financial state of the corporate entity struck to run the Warner Bros movie "Harry Potter and The Order of the Phoenix." The movie, which had grossed nearly $1B at the time, was nevertheless running $167M in the red. The losses are largely attributable to to prints and advertising/marketing -- and, as many commenters on the original post point out, a major recipient of that marketing budget would have been Warner's itself, in the guise of its other media divisions. Another culprit is high interest fees, though the film didn't have outside financing, so Deadline speculates that the loan note was also held by Warner's.
Hollywoodonomics: how Harry Potter and The Order of the Phoenix "lost" $167M
Kiefer Sutherland Proves Online Video Can Be Profitable — Online Video News
The Confession, which was produced by Digital Broadcasting Group (DBG) and starred Kiefer Sutherland, was an ambitious project for an original web series: Deficit-financed and launched exclusively on Hulu, DBG bet that with a big name star and a well-written script, a series could make money even without running on TV first. With plenty of money left to be made, it looks like that bet has already paid off. The good news for fans of The Confession — and for fans of web video in general — is that the project is already profitable. DBG CEO Chris Young told us in a phone interview that Hulu viewership exceeded its expectations. According to him, the average episode had a 95 percent completion rate, meaning viewers were watching all the way up to the credits — and the biggest complaint from the series was that episodes were too short, at six to eight minutes each.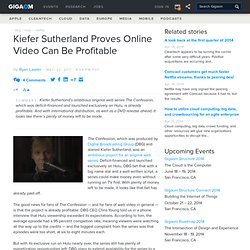 France des réseaux : pouvoirs et influences des réseaux en France
Simon Staffans: Can Transmedia be a Cash Cow?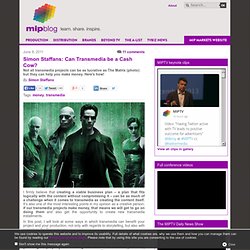 June 8, 2011 Not all transmedia projects can be as lucrative as The Matrix (photo): but they can help you make money. Here's how! By Simon Staffans I firmly believe that creating a viable business plan – a plan that fits logically with the content without compromising it – can be as much of a challenge when it comes to transmedia as creating the content itself.
Users can now earn Facebook Credits for watching video ads on the social network, according to several reports. The video ads will most commonly be implemented in games as well as a small number of Pages. For each video ad a user watches, he or she will receive one Credit, the equivalent of about 10 cents, which the user can then spend on in-game purchases or on Facebook Deals, reports Mashable.
Virtual Goods Economy Group News