Visualization
Popurls® | popular urls to the latest web buzz. Blog Archive » Say hello to Mapumental. We've been hinting for a while about a secret project that we're working on, and today I'm pleased to be able to take the wraps off Mapumental.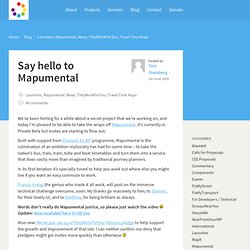 It's currently in Private Beta but invites are starting to flow out. Built with support from Channel 4′s 4IP programme, Mapumental is the culmination of an ambition mySociety has had for some time – to take the nation's bus, train, tram, tube and boat timetables and turn them into a service that does vastly more than imagined by traditional journey planners. In its first iteration it's specially tuned to help you work out where else you might live if you want an easy commute to work.
Information Architects / Web Trends Startpage. References. Oakland Crimespotting. Notice anything different?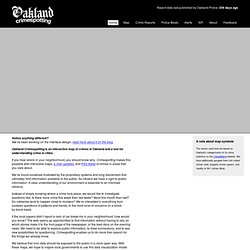 We've been working on the interface design, read more about it on the blog. Oakland Crimespotting is an interactive map of crimes in Oakland and a tool for understanding crime in cities. If you hear sirens in your neighborhood, you should know why. Crimespotting makes this possible with interactive maps, e-mail updates, and RSS feeds of crimes in areas that you care about. Faces of the Fallen: Iraq and Afghanistan Casualties | washingto. Casualties by state Casualties by category All 6781 U.S. service members, click to see casualties.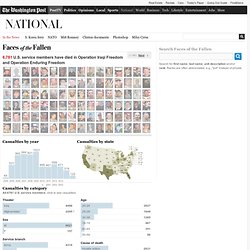 About Faces of the Fallen. Chicago crime data (formerly chicagocrime.org) | EveryBlock Chic. About crime reports In this section of EveryBlock, you can find out about criminal activity near you, from robberies to homicides to prostitution.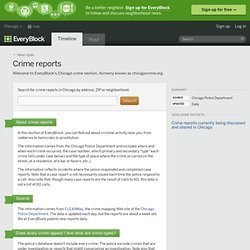 The information comes from the Chicago Police Department and includes where and when each crime occurred, the case number, which primary and secondary "type" each crime falls under (see below) and the type of place where the crime occurred (in the street, at a residence, at a bar or tavern, etc.). The information reflects incidents where the police responded and completed case reports. Note that a case report is not necessarily issued each time the police respond to a call. Also note that, though many case reports are the result of calls to 911, this data is not a list of 911 calls.
---