Typography
This Week in Fonts A monumental family from Hoefler & Co, a casual sans by Type Supply, a seaworthy display from Kyle Wayne Benson, a ferry inspired face by Letters from Sweden, an extensive script family from Martina Flor, a strong grotesk by The Northern Block, a functional slab from ReType, and a bright iconset by Symbolset. Continue reading this article The Sign Painter A short film on sign painter, Mike Langley: Continue reading this article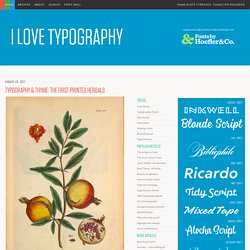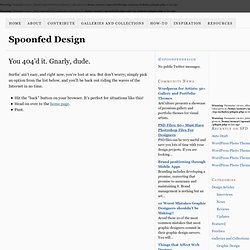 Typography is a huge part of design and design is a huge part of type. You can't just throw text on a page, it has to be laid out and organized in a clean way that adds to the information being presented. Here are 11 typography tips to help you convey information in print the right way. 1. Use Grid-Based Layouts Grid's are the basic underlying structure of almost everything you will do in design, especially printing.
11 Essential Tips for Good Print Typography | Spoonfed Design
Typography is performed by typesetters, compositors, typographers, graphic designers, art directors, comic book artists, graffiti artists, clerical workers, and anyone else who arranges type for a product. Until the Digital Age, typography was a specialized occupation. Digitization opened up typography to new generations of visual designers and lay users, and David Jury, Head of Graphic Design at Colchester Institute in England, states that "typography is now something everybody does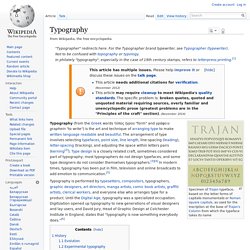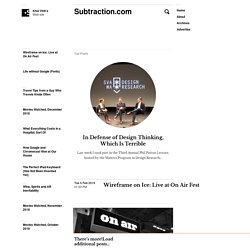 Last weekend I found some time to make some tech improvements to our house which are probably only mildly interesting to most people but hey, that's why I have this blog. The headline item was probably replacing our generic thermostat with a Nest thermostat. The physical installation was easy, but I was surprised by some bugs getting the Nest thermostat to successfully connect to our AirPort wi-fi network. I routinely connect new devices without a problem, but the Nest just couldn't make it happen on its own. Ultimately, some combination of removing the AirPort's guest network (which we never really made use of at our home), creating a DHCP reservation for the Nest's MAC address, turning off the security protocols (and later turning them back on), and entering the router's lengthy WPA2 password repeatedly via the Nest's elegantly designed but less than optimal password entry interface worked. Now the device is running quite smoothly and I'm very happy with it.