Plonesite 1
BiblioteksCenter for Integration — statsbiblioteket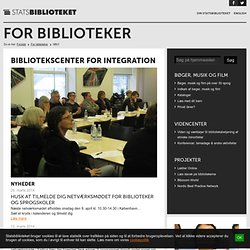 25. marts 2014 Husk at tilmelde dig netværksmødet for biblioteker og sprogskoler Næste netværksmødet afholdes onsdag den 9. april kl. 10.30-14.30 i København. .Sæt et kryds i kalenderen og tilmeld digLæs mere 12. marts 2014 Nyt inspirerende netværksmøde for biblioteker og sprogskoler i april
Panarchy.com | many.2.many :: peer.2.peer :: d.i.y.
homepage — London Deanery
Philips UK: Electronics, Personal Care, Lighting and Medical sol
Solutions for tackling cardiovascular disease Philips unveiled its latest leading-edge healthcare solutions at the European Society of Cardiology Congress. Developed in collaboration with leading cardiologists, the innovations span everything from diagnosis to treatment and aftercare, helping cardiologists to improve the quality of life for patients with cardiovascular diseases. EPIQ, for example, is a first-of-its-kind ultrasound platform featuring 'anatomical intelligence', providing whole-organ 3D visualization that overcomes the challenges of traditional ultrasound. Philips also ran symposia and hands-on tutorials featuring advances in diagnostics, patient-centric informatics, and minimally-invasive treatment.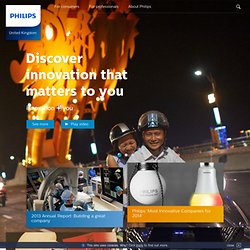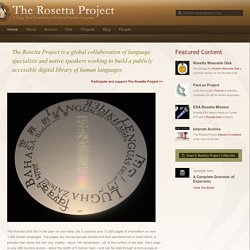 The Rosetta Project —
Participate and support The Rosetta Project >> The Rosetta Disk fits in the palm of your hand, yet it contains over 13,000 pages of information on over 1,500 human languages. The pages are microscopically etched and then electroformed in solid nickel, a process that raises the text very slightly - about 100 nanometers - off of the surface of the disk. Each page is only 400 microns across - about the width of 5 human hairs - and can be read through a microscope at 650X as clearly as you would from print in a book. Individual pages are visible at a much lower magnification of 100X. The outer ring of text reads "Languages of the World" in eight major world languages.
Home - Zea Screencast Library
maestro - Welcome to Maestro Headquarters
Photo & video albums | mobile social networking | user conte
Forsiden — DBC Hjemmeside
Admission — AICES
The AICES doctoral program is open to a limited number of extremely well-qualified students with a substantial background in their proposed field of study. Bachelor´s degree holders from Non-EU nations applying for the course-based Master´s program in Simulation Sciences should file their application by April 15 for admission in winter semester (October). The application deadline for Bachelor´s degree holders from EU nations is July 15.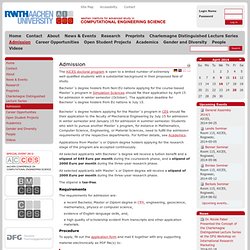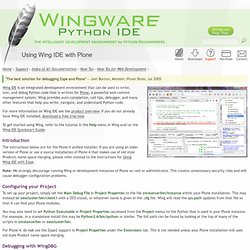 Using Wing IDE with Plone - Wingware Python IDE
"The best solution for debugging Zope and Plone"-- Joel Burton, Member, Plone Team, Jul 2005 Wing IDE is an integrated development environment that can be used to write, test, and debug Python code that is written for Plone, a powerful web content management system. Wing provides auto-completion, call tips, debugger, and many other features that help you write, navigate, and understand Python code. For more information on Wing IDE see the product overview. If you do not already have Wing IDE installed, download a free trial now.
We are a specialty pharmaceutical company focused on the development and commercialization of innovative therapies for the treatment of acute and breakthrough pain. We were founded to solve the problems of post-operative intravenous patient-controlled analgesia (IV PCA). Our lead product, Zalviso™ (sufentanil sublingual microtablet system), is designed to address IV PCA problems which can cause harm to patients following surgery such as the invasive IV route of delivery and the inherent potential for programming and delivery errors associated with the complexity of infusion pumps. AcelRx has announced positive results from each of the three Phase 3 clinical trials for Zalviso and has submitted an NDA to the FDA seeking its approval.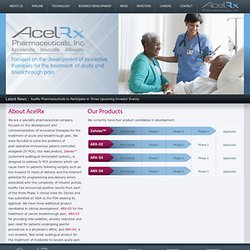 AcelRx
Studentsamskipnaden i Bergen
Nytt fra Karrieresenteret — Studentsamskipnaden i Bergen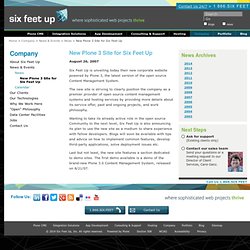 Six Feet Up is unveiling today their new corporate website powered by Plone 3, the latest version of the open source Content Management System. The new site is striving to clearly position the company as a premier provider of open source content management systems and hosting services by providing more details about its service offer, past and ongoing projects, and work philosophy. Wanting to take its already active role in the open source Community to the next level, Six Feet Up is also announcing its plan to use the new site as a medium to share experience with fellow developers. Blogs will soon be available with tips and advice on how to implement common features, develop third-party applications, solve deployment issues etc. Last but not least, the new site features a section dedicated to demo sites. The first demo available is a demo of the brand-new Plone 3.0 Content Management System, released on 8/21/07.
New Plone 3 Site for Six Feet Up — Six Feet Up, Inc.
Openplans: free project management tools, wikis, blogs, mailing
In November 2013, after Lucian Merryweather was killed by a motor vehicle driver on a Fort Greene sidewalk, Hilda Cohen wanted to act. A long-time street safety advocate, Hilda lived in the neighborhood where the crash happened. She organized her neighbors, under the name Make Brooklyn Safer, to go to the next 88th precinct community council meeting to demand action from local law enforcement.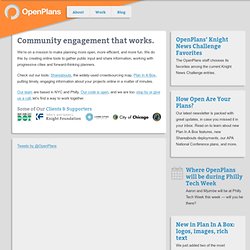 Biblioteca del Congreso Nacional de Chile — Biblioteca del Congr
¿Su consulta tiene relación con Legislación Nacional? (Leyes, Tramitación de proyectos, etc.) - Parlamentarios - Ley Fácil - Ley Fácil en Mapudungun
Columbia Center for New Media Teaching and Learning | Home
The Leader in Web Application Acceleration and Performance Manag
Welcome
Albuquerque/Bernalillo County Library System
Albuquerque - Official City Website
Koha Classic — LibLime
Extension Calendar - Utah State University Extension - extension
FINFO - flersproget portal om det danske samfund — FINFO - flers
Welcome — Språkteknologi.se
Document Actions by editorial staff — last modified 2013-10-03 14:18 What is language technology? Language technology (also called computational linguistics) is a broad and cross-disciplinary area, where linguistics and computer science meet. It concerns how human language is constructed and how a computer may be programmed in order to handle our language.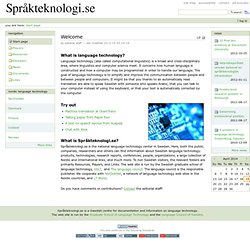 Worldwide
"Novell has superior technology, the best support on the planet, the lowest TCO, and the least bloated feature set of all the alternatives out there. Why would I switch?" -Michael W., Overland Park, USA + Read more quotes
Oxfam International
Andoya Rocket Range — Andoya Rocket Range
Last Defense | lawrence.com
Get Ready for Google Apps Engine - Learn Python and Django
Statsbiblioteket — statsbiblioteket
Simula Research Laboratory — simula.no
kristrev Samuel Wall, Head of Department How to mend a broken heart: Using computers to treat cardiac disease Ernst Gunnar Gran successfully defended his PhD On Monday, March 17, Ernst Gunnar Gran defended his PhD thesis Congestion Management in Lossless Interconnection Networks.
Utdanning og forskning — GeoForum
Open Parliament
Code Less, Create More — Trolltech
The Plone Network: Companies, Commercial Support Options, Sites,
Sightline Institute - Solutions for Cascadia — Sightline Institu
Home — Amnesty International Svizzera
Welcome to the State Library of Iowa — State Library of Iowa
ようこそ名古屋国際学園へ — Japanese
NIS — NIS
Open Source: Setting the Record Straight — LibLime
Why do we need an ePortfolio? — EIfEL