Plonesite 1
BiblioteksCenter for Integration — statsbiblioteket. 25. marts 2014 Husk at tilmelde dig netværksmødet for biblioteker og sprogskoler Næste netværksmødet afholdes onsdag den 9. april kl. 10.30-14.30 i København. .Sæt et kryds i kalenderen og tilmeld digLæs mere 12. marts 2014 Nyt inspirerende netværksmøde for biblioteker og sprogskoler i april.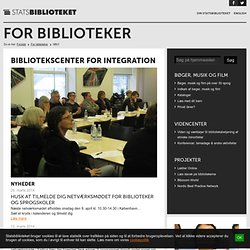 Panarchy.com | many.2.many :: peer.2.peer :: d.i.y. Homepage — London Deanery. Philips UK: Electronics, Personal Care, Lighting and Medical sol. The Rosetta Project — Home - Zea Screencast Library. Maestro - Welcome to Maestro Headquarters. Photo & video albums | mobile social networking | user conte. Forsiden — DBC Hjemmeside. Admission — AICES. The AICES doctoral program is open to a limited number of extremely well-qualified students with a substantial background in their proposed field of study.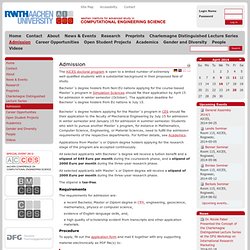 Bachelor´s degree holders from Non-EU nations applying for the course-based Master´s program in Simulation Sciences should file their application by April 15 for admission in winter semester (October). The application deadline for Bachelor´s degree holders from EU nations is July 15. Using Wing IDE with Plone - Wingware Python IDE. "The best solution for debugging Zope and Plone"-- Joel Burton, Member, Plone Team, Jul 2005 Wing IDE is an integrated development environment that can be used to write, test, and debug Python code that is written for Plone, a powerful web content management system.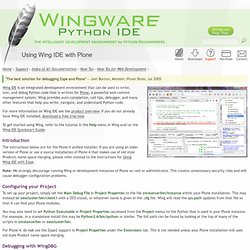 Wing provides auto-completion, call tips, debugger, and many other features that help you write, navigate, and understand Python code. For more information on Wing IDE see the product overview. If you do not already have Wing IDE installed, download a free trial now. AcelRx. Studentsamskipnaden i Bergen. Nytt fra Karrieresenteret — Studentsamskipnaden i Bergen. New Plone 3 Site for Six Feet Up — Six Feet Up, Inc. Six Feet Up is unveiling today their new corporate website powered by Plone 3, the latest version of the open source Content Management System.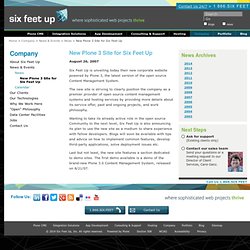 The new site is striving to clearly position the company as a premier provider of open source content management systems and hosting services by providing more details about its service offer, past and ongoing projects, and work philosophy. Wanting to take its already active role in the open source Community to the next level, Six Feet Up is also announcing its plan to use the new site as a medium to share experience with fellow developers.
Blogs will soon be available with tips and advice on how to implement common features, develop third-party applications, solve deployment issues etc. Last but not least, the new site features a section dedicated to demo sites. The first demo available is a demo of the brand-new Plone 3.0 Content Management System, released on 8/21/07. Openplans: free project management tools, wikis, blogs, mailing. Biblioteca del Congreso Nacional de Chile — Biblioteca del Congr. Columbia Center for New Media Teaching and Learning | Home. The Leader in Web Application Acceleration and Performance Manag. Welcome. Albuquerque/Bernalillo County Library System. Albuquerque - Official City Website. Koha Classic — LibLime.
Extension Calendar - Utah State University Extension - extension. FINFO - flersproget portal om det danske samfund — FINFO - flers. Welcome — Språkteknologi.se. Worldwide. Oxfam International. Andoya Rocket Range — Andoya Rocket Range. Last Defense | lawrence.com. Get Ready for Google Apps Engine - Learn Python and Django. Statsbiblioteket — statsbiblioteket. Simula Research Laboratory — simula.no. Utdanning og forskning — GeoForum. Open Parliament. Code Less, Create More — Trolltech. The Plone Network: Companies, Commercial Support Options, Sites, Sightline Institute - Solutions for Cascadia — Sightline Institu. Home — Amnesty International Svizzera. Welcome to the State Library of Iowa — State Library of Iowa. ようこそ名古屋国際学園へ — Japanese. 名古屋国際学園(名古屋インターナショナルスクール)日本語版ホームページは、入学を検討中で日本語での情報を必要とされる方のために、主に入学に関する情報を中心に記載されています。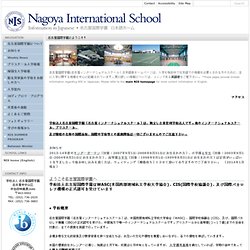 更に詳しい情報については、メインである英語版をご覧下さい。 *These pages provide limited information regarding NIS in Japanese; Please refer to the main NIS homepage for more current information in English. アクセス 学校法人名古屋国際学園(名古屋インターナショナルスクール)は、独立した非営利学校法人です。 他のインターナショナルスクール、プリスクール、 NIS — NIS. Open Source: Setting the Record Straight — LibLime. Why do we need an ePortfolio? Info In the context of a knowledge society, where being information literate is critical, the ePortfolio can provide an opportunity to support one's ability to collect, organise, interpret and reflect on his/her learning and practice.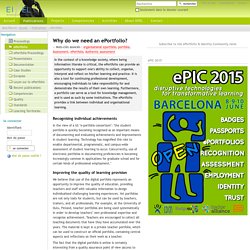 It is also a tool for continuing professional development, encouraging individuals to take responsibility for and demonstrate the results of their own learning. Furthermore, a portfolio can serve as a tool for knowledge management, and is used as such by some institutions. The ePortfolio provides a link between individual and organisational learning.
---