Floss
The International Free and Open Source Software Law Review (IFOSS L. Rev.) is a collaborative legal publication aiming to increase knowledge and understanding among lawyers about Free and Open Source Software issues. Topics covered include copyright, licence implementation, licence interpretation, software patents, open standards, case law and statutory changes. Announcements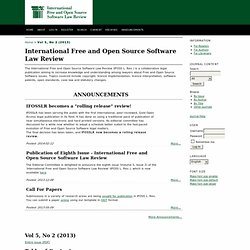 International Free and Open Source Software Law Review
Open source in af metropolitan Library
In December 2011, Osor.eu was migrated to a new collaborative platform: Joinup. Why was Osor.eu migrated? The reason of the migration to Joinup is to provide public administrations in Europe with better communication and collaboration tools to share experience with interoperability solutions for public administrations, to increase the number of users and to leverage synergies between the Osor.eu and Semic.eu user communities, while optimizing the use of public funding. Joinup is the result of an action of the 'Interoperability Solutions for European Public Administrations' (ISA) Programme. What is the objective of the platform? Joinup helps European public administrations set up efficient and effective cross-border and cross-sector electronic collaborations.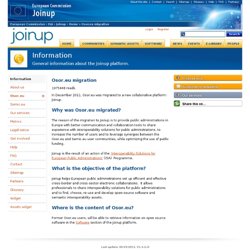 Volume 20/2007, Number 2 | Science Studies
Open Source Science: A New Model for Innovation
In a perfect world, scientists share problems and work together on solutions for the good of society. In the real world, however, that's usually not the case. The main obstacles: competition for publication and intellectual property protection. Is there a model for encouraging large-scale scientific problem solving? Yes, and it comes from an unexpected and unrelated corner of the universe: open source software development.