Værktøjer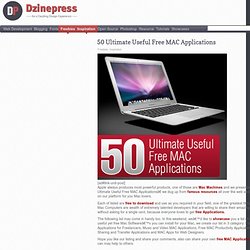 50 Free MAC Applications
Apple always produces most powerful products, one of those are Mac Machines and we presenting "50 Ultimate Useful Free MAC Applications" we dug up from famous resources all over the web and arrange on our platform for you Mac lovers. Each of listed are free to download and use as you required in your field, one of the greatest things about Mac Computers are wealth of extremely talented developers that are willing to share their amazing creations without asking for a single cent, because everyone loves to get free Applications. The following list may come in handy too.
#fb4ed #FCE #FETC #FF #fft #filmclass #finnedchat #flatclass #flatclassroom #FLE #flipchat #flipclass #followalibrarian #followfriday #foodtechteachers #forteachers #frimm #FYCchat #gaed #gamedeved #gamemooc #gamify #gamification #GCSE #GCT #gbl #geniushour #geographyteacher #gifted #globalchem #globalclassroom #globaled #google googlect #googlesearch #GplusEd #grammar #grandparentlessons #graphic_organizers #gr8teacher #great-teaching #grtechedu #gt #gtaa #gtadmin #gtchat #gted #gtie #GTvoice #guidechat #health #healthed #highered #highschool #hiphoped #histedchat #history #historyteacher #homeschool #homeschoolers #homeschooling #hs #hsc #IAedchat #IAlachat #IALearnOnline #IDEAedChat #iaedfuture #iasku #IATEFL #ibmyp #ibpyp #i-can-teach-you #iechat #ILedchat #indyschool #IneLearn #infolit #ingles #inglesparavaler #innochat #inspiringed #iolchat #iowa1to1 #ipad #ipadapps #ipadchat #ipaded #ipm #isedchat #ISjobs #ISTE #i-teach #iwb iwbusers #jalt #jedchat #jed21 #journalism #journchat
The possibilities for social media tools in the classroom are vast. In the hands of the right teacher, they can be used to engage students in creative ways, encourage collaboration and inspire discussion among even soft-spoken students. But we've already made our case for teachers should consider using social media in their classrooms . What about the ? Even when people say they want to incorporate social media, they don't always know the best ways to do so.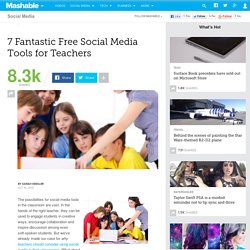 210 Websites To Help Teachers Make Learning Fun
Classroom 2.0
50 Ultimate Useful Free MAC Applications
Tech Tools for Educators
In our information-based society, the ability to manage and process large amounts of information is extremely important. One tool/technique that's superb at doing this is called visual mapping (aka mind mapping). Visual mapping is a whole brain system (combination of right and left brain) to capture all your important information. It's a matter of taking information that you have and with which you are presented and then organizing it in a more useful and meaningful way. By using visual maps, you can better and more quickly capture, consolidate, organize, and analyze information and knowledge, and enhance your ability to understand subjects, solve problems, and learn. Think of a visual map as a tree, where the various outlying branches — the subconcepts — all connect back to the trunk or central concept.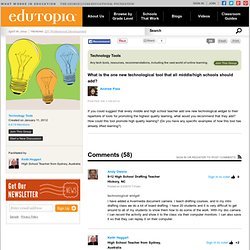 Yury Lifshits is working on algorithms and prototypes of new services at Yahoo!
The Education Tech Series is supported by Dell The Power To Do More , where you'll find perspectives, trends and stories that inspire Dell to create technology solutions that work harder for its customers so they can do and achieve more. Don Knezek, the CEO of the International Society for Technology in Education, compares education without technology to the medical profession without technology. "If in 1970 you had knee surgery, you got a huge scar," he says. "Now, if you have knee surgery you have two little dots." Technology is helping teachers to expand beyond linear, text-based learning and to engage students who learn best in other ways. Its role in schools has evolved from a contained "computer class" into a versatile learning tool that could change how we demonstrate concepts, assign projects and assess progress.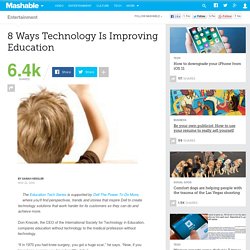 Elgg: Grou.ps: Facebook: Linked In: Ning: General: Art: Classroom Networks: Conferences: Course Material: English as a Foreign Language: English as a Second Language: English Education (Pre- and In-Service): Russian Education: Georgian recruiting : French as a Foreign language : Language Learning: Leadership: Libraries Music: Other Languages Professional Development: Science: Social Studies: Spanish as a Foreign Language: Student Organizations: Teacher Education: Technology: Virtual Environments: Visual Mapping (Mind Mapping): Vocational: Other: A listing of social networks used in educational environments or for educational purposes. Please add to this list (alphabetical by category and within categories). BuddyPress:
Educational Networking