Plugins
The Best WordPress SEO Plugins For 2012. If you read my previous post about the best SEO practices, I mentioned that one of the most important elements to search engine optimization is on-page (or on-site) optimization or, for the purpose of this post, the part of WordPress that deals with the "code".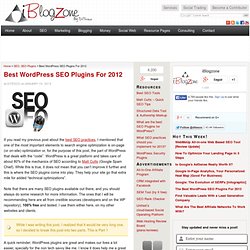 WordPress is a great platform and takes care of about 80% of the mechanics of SEO according to Matt Cutts (Google Spam Chief). While this is true, it does not mean that you can't improve it further and this is where the SEO plugins come into play. They help your site go that extra mile for added "technical optimizations". Note that there are many SEO plugins available out there, and you should always do some research for more information. Extensive Roundup of the Best WordPress Plugins You'll Ever Need: Year 2012 Edition. Besides being a beautiful, easy to use and powerful platform by itself, WordPress is also loved because of it's high level of customization and optimization.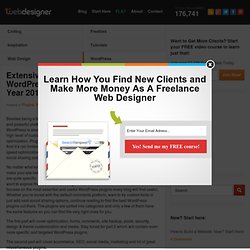 Plugins are the best way to optimize and enrich your WordPress blog. And it's not limited to performance only. Ecwid Shopping Cart. 12 WordPress eCommerce Plugin Reviews | Custom CMS Websites. Part of having a WordPress platform to combine a blog format and custom cms web design is the flexibility to create content rich websites for a wide variety of business models.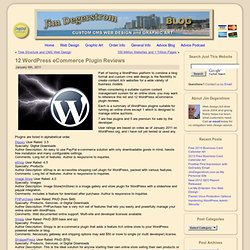 When considering a suitable custom content management system for an online store, you may want to reference this list and 12 WordPress eCommerce plugin reviews. Each is a summary of WordPress plugins suitable for running an online store except 1 which is designed to manage online auctions. Top 5 Excellent E-Commerce Plugins for WordPress. With the internet being used more and more by your average consumer, you may be wanting to start your own online shop so you can unleash your products to all those potential customers.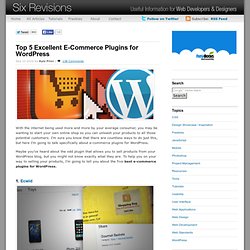 I'm sure you know that there are countless ways to do just this, but here I'm going to talk specifically about e-commerce plugins for WordPress. Maybe you've heard about the odd plugin that allows you to sell products from your WordPress blog, but you might not know exactly what they are. To help you on your way to selling your products, I'm going to tell you about the five best e-commerce plugins for WordPress. 1.
WordPress Ecommerce a WordPress Shopping Cart Plugin - getShopped.org. WP-Ecommerce - Layout Issues – Google Grupper. WooCommerce: An open-source eCommerce plugin for WordPress. The Best WordPress Shopping Cart and Ecommerce Plugin | WinkPress ;) I have listed for you here all of WordPress shopping cart solutions: plugins, hybrids, lightweight plugins, and even hosted carts.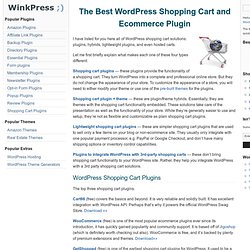 Let me first briefly explain what makes each one of these four types different: Shopping cart plugins — these plugins provide the functionality of a shopping cart. They turn WordPress into a complete and professional online store. Wordpress Shopping Cart - ShopperPress - New 2012. WordPress MarketPress Plugin - WPMU Dev. To Get Started: Start by reading the Installing Plugins section in our comprehensive WordPress and WordPress Multisite Manual if you are new to WordPress.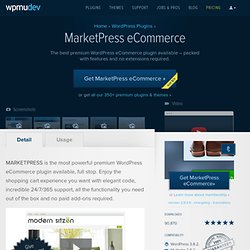 To Install: Download the plugin file.Unzip the file into a folder on your hard drive.Upload the /marketpress/ folder and all its contents to the /wp-content/plugins/ folder on your site.Login to your admin panel for WordPress or Multisite and activate the plugin:On regular WordPress installs – visit Plugins and Activate the plugin.For WordPress Multisite installs – Activate it site-by-site in Plugins in the site admin dashboard (say if you wanted to make it a Pro Sites premium plugin), or visit Network Admin » Plugins and Network Activate the plugin.
---