Photo
Passionné et ancien pro, voici quelques bons liens Jul 25
Ondrej Pakan / Photos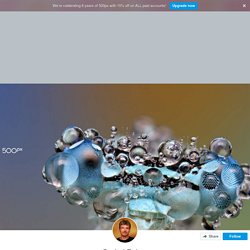 Microkosmos-It`s another world, which can be seen under our feet. We can discover a world of small monsters. Each fly, bee and spider is a perfect predator or a warring victim in this empire. It`s always a big surprise for me to find out how many species, forms and colors exist in this kingdom. I see the things around me a bit differently after each visit in this micro-world.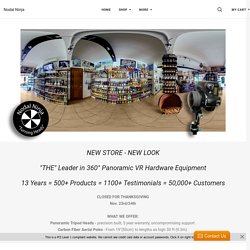 * Nodal Ninja Tera Automated Robotic Head Coming Soon* Nodal Ninja slated to shoot VR aboard the International Space Station in future mission.* Ninja Ninja becomes North America Top-Tier Distributor and Reseller for NCTech's iStar Why Nodal Ninja? Simply put - precision products, exceptional value, top support - a winning combination of core values our company is built upon. We've gone head to head with the competition and continually come out on top - read the reviews. Our award winning panoramic tripod heads offer exceptional value without compromising quality backed by industry leading support.
Portail • PowerShot-G.fr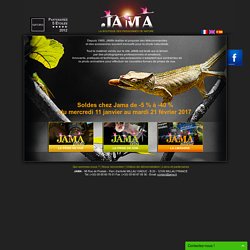 la boutique des passionnés de nature Depuis 1989, JAMA réalise et propose des télécommandes et des accessoires souvent exclusifs pour la photo naturaliste. Tout le matériel vendu sur le site JAMA est testé sur le terrain par des photographes professionnels et amateurs.
Jama - La boutique des passionnés de nature
Veuillez signaler tout problème sur ce site à l'adresse magasin.arca-swiss@gmail.com Quelques informations sur le fonctionnement de ce magasin : arca-swiss - rotules et appareils photographiques pour la photographie numérique et argentique en moyen et grand format
Vanguard - Photo-Video, Hunting Outdoor Accessories, Sporting Optics
Redged | Dutch based tripods by Redged | Fluorietweg 21 A - Alkmaar - The netherlands - tel.+31 72 5409034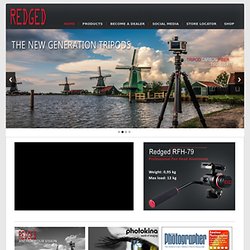 Dear photographer, As a professional I know the importance of a good tripod. It is your reliable base for sharp pictures. It gives you technical freedom. It also helps you establish the perfect composition and is essential for shooting series. To give you all that in perfect quality with a very pleasant price tag I developed the Redged tripods.
Trépieds, Rotules et Sacs | Manfrotto.fr
Fine Art Photography - M. Plonsky
Le Nikon D610 a remplacé le D600 fin 2013, qui avait acquis la réputation d'appareil maudit du fait du nombre conséquent d'exemplaires ayant dû retourner au SAV pour cause de présence récurrente de poussières, notamment dans l'angle supérieur droit de l'image. Nikon n'a pas communiqué sur la cause de ces défauts (certains ont soupçonné des éclats de peinture se détachant du revêtement interne, qui « aspirés » par l'obturateur étaient ensuite « hachés menus » par les lames de ce dernier), mais semble y avoir remédié : pas de retour sur d'éventuels problèmes de poussière sur le D610, or nul doute que s'ils existaient, les forums Internet du monde entier s'en feraient l'écho. Le D610 comporte par ailleurs un nouvel obturateur permettant la prise de vue en mode rafale de façon plus silencieuse que son prédécesseur. Lire la suite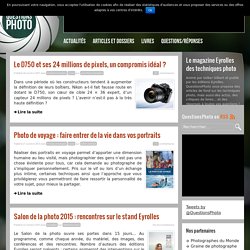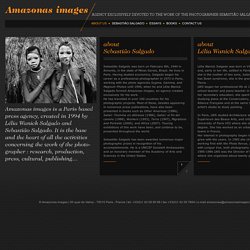 Lélia Wanick Salgado was born in Vitória, E.S., Brazil, and, early in her life, settled in Paris, France. Married, she is the mother of two sons, Juliano and Rodrigo, who has Down syndrome, she is the grandmother of a boy, Flavio. LWS began her professional life at 17, as a primary school teacher and piano teacher in Brazil.
Atelier Robert Doisneau Accueil Exposition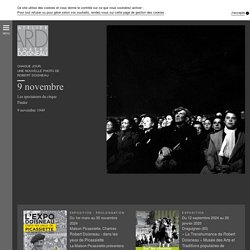 Michel LAGARDE photo reportage nepal vietnam tibet cambodge inde madagascar burkina faso mali mauritanie
Muller Photo Service Matériel photo à prix discount : objectif photo, reflex numérique, trépied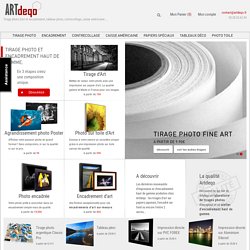 Share and expose your photos in high resolution. No limits. No ads.
Steve'sDigicams recent reviews Olympus Stylus ... Nikon Coolpix A Samsung Galaxy ... Nikon Coolpix A...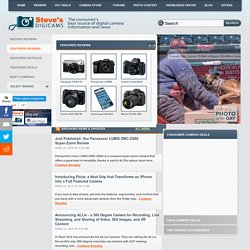 Passion Xpan
Je m'inscris !Rejoignez PPS ! L'inscription est gratuite et ne prend que quelques secondes.Apprenez la photo, participez aux discussions et exposez vos photos !
Herve Sentucq Photo panoramique : Accueil
Digital Camera Reviews LetsGoDigital
Photos des Vosges
Canon G16 review: the G15 on steroids? See what's new. Featured Story Jan 13, 16:56 EST We've just posted our Canon G16 review, and like previous G-series PowerShot cameras, it's another solid entry into the premium compact camera market. The big story with Canon's new flagship enthusiast-oriented PowerShot camera is the massive speed boost the camera gets thanks to its new DIGIC 6 processor.
le cirque
Sommaire de la boutique Photim
Arnaud Frich Photographie : photos panoramiques et classiques de Paris, d'églises, de paysages... et sa boutique en ligne.
Tous nos stages photo sont organisées à Nîmes (15mn à pied de la gare TGV) Voir le site internet consacré à nos stages photo : www.stage-photo.info Programmes de stages photo en pdf : 3 ensembles de stages photographiques sont disponibles : Workshops photographiques galerie-photo (pdf) (niveau 1 - techniques de base) Masterclass photographiques galerie-photo (pdf) (niveau 2 - création de sujets - compléments techniques) Ateliers photographiques (pdf) (niveau 3 - mise en place du système artistique) Vers le projet photographique 3 jours - 720 € HT - Lieu : Nîmes
Photographies de Emmanuel Dautriche | SmugMug