Science
Free Scientific Books | Sciyo.com. Biggest Scientific Breakthroughs of 2011.
Physics
Palaeontology. Chemistry. Astronomy. Evolution. The biology of dreaming. O one would normally consider David Maurice, Ph.D., professor of ocular physiology in the Department of Ophthalmology at Columbia-Presbyterian Medical Center, a revolutionary.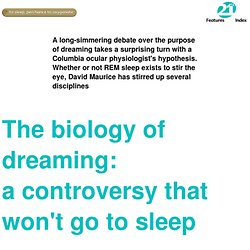 Nevertheless, he has reignited a decades-long controversy that could spark a revolutionary re-evaluation of an entire field of behavioral research. Dr. Maurice has developed a startling new line of scientific inquiry that, when added to other findings, could change our understanding of rapid eye movement (REM) sleep and the nature of dreams. What Maurice has done is to suggest an alternative explanation for the phenomenon known as REM sleep, the stage in which the eyes rapidly move and most dreams occur.
Apocalypse Not Now: 2012 Doomsday Predictions Debunked by NASA | End of the ... On Dec. 21, 2012, many doomsday believers fear the apocalypse — anything from a rogue planet smashing into us to our world spinning end over end.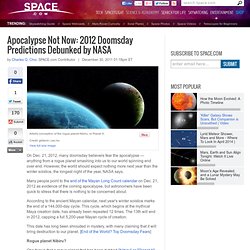 However, the world should expect nothing more next year than the winter solstice, the longest night of the year, NASA says. Many people point to the end of the Mayan Long Count calendar on Dec. 21, 2012 as evidence of the coming apocalypse, but astronomers have been quick to stress that there is nothing to be concerned about. According to the ancient Mayan calendar, next year's winter solstice marks the end of a 144,000-day cycle. This cycle, which begins at the mythical Maya creation date, has already been repeated 12 times. The 13th will end in 2012, capping a full 5,200-year Mayan cycle of creation.
---