Religion & Philosophy
Studies in Logical Theory by John Dewey - The University of Chicago Press , 1903 This volume presents some results of the work done in the matter of logical theory in the Department of Philosophy of the University of Chicago in the first decade of its existence.
Philosophy: Logic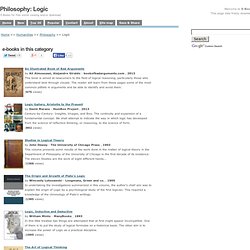 Atheist Meme Base
Atheist Meme Base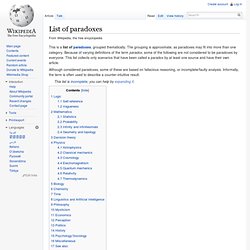 This is a list of paradoxes , grouped thematically. The grouping is approximate, as paradoxes may fit into more than one category.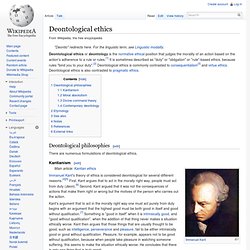 Deontological ethics or deontology (from Greek deon , "obligation, duty"; and -logia ) is the normative ethical position that judges the morality of an action based on the action's adherence to a rule or rules. [ 1 ] It is sometimes described as "duty" or "obligation" or "rule" -based ethics, because rules "bind you to your duty". [ 2 ] Deontological ethics is commonly contrasted to consequentialism . [ 3 ] Deontological ethics is also contrasted to pragmatic ethics .
Deontological ethics
In philosophy , the theory of materialism holds that the only thing that exists is matter or energy ; that all things are composed of material and all phenomena (including consciousness ) are the result of material interactions. In other words, matter is the only substance , and reality is identical with the actually occurring states of energy and matter. To many philosophers, 'materialism' is synonymous with ' physicalism '.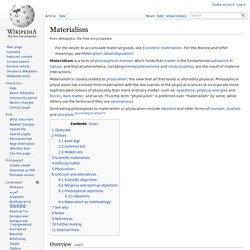 Materialism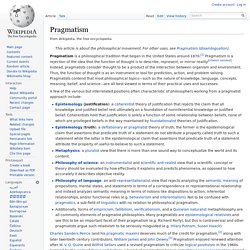 Pragmatism
Pragmatism is a philosophical tradition centered on the linking of practice and theory. It describes a process where theory is extracted from practice, and applied back to practice to form what is called intelligent practice . [ citation needed ] Important positions characteristic of pragmatism include instrumentalism , radical empiricism , verificationism , conceptual relativity , and fallibilism . [ citation needed ] There is general consensus among pragmatists that philosophy should take the methods and insights of modern science into account. [ 1 ] Charles Sanders Peirce (and his pragmatic maxim ) deserves much of the credit for pragmatism, [ 2 ] along with later twentieth century contributors, William James and John Dewey . [ 1 ]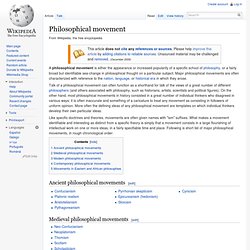 Philosophical movement
A philosophical movement is either the appearance or increased popularity of a specific school of philosophy , or a fairly broad but identifiable sea-change in philosophical thought on a particular subject.
Empiricism
John Locke , a leading philosopher of British empiricism