Landscape
http://500px.com/photo/5322307
Landscape Photography by Tad Bowman
NOW CHOOSE YOUR PREFERED ACCESSORYCONFIGURE YOUR iPhone 5PARTICIPATE IN OUR DRAW AND YOU COULD BE THE WINNER Solar backpack by Infinit Base Dock for Philips spekaers DS8500 Fidelio Solar backpack by Infinit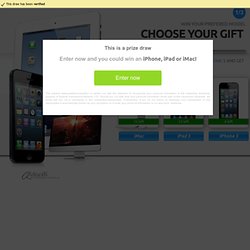 milky_way_sky-1920x1200.jpg (JPEG Image, 1920x1200 pixels) - Scaled (52
5bb5be05746d98cd1fd2d7f58a8b4086.jpg (JPEG Image, 950×633 pixels)
Amazing Places To Experience Around the Globe (Part 3)
Devetashkata Cave - Bulgaria Ben Bulben at County Sligo, Ireland Shark Island - Sydney Baatara Gorge Waterfall, Tannourine - Lebanon Abel Tasman National Park - New Zealand Myrtos Beach, Kefalonia - Greece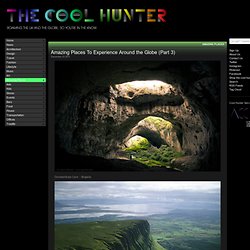 Once a backpacker's secret, Thailand's Phi Phi islands exploded onto the tourist map after the release of The Beach , a movie starring Leonardo DiCaprio that was filmed on one of the islands. Ko Phi Phi Don and Ko Phi Phi Lee are located between the island of Phuket and mainland Thailand off the West coast of Thailand in the Andaman Sea. Ko Phi Phi Don is the larger of the two islands and is home to permanent residents and a myriad of accommodations for tourists. Ko Phi Phi Lee has spectacular white sand beaches and can be visited by boat only, with trips leaving from the larger island throughout the day. Visitors can enjoy diving, snorkeling and kayaking in the waters off both islands.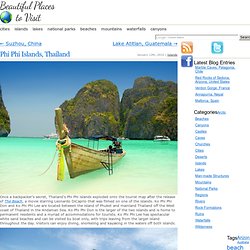 Phi Phi Islands, Thailand
1591454848_1366x768.jpg (JPEG Image, 1366x768 pixels) - Scaled (73
ss-cathedral-peak.jpg (JPEG Image, 1050x700 pixels) - Scaled (92%)
Here is an article that I found from the Photography Field Guide: Landscapes and Ultimate Photography Field Guide: Landscapes I like to post my original thoughts and information, but this one was just too good to pass up! Hopefully it is helpful and informative for you, enjoy!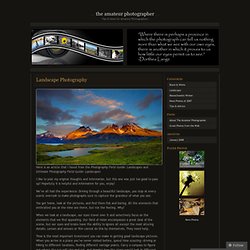 Landscape Photography « The Amateur Photographer
US National Parks Large Format - Large format photography - stock photos
Beautiful Nature Pictures 39
Yosemite, California: Photos & Trip Report
Wild Scenics Pictures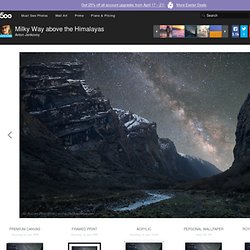 Photo &Milky Way above the Himalayas& by Anton Jankovoy... - StumbleUpon
Nepal, Himalayas, Annapurna Base Camp Trek, Modi Khola valley, nearby Machhapuchre Base Camp (3,700 m) Great news!!! Already you can buy my book about NIGHT SKY PHOTOGRAPHY (Getting ready and photographing the night sky): - PDF (perfect for your iPad, telephone, Tab, PC, MAC and etc.):
o.png (JPEG Image, 2516x1760 pixels) - Scaled (36%)
334307Moraine_Lake_2560x1600_by_Pat1926.jpg (JPEG Image, 2560x1600 pixels) - Scaled (39%)