Exterior
The First Zombie-Proof House. Bates Masi Architects - Portfolio. Profile Bates Masi + Architects LLC, a full-service architectural firm with roots in New York City and the East End of Long Island for over 45 years, responds to each project with extensive research in related architectural fields, material, craft and environment for unique solutions as varied as the individuals or groups for whom they are designed.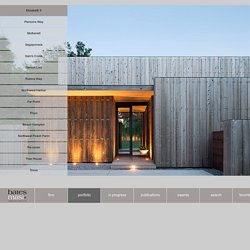 The focus is neither the size nor the type of project but the opportunity to enrich lives and enhance the environment. The attention to all elements of design has been a constant in the firm's philosophy. Projects include urban and suburban residences, schools, offices, hotels, restaurants, retail and furniture in the United States, Central America and the Caribbean. Outdoor Fireplace by Haugen/Zohar Architects. Haugen/Zohar Architects have designed an outdoor fireplace in Trondheim, Norway.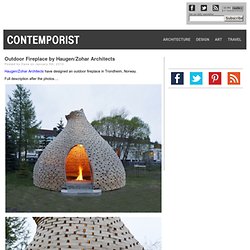 Full description after the photos…. Photography by Grethe Fredriksen & Jason Havneraas Outdoor Fireplace by Haugen/Zohar Architects Together with the standard playground facilities we wished to combine an enclosed space for fire, storytelling and playing. Given a very limited budget, reusing leftover materials (from a nearby construction site) was a starting point that led the design to be based on short wooden pieces. Gothic Architecture Pictures. Looks like good Triangulo House by Ecostudio Architects - StumbleUpon.
---