Psych
How to Detect Lies - body language, reactions, speech patterns. Interesting Info -> Lying Index -> How to Detect Lies Become a Human Lie Detector (Part 1) Warning: sometimes ignorance is bliss.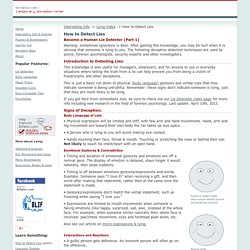 After gaining this knowledge, you may be hurt when it is obvious that someone is lying to you. The following deception detection techniques are used by police, forensic psychologists, security experts and other investigators. BEING CRAZY IS NOISY. John Sterns is diagnosed with schizoaffective disorder (a co-diagnosis of schizophrenia and bipolar disorder), chronic depression and chronic anxiety.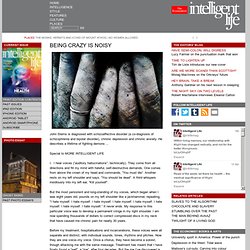 He describes a lifetime of fighting demons ... Special to MORE INTELLIGENT LIFE I. I hear voices ("auditory hallucinations", technically). They come from all directions and fill my mind with hateful, self-destructive demands. Why 5, 8 and 24 Are the Strangest Numbers in the Universe. In the May 2011 issue of Scientific American mathematician John Baez co-authors "The Strangest Numbers in String Theory," an article about the octonions, an eight-dimensional number system that was discovered in the mid–19th century but that has been largely ignored until quite recently.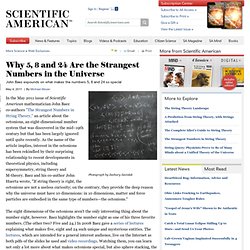 As the name of the article implies, interest in the octonions has been rekindled by their surprising relationship to recent developments in theoretical physics, including supersymmetry, string theory and M-theory. Baez and his co-author John Huerta wrote, "If string theory is right, the octonions are not a useless curiosity; on the contrary, they provide the deep reason why the universe must have 10 dimensions: in 10 dimensions, matter and force particles are embodied in the same type of numbers—the octonions. " The eight dimensions of the octonions aren't the only interesting thing about the number eight, however. Baez highlights the number eight as one of his three favorite numbers. (The other two? Color Psychology. By David Johnson Like death and taxes, there is no escaping color.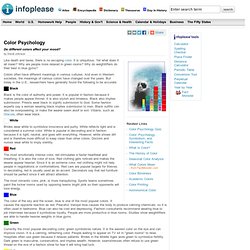 It is ubiquitous. Yet what does it all mean? Why are people more relaxed in green rooms? Why do weightlifters do their best in blue gyms? Index of free personality tests and intelligence tests. Psychological ("personality") Types. Psychological ("personality") Types According to Jung's theory of Psychological Types we are all different in fundamental ways.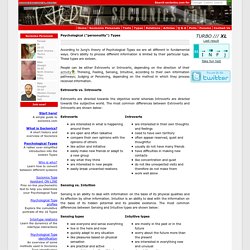 One's ability to process different information is limited by their particular type. These types are sixteen. People can be either Extroverts or Introverts, depending on the direction of their activity ; Thinking, Feeling, Sensing, Intuitive, according to their own information pathways; Judging or Perceiving, depending on the method in which they process received information. Lucid Dreaming/Introduction. Disclaimer[edit] When attempting some of the techniques in this book, you may have some frightening experiences, such as falling sensations or sleep paralysis.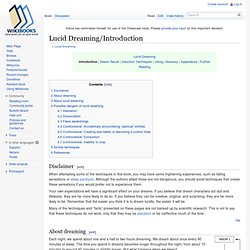 Although the authors attest these are not dangerous, you should avoid techniques that create these sensations if you would prefer not to experience them. Your own expectations will have a significant effect on your dreams. Lie Detection & Forensic Psychology Research, Links, Videos and Books. Interesting Info -> Lying Index: Detecting Lies & Lying Psychology Lying Articles, Links, Videos and More Since publishing How to Detect Lies, I recieve tons of email from students, writers and researchers requesting more information on lie detection.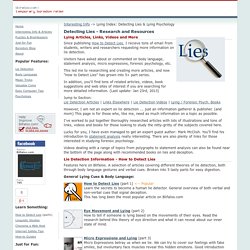 Visitors have asked about or commented on body language, statement analysis, micro expressions, forensic psychology, etc. This led me to researching and creating more articles, and now "How to Detect Lies" has grown into 5+ part series. What Does Your Body Language Say About You? How To Read Signs and Recognize Gestures - Jinxi Boo - Jinxi Boo. Art by LaetitziaAs we all know, communication is essential in society.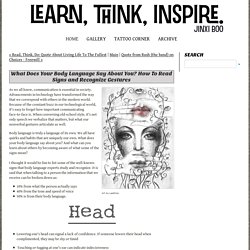 Advancements in technology have transformed the way that we correspond with others in the modern world. Because of the constant buzz in our technological world, it's easy to forget how important communicating face-to-face is. When conversing old-school style, it's not only speech we verbalize that matters, but what our nonverbal gestures articulate as well.
---