Quick
Print Recipe Posted by Ree in All PW Recipes , Appetizers , Tasty Kitchen Featured Zannie is my sister. Well, she's not really my sister.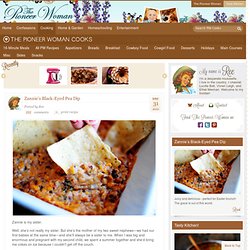 Zannie's Black-Eyed Pea Dip
Posted by Ree in All PW Recipes I have a category of "PW's Favorites" here on The Pioneer Woman Cooks. It's the designation I assign to those recipes that make my skirt fly up…and then some. If you're looking to cook a little somethin'-somethin' special this weekend (or next week), you can browse the entire category of my favorite recipes: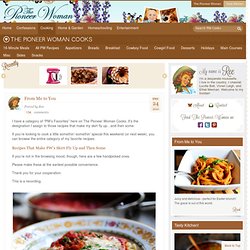 From Me to You
People keep asking me why, if I'm living in Sicily, I haven't posted any Italian or Sicilian recipes on this site. Well, the answer is simple. I just don't cook Italian food at home that often because I can go out and get good pasta or pizza anytime I want. In fact, it's very difficult to find restaurants in Sicily that serve anything but Italian food. I love the food here, but we like to experiment with different things at home.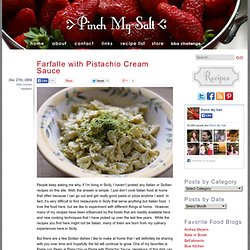 Farfalle with Pistachio Cream Sauce — Pinch My Salt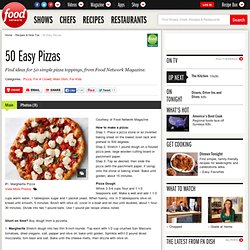 Courtesy of Food Network Magazine How to make a pizza: Step 1: Place a pizza stone or an inverted baking sheet on the lowest oven rack and preheat to 500 degrees. Step 2: Stretch 1 pound dough on a floured pizza peel, large wooden cutting board or parchment paper. Step 3: Top as desired, then slide the pizza (with the parchment paper, if using) onto the stone or baking sheet. Bake until golden, about 15 minutes.
Print Recipe Posted by Ree in 16-Minute Meals , All PW Recipes , Beef , Cowboy Food , Marlboro Man Approved , Tasty Kitchen Featured First, an important clarification: The Pioneer Woman Cooks is not meant to be an encyclopedia of innovative gourmet recipes. It is a reflection of what is going on in my kitchen day in and day out, whether that's necessarily thrilling or not. *The above disclaimer has never been more applicable than it is right now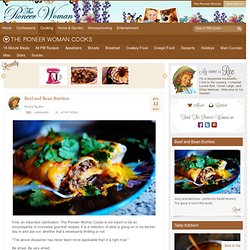 16 minute Beef and Bean Burritos