Craft Sources
Design*Sponge » Blog Archive » colorful + fun: pencil chimes! Hola, adorable idea!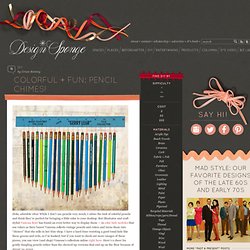 While I don't use pencils very much, I adore the look of colorful pencils and think they're perfect for bringing a little color to your desktop. But illustrator and craft stylist Vanessa Boer has found an even better way to display them — in color fade mobiles that use rulers as their bases! Vanessa collects vintage pencils and rulers and turns them into "chimes" that she sells in her Etsy shop. I have a hard time resisting a good tonal fade like these greens and reds, so I'm hooked, but if you want to check out more images of these pieces, you can view (and shop) Vanessa's collection online right here. Design*Sponge » Blog Archive » morning eye candy: dodoplan holiday decorations.
The holidays may be over, but I couldn't think of a better way to start the morning than with this sweet piece of eye candy from Dodoplan, a young design studio in Poland.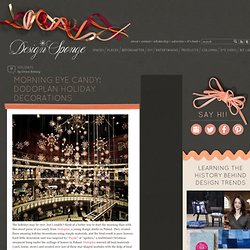 They created these amazing holiday decorations using simple materials, and the final result is pure heaven. Each little decoration unit was inspired by "Pajaki" or "spiders," a traditional Christmas ornament hung under the ceilings of homes in Poland. Dodoplan sourced all local materials (yard, tissue, straw) and created over 500 of these star-shaped modules with the help of local Polish folk artists.
After they were installed in the Stary Browar Art and Business Centre and the lights were turned on, the full effect was just breathtaking.
Jewlery
Paper Craft. Straw Clust Chandiler. Believe it or not, I have a drawer full of old drinking straws — superfluous craft supplies are an occupational hazard.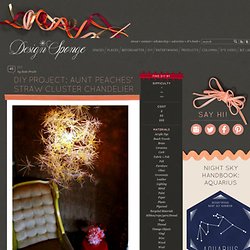 So I was thrilled to see this straw chandelier project come across my desk, because now I can use them for something beautiful! As those of you who saw Aunt Peaches' coffee filter flowers know, she is a genius when it comes to creating elegant designs out of mundane materials; so good, in fact, that often you can't tell what the material is at first glance.
A u d r e y * k a w a s a k i. Design*Sponge » Blog Archive » top 20 fabric resources. Image above via Diary of Dinners After last week's top 50 wallpaper sources post, I started getting requests for all sorts of "top" lists for basic home resources.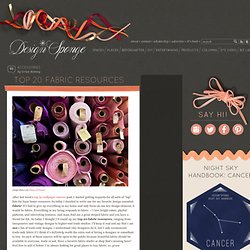 So today I decided to write one for my favorite design essential: fabric! If I had to give up everything in my home and only focus on one key design element, it would be fabric.
---