Connectivism and CAS in Learning
Get flash to fully experience Pearltrees
Late last week, I threw out a question to Gary Stager on Twitter: "when a constructivist constructs knowledge, where does it reside physically/biologically?".
Most learning is informal in nature and takes place "beneath the waterline," so it is therefore much harder to track and comprehend its impact compared to formal learning. According to the ASTD and i4cp Tapping the Potential of Informal Learning report, informal learning clearly has a strong presence in many of today's organizations.
A few days ago my Internet Time Alliance colleague, Harold Jarche, shared this article, written by Deb Lavoy, with me: Social Business Doesn't Mean What You Think It Does, Neither Does Enterprise 2.0 .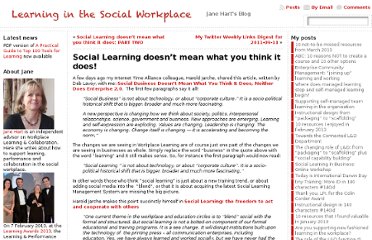 You are here: Home / eLearning 2.0 / 4 Big Ideas That Will Change The World Of Training
Editor's Note : This is a milestone article that deserves careful study.