Toys
Nostalgasm ®
It's Nerd vs. Nerd in a battle of wits! - WINNER POSTED - The NERD MACHINE Community - Page 3
Reflection of Life With LEGO bricks [32 PICS]
Knockoff Toys | SadAndUseless.com
All sizes | Nintendo Instructions
"Create The Impossible" by LEGO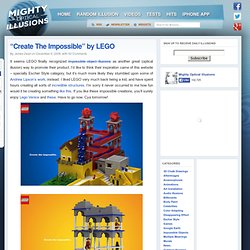 It seems LEGO finally recognized impossible object illusions as another great (optical illusion) way to promote their product. I'd like to think their inspiration came of this website – specially Escher Style category, but it's much more likely they stumbled upon some of Andrew Lipson's work, instead. I liked LEGO very much back being a kid, and have spent hours creating all sorts of incredible structures. I'm sorry it never occurred to me how fun would it be creating something like this.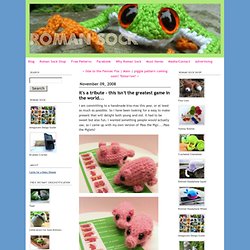 I am committing to a handmade kiss-mas this year, or at least as much as possible. So I have been looking for a easy to make present that will delight both young and old. It had to be sweet but also fun, I wanted something people would actually use, so I came up with my own version of 'Pass the Pigs'....Pass the Piglets! I had to modify the game a little, this is the score card I came up with. I wanted everything to fit into a little container so I made this poke everything tucks in quite nicely!
it's a tribute - this isn't the greatest game in the world...
Coolest Things Built with Legos with Pictures
Though most people quit playing LEGOs when they realized that their own creative abilities were limited, some people never stopped dreaming in blocks and figurative mortar. Have you ever wondered which are the coolest LEGO creations on the planet, and for what utilitarian good LEGOs can be used? Prepare to learn about the most interesting and successful LEGO creations ever made. Can't afford a real Apple iPhone? No problem! For just a few dollars worth of LEGOs, you can create your own replica.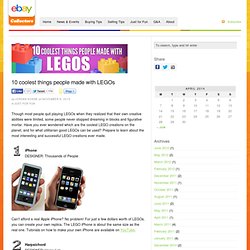 "20 Awesome Toy Fads: A Flashback" - Awesomeness
In contrast to my 10 Hottest Toys of 2009 list, which was very high tech, I decided to take a look back at the history of hot toys and create a list of toy crazes past. Don't lie, I know everyone's gotten sucked into at least one of these toy crazes, if not several! These toys are listed in chronological order and in creating it, I was so surprised to find out that some of these toys were around before my parents were even born, yet they were still popular when I was a child in the 90's.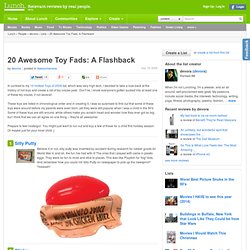 On December 27, 2012 Maxfield & Oberton Holdings, LLC (the "Company") stopped doing business and filed a Certificate of Cancellation with the Secretary of State of Delaware, thereby ceasing to exist pursuant to applicable Delaware law. The MOH Liquidating Trust has been established to deal with and, to the extent they are valid, pay, to the extent assets are available, certain claims which have been, and may later be, asserted against the Company. If you believe you have a claim against the Company, please click on link below to obtain the Proof of Claim form which you must complete and submit to the Trustee of the MOH Liquidating Trust. If the Trustee determines that a claim is valid, the Trustee will pay that claim, to the extent assets are available, in accordance with the terms of the MOH Liquidating Trust.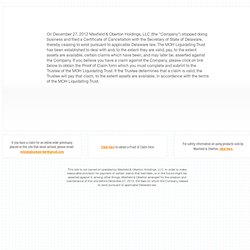 5 reasons you should buy "BIGFOOT the Monster" toy today! BIGFOOT the Monster! As a parent there is a constant struggle when it comes to gifts. On the one hand you want to give gifts that teach your child to use their imagination, to help them grow and develop as a person and increase their skills.
The Bigfoot Toy from Imaginext is this years hottest Christmas gift!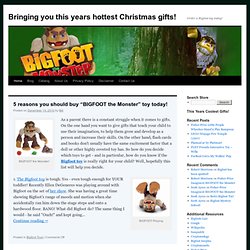 betsy mccall home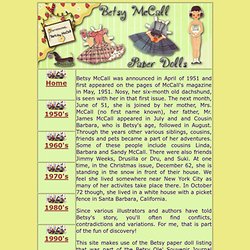 Betsy McCall was announced in April of 1951 and first appeared on the pages of McCall's magazine in May, 1951. Nosy, her six-month old dachshund, is seen with her in that first issue. The next month, June of 51, she is joined by her mother, Mrs. McCall (no first name known), her father, Mr. James McCall appeared in July and and Cousin Barbara, who is Betsy's age, followed in August.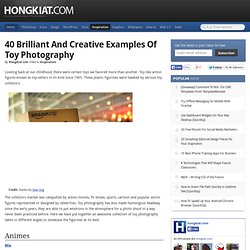 40 Brilliant and Creative Examples of Toy Photography
Looking back at our childhood, there were certain toys we favored more than another. Toy-like action figures known as top-sellers in its kind since 1965. These plastic figurines were hawked by serious toy collectors. Credit: Danbo by Sean Eng The collectors market was catapulted by action movies, TV shows, sports, cartoon and popular action figures represented or designed by celebrities. Toy photography has also made humongous headway since the early years, they are able to put emotions in the atmosphere for a photo shoot in a way never been practiced before.
LEGO... WTH?!?! Awesome stop-motion video :D
Where Tetris Blocks Really Come From | WildAmmo.com
Childhood Flashback theBERRY
Tarsier, Baby 6 inch (4558)
Animal Facts: Tarsiers are prosimian primates of the genus Tarsius, a monotypic genus in the family Tarsiidae, which is itself the lone extant family within the infraorder Tarsiiformes. Although the group was once more widespread, all the species living today are found in the islands of Southeast Asia. Tarsiers have very soft, velvety fur, which is generally buff, beige, or ochre in color. Details: Age Group: The Recommended age for Hansa animals is 3 and up to comply with ASTM93 safety standards.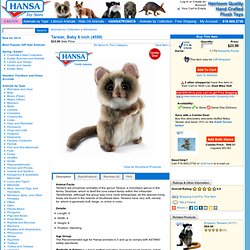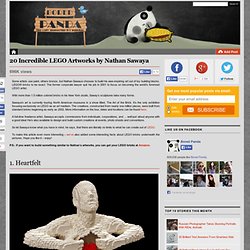 20 Incredible LEGO Artworks by Nathan Sawaya
Some artists use paint, others bronze, but Nathan Sawaya chooses to build his awe-inspiring art out of toy building blocks. LEGO® bricks to be exact. The former corporate lawyer quit his job in 2001 to focus on becoming the world's foremost LEGO artist. With more than 1.5 million colored bricks in his New York studio, Saway's sculptures take many forms. Sawaya's art is currently touring North American museums in a show titled, The Art of the Brick. It's the only exhibition focusing exclusively on LEGO as an art medium.
Lego 'doing it wrong' ads
Anonymous said... please. lego is doing it right. October 20, 2010 at 2:42 AM
You know the toys. You've seen the commercials. But you definitely haven't heard these stories. Listen up as game inventor Tim Moodie reveals the glorious secrets behind your favorite classic toys. 1. How the Slinky got stuck between a cult and a mid-life crisis
The Secrets Behind Your Favorite Toys