Preschool ideas
It's Eric Carle's birthday, and An Amazing Child is hosting a link party for play ideas inspired by his works. Eric Carle illustrated the book, Brown Bear, Brown Bear, What Do You See? written by Bill Martin Jr. I created an animal hunt for my daughter based on the book. I gathered the animals found in the book.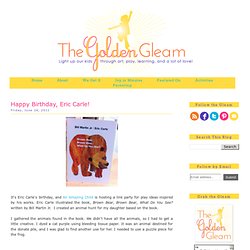 Happy Birthday, Eric Carle!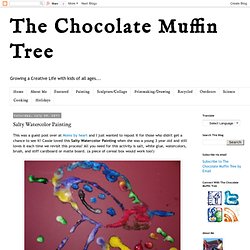 This was a guest post over at Moms by heart and I just wanted to repost it for those who didn't get a chance to see it! Cassie loved this Salty Watercolor Painting when she was a young 3 year old and still loves it each time we revisit this process! All you need for this activity is salt, white glue, watercolors, brush, and stiff cardboard or matte board. (a piece of cereal box would work too!)
The Chocolate Muffin Tree: Salty Watercolor Painting
3 Easy Peasy Summer Activities | TinkerLab
sticker resist watercolor greetings | paint cut paste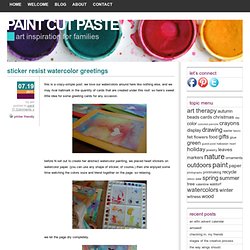 this is a crazy-simple post. we love our watercolors around here like nothing else, and we may rival hallmark in the quantity of cards that are created under this roof. so here's sweet little idea for some greeting cards for any occasion. before N set out to create her abstract watercolor painting, we placed heart stickers on watercolor paper. (you can use any shape of sticker, of course.) then she enjoyed some time watching the colors ooze and blend together on the page. so relaxing. we let the page dry completely.
Sandwich Bag Science for Kids | The Honorable Mention Preschool Blog
Keep kids cool in the warm weather with this simple and fun project we like to call, Sandwich Bag Science! We like to do it in groups of three or four with the kids holding the bags up over their head. On a nice hot day I like to have them 'hypothesize' what they think could possibly happen before, during, and after we finish. Here is what you'll need for your groups: Sandwich bags (one per group) Rubber bands (for tying bags) Water Sharp pencils (plenty of them) Procedure: I tell the children as little as possible about the project. I have them fill the bags with water, tie them with a rubber band and get in groups with plenty of pencils.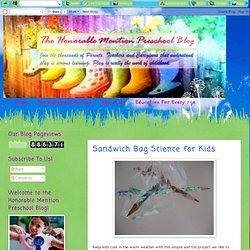 Kids Bubble Wrap Activities | The Honorable Mention Preschool Blog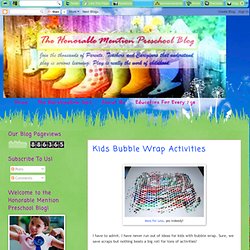 I have to admit. I have never run out of ideas for kids with bubble wrap. Sure, we save scraps but nothing beats a big roll for tons of activities!
Splat Painting is messy, fun, big. outdoors, creative and it goes SPLAT - all the ingredients necessary to lure them out of the sandpit. This version of Splat Painting was inspired by Paint Create Explore . All you need to get splatting is: 2 or 3 colours of paint in containers (we used take-away containers) Cut up pieces of kitchen sponge Fly Swatters Big pieces of paper (I didn't mix the colours together beforehand - our kids love to do this themselves):
splat painting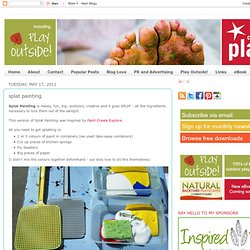 Yesterday, the girls had fun with magnet painting . This is something they both remember doing at preschool and were excited to experiment with it again! You will need: magnetic marbles magnet wand washable paint a shallow box or tray (not metal!) paper I think you can see the basic set-up in the picture below.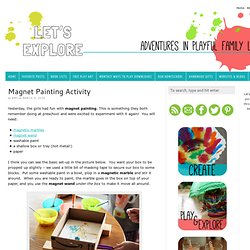 Magnet Painting for Kids
Painted SticksAesthetic Outburst | Apartment Therapy Ohdeedoh
No matter the season, our nature table is never without sticks big and small. While some hold special meaning to my kids, the others are just, well, sticks. We do spend a lot of time gathering these twigs and sticks on our walks, so rather than just releasing them back into the wild, I'm going to keep our stash and try out this project we saw over at Aesthetic Outburst . Abbey and her daughter were inspired by the painted stick collection of artist Ginette Lapalme and came up with their own painted version. They turned out beautifully don't you think? These would look beautiful on a white tray, gathered in a glass container or even strung up in a mobile.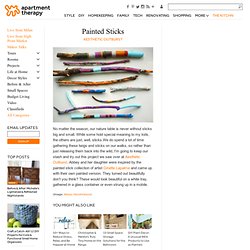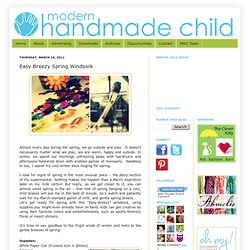 Modern Handmade Child: Easy Breezy Spring Windsock
Almost every day during the spring, we go outside and play. It doesn't necessarily matter what we play; we are warm, happy and outside. In winter, we spend our mornings unfreezing pipes with hairdryers and afternoons hunkered down with endless games of monopoly. Needless to say, I spend my cold winter days longing for spring. I look for signs of spring in the most unusual place – the dairy section of my supermarket. Nothing makes me happier than a March expiration date on my milk carton!
Rolling Rock Painting | TinkerLab
I see this: and I smile! My three year old draws these quirky little happy faces all the time.
Make Your Own Magnets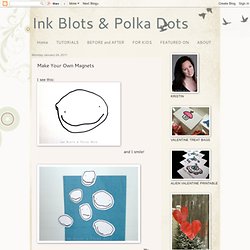 Spooky Marble Spider Webs | TinkerLab
By Kate on April 13, 2010 W e decided to have a go at ice painting the other day and it was a roaring success. My three year old, who loves getting messy, and who is fascinated with ice was in his element. The results also looked brilliant and will make the most amazing gift wrap.
Ice cube painting
Art : Ribbon Painting [hands on : as we grow]
colourful bubbles & some common sense!
We mentioned in our post on Ellie V Pullen Preschool last term, that the children were enjoying a bubble blowing art activity. Bubble mixture (just water and detergent) are placed in a bowl with some Edicol dye added. This is an activity we've done many times over the years – children love it! We noticed at Ellie V Pullin that they joined two straws together so when the bubbles come up and over the edge of the rim of the container, the children's faces didn't get covered in bubbles … the way they always did at our kinder!
I saw a picture of these the other day on Allrecipes.com and thought it was such a cute idea, I had to try it. After googleing it, I found a good tutorial on Stacy's Sweet Shop . I modified a few things to make it more simple for me (less homemade more store bought). To see the original Melted Snowman Cookie , and meet the inventor herself, go check out Meaghan (great name) @ The Decorated Cookie ! Here's what I used:
Creativity for Kids - Activities for Kids at WomansDay.com
You probably already know how important it is for kids to indulge their creative side, but even when they're up for being imaginative, many projects are mostly a lesson in following instructions. That's certainly valuable, but true creativity also involves figuring things out for themselves. Neal Bascomb learned this lesson while writing his book, The New Cool . The author followed a team of 31 high school seniors in Goleta, California who, in the span of just six weeks working alongside mentors, built a robot for an international competition.
The " Down By the Station " song is fun to do along with the craft. This request came in from "Amy" who was looking for a train craft for preschoolers. I have two daughters so don't get too many train requests myself. Amy on the other hand has a son... I wonder if he had one of those little conductor's hats as a baby.
DLTK's Train Craft for Kids
Coloring Pages
Layer Liquids
Gifts of Love | Last-Minute Christmas Gift Ideas
Water Experiments