Inspiration
Weird Awesome Stuffs. Notes Left Behind: Elena Desserich's Amazing Gift. Slow Down « Demotivators Blog. Give Them Time. For This Kid Everything Is Possible. Post for those who think that they're out of luck in life!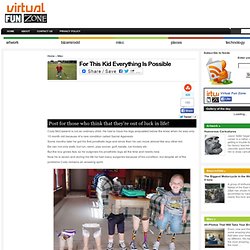 Cody McCasland is not an ordinary child. He had to have his legs amputated below the knee when he was only 15 month old because of a rare condition called Sacral Agenesis. Some months later he got his first prosthetic legs and since then he can move almost like any other kid. Нe can not only walk, but run, swim, play soccer, golf, karate, ice hockey etc. But the boy grows fast, so he outgrows his prosthetic legs all the time and needs new.
Rick Smolan tells the story of a girl. Don't Hope Friend....Decide. It's Now Or Never Don't Hope Friend....Decide By Michael D.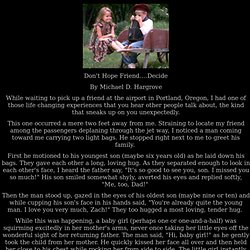 Hargrove While waiting to pick up a friend at the airport in Portland, Oregon, I had one of those life changing experiences that you hear other people talk about, the kind that sneaks up on you unexpectedly. Snack Lunches - Lest We Forget - Remembrance Day - Veterans Day | e-Forwards.com. I put my carry-on in the luggage compartment and sat down in my assigned seat.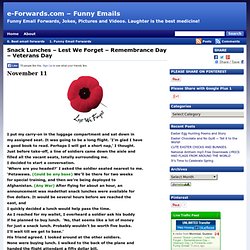 It was going to be a long flight. 'I'm glad I have a good book to read. How To Treat Others: 5 Lessons From an Unknown Author. Five Lessons About How To Treat People -- Author Unknown 1.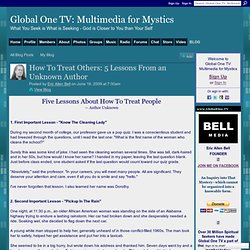 First Important Lesson - "Know The Cleaning Lady" Children stick up for one another during class project. Fuck Yeah Love! We love Balenciaga's crisp lines, slim silhouettes, and impeccable Parisian craftsmanship and this shoulder bag is on the top of our must-have lists.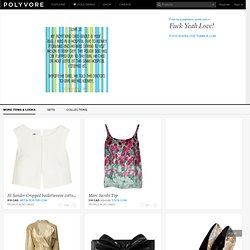 Dusty rose all-over coloring offsets the hot pink trim and buckle and stud detailing, giving your four-season silhouettes that understated urbane refinement. Removable shoulder straps. Top zipper, antique brass hardware. Zippered front pocket. Unlined, two front slot pockets. Pilot Stops Plane for Family of Murdered Child. Jonathan Klein: Photos that changed the world. A Facebook story &124; A mothers joy and a familys sorrow &124; The... - StumbleUpon. Www.ludomancy.com/games/today.php?lang=en. Aimee Mullins and her 12 pairs of legs. Things I Always Wanted To Say!!! The Wallet. As I walked home one freezing day, I stumbled on a wallet someone had lost in the street.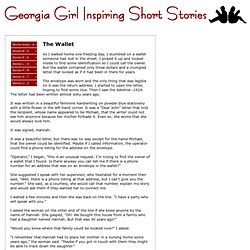 I picked it up and looked inside to find some identification so I could call the owner. But the wallet contained only three dollars and a crumpled letter that looked as if it had been in there for years. The envelope was worn and the only thing that was legible on it was the return address. I started to open the letter, hoping to find some clue.
---