Drinks and Shakes
Get flash to fully experience Pearltrees
Who doesn't like Hot Chocolate? There is nothing quite like sitting in front of a fire or heater with the "perfect" Hot Chocolate on a cold day… But like everything chocolate – it depends on your own taste buds as to what you consider "perfect" to be. So today I'm giving you five variants on this old favorite in the hope you will find one to suit your taste buds.
I've had a few requests over the last few weeks for some smoothie recipes because I let it slip that Betsy and I generally just have a big smoothie for breakfast everyday. Turns out our daily smoothie recipe is a mix between yellow, red, and indigo, but that'll make more sense to you later.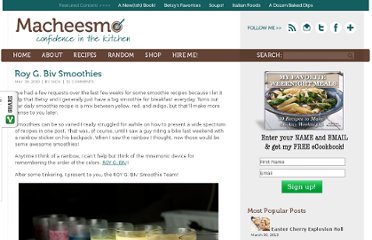 Cherry Limeade While my family loves fresh homemade lemonade, we also like to change it up and make limeade too.
For an interesting twist to serving iced tea, add these watermelon and mint ice cubes.
Let's just close out eyes and pretend we're sitting under an orange tree. An orange tree heavy with fruit… but with the occasional late blooming blossom. There are honey bees too.
While I have never been a huge Elvis music fan, I can definitely relate to his love of the peanut butter-banana combo.
Skip to main content