Bread
Cinnamon Toast Rolls. The USDA released its new food pyramid the other day (which is actually a plate now instead of a pyramid), and I am sorely disappointed to report that cinnamon rolls did not appear anywhere on that plate.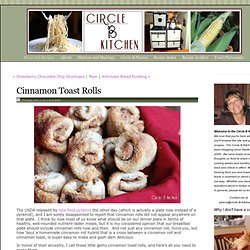 I think by now most of us know what should be on our dinner plate in terms of healthy, well-rounded nutrient-laden meals, but it is my considered opinion that our breakfast plate should include cinnamon rolls now and then. And not just any cinnamon roll, mind you, but how 'bout a homemade cinnamon roll hybrid that is a cross between a cinnamon roll and cinnamon toast, is super easy to make and gosh darn delicious.
In honor of their ancestry, I call these little gems cinnamon toast rolls, and here's all you need to make them… Yep. That's it… some soft white bread, some butter and some cinnamon sugar. 28 Muffin Recipes You'll Want to Try. I love muffins.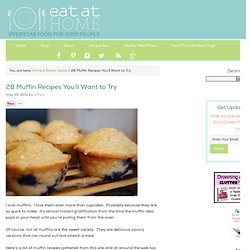 I love them even more than cupcakes. Probably because they are so quick to make. It's almost instant gratification from the time the muffin idea pops in your head until you're pulling them from the oven. Of course, not all muffins are the sweet variety. Make-Ahead Muffin Melts. This is another recipe from my mother's recipe collection.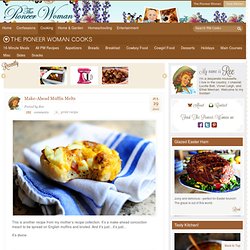 It's a make-ahead concoction meant to be spread on English muffins and broiled. And it's just…it's just… It's divine. Apple braid. Hi all, I'm Rachael from La Fuji Mama and am tickled to have been asked by Jenna to share one of my crazy concoctions here on Eat, Live, Run!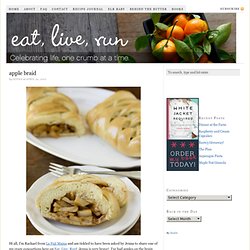 Jenna is very brave! I've had apples on the brain lately, partially due to these three handsome little fellas sitting on my counter top waiting for me to decide what they would become. I love a good apple pie, but wasn't really in a pie mood. Then, when I woke up one morning craving homemade bread, inspiration struck. Apples + Homemade Bread = An Apple Braid! Radishes and Rhubarb: Blueberry Muffins with a Lemon Glaze. When my eldest daughter was born my husband and I were surprised and delighted to discover that she had blue eyes.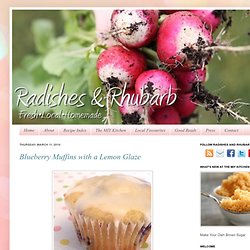 We had anticipated a brown eyed baby but she was born with the most amazingly deep blue eyes. A few months later, when I was out for a walk with her, I had an encounter with a stranger that reminds me to this day how striking my daughter's eyes were when she was born. Breakfast Bruschetta with Strawberries and Tangy Cream. If you love someone…don't set them free…make these.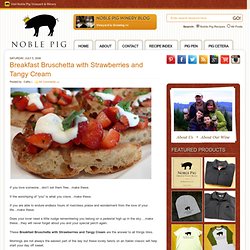 If the worshiping of "you" is what you crave…make these. If you are able to endure endless hours of merciless praise and wonderment from the love of your life…make these. Bacon-Cheese Pull Aparts « NancyCreative. Last Friday was our once-a-month snack time at work.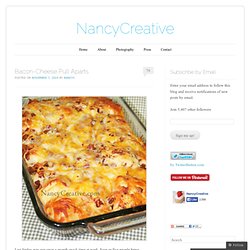 Four or five people bring something each time for our large group. Knowing there was going to be a lot of good food at work that morning, I brought my camera so I could take some pictures. Tammy brought several yummy things, and this was one of them. Everyone loved her Bacon-Cheese Pull Aparts! She found this recipe at Food.com and said it was really easy to make. Quick Bread Recipe | Apple Cinnamon Bread | Two Peas and Their Pod. Apple Cinnamon Bread I love all kinds of apples, but Josh only likes Granny Smith.
I try to encourage him to eat an apple a day, but sometimes he forgets and eats donuts instead:) I always try to keep Granny Smith apples on hand, just in case he gets an apple craving. The donuts have been winning lately, so I decided to make a loaf of apple cinnamon bread with our abundance of apples. Homemade CinnaBuns- The easy way! These cinnamon rolls have power behind them – real power.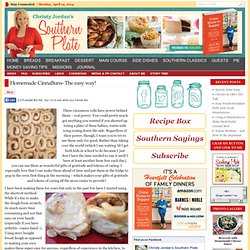 You could pretty much get anything you wanted if you showed up toting a plate of these babies, warm with icing oozing down the side. Regardless of their power, though, I want you to try to use them only for good. Rather than taking over the world (which I am waiting 'til I get both kids in school to do because I just don't have the time needed to run it until I have at least another hour free each day), you can use them as wonderful gifts of gratitude and tokens of caring. I especially love that I can make these ahead of time and put them in the fridge to pop in the oven first thing in the morning – which makes your gifts of gratitude and tokens of caring all the more easier to provide! Cinnamon Sugar Pull-Apart Bread. I'm sorry.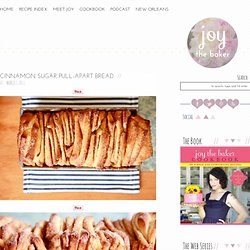 I know it's Monday morning and you probably came here for some pretty pictures of food that you could glance at, and then move on with your day… and here I go thrusting warm, soft cinnamon sugar bread in your face. It's not fair. I know it's not fair. I know that now you're craving cinnamon rolls, and cream cheese frosting and chili fries and hot dogs. Grands!® Cinnamon Pull-Apart Bread Recipe.
Scrumptious Baked Cinnamon Breakfast Bites. I love a good donut, especially a homemade one. What I don't love is the pain associated with deep frying them. It is messy, time consuming and certainly more fattening. These baked Cinnamon Breakfast Bites mimic what I love about donut holes but without all the added stress and calories. They are super scrumptious and I encourage you to try them out yourself and see how long they last in your house!
Vanilla Pudding Cinnamon Rolls with Cream Cheese Frosting. Per the requests I got after my last cinnamon roll post, here is the recipe for my tried-and-true vanilla pudding cinnamon rolls with cream cheese frosting. The vanilla pudding is simply added to the dough to make it extremely soft and pliable – and oh, does it ever. (No surprise, this recipe comes direct from my Aunt Marilyn whose recipes have made a great showing on this blog already.)
I made these last week and it confirmed my feelings: I am in love with these cinnamon rolls. The dough is so extremely tender and soft, it will blow your mind, and the cream cheese goodness of the frosting is beyond delicious. Don't Forget Delicious! » Blog Archive » Fastest Cinnamon Rolls. Heat the oven to 400°F. Grease the sides and bottom of a 8 or 9″ baking pan with cooking spray. Combine the ricotta cheese, buttermilk, sugar, melted butter, and vanilla in food processor and process until smooth, about 10 seconds.
---