A little bit of everything
Animal Thinking In Mind. March 7th, 2011 Huda Ikraam You may know that animals also talk to each others but humans cannot understand it.Every animals communicated with others animals with special tone of voice.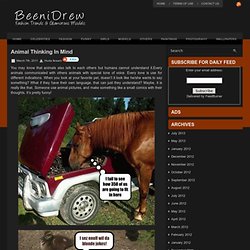 Every tone is use for different indications. Unexpected City Visitors. 10 Amazing Hybrid Animals. Published on Tuesday, March 22, 2011 by administrator EmailShare 0EmailShare From the Zebroid (Zebra + Equine) to a Beefalo (Buffalo + Cow), some of the most intriguing hybrid animals. 1.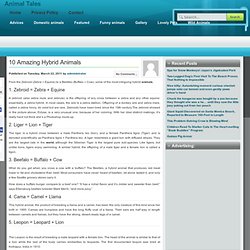 Smiling animals (20 pictures. 50 Breathtaking Examples of Wildlife Photography. Photographers are always searching for resources and places where they can take great shots and find ideas for new photographs.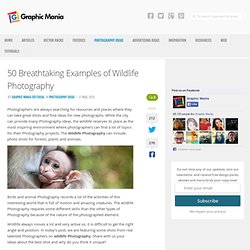 While the city can provide many Photography ideas, the wildlife reserves its place as the most inspiring environment where photographers can find a lot of topics for their Photography projects. The Wildlife Photography can include photo shots for forests, plants and animals. Birds and animal Photography records a lot of the activities of this interesting world that is full of motion and amazing creatures. The wildlife Photography requires some different skills than the other types of Photography because of the nature of the photographed element. Wildlife always moves a lot and very active so, it is difficult to get the right angle and position.
Mini Sized Animals « Crazy People With Crazy Things. Mother's Day In the Animal World - TRINSI. 30+ Adorable Examples of Baby Animal Photography | Photography Center. 26 LOL Animal Pics (3.5.11) | Photography of Cute Snoozing Animals. A comfortable sleep is definitely nothing but a blessing by God if you have got it.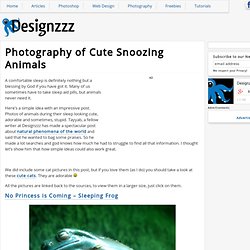 Many of us sometimes have to take sleep aid pills, but animals never need it. Here's a simple idea with an impressive post. Photos of animals during their sleep looking cute, adorable and sometimes, stupid. Tayyab, a fellow writer at Designzzz has made a spectacular post about natural phenomena of the world and said that he wanted to bag some praises. 30 Lovely and Funny Baby Animal Photos | Photography Center. *Not applicable to ICANN fees, taxes, shipping and handling, sale priced domains and transfers, bulk domains and transfers, premium domains, Sunrise/Landrush domain registrations and pre-registrations, memberships or maintenance plans, additional disk space and bandwidth renewals, additional email addresses, additional AdSpace advertising funds, Managed Hosting, custom page layouts, brand identity services, Go Daddy branded merchandise or gift cards.
Discount reflected in your shopping cart - cannot be used in conjunction with any other offer, discount or promotion, or in connection with special partnership discount programs. After the initial purchase term, discounted products purchased with special offer discounts will renew at the then-current renewal list price. Things that make you go aahh. BabyAnimalz.com - Pictures of Cute Baby Animals and a couple ugly ones. The Cute Project - Collecting the World's Cuteness! Albino Animals. Cute bunny song. Welcome Our First Hyena Cub. Some Fun Animals To Cheer You Up - MMOABC. 2009 Photo Contest. The winners of our 39th annual photography competition 01-06-2010 // Hannah Schardt A great wildlife photograph celebrates the unexpected, and the 39th annual National Wildlife Photo Contest is full of improbable images: A bald eagle and its prey appear frozen in midair.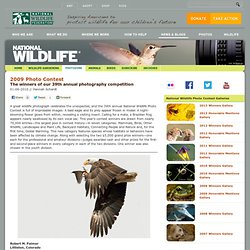 A night-blooming flower glows from within, revealing a visiting insect. Calling for a mate, a Brazilian frog appears nearly swallowed by its own vocal sac. That Cute Site - Videos & Pictures of Cats and Dogs. 25 Blissfully Cute Baby Animal Pictures. "All of the animals except for man know that the principle business of life is to enjoy it."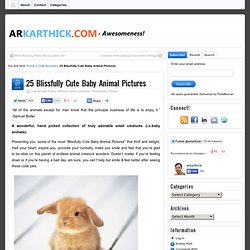 -Samuel Butler A wonderful, hand picked collection of truly adorable small creatures (i.e.baby animals). Presenting you, some of the most "Blissfully Cute Baby Animal Pictures" that thrill and delight, melt your heart, inspire you, provoke your curiosity, make you smile and feel that you're glad to be alive on this planet of endless animal creature wonders. Little Cuties - AmO Images: Capturing the Beauty of Life - AmO Images: Capturing the Beauty of Life. Is There Anything Cuter Than This? Here's your "Aaawh!" for today [70 Images] What is a better than a collection of 70 cute animals to cheer up your day?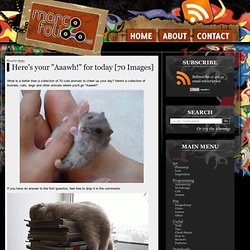 Here's a collection of bunnies, cats, dogs and other animals where you'll go "Aaawh! ". If you have an answer to the first question, feel free to drop it in the comments. I didn't take these photos myself. If you're the rightful owner, please contact me and I'll put your name in the post. Please proof that the picture is yours, I collected them from around the net. Top 15 Interesting Photos Of Animal Life « Top lists. Nap Tiem - Sleeping Animals of All Kinds. Amazing Photographs from the Animal Kingdom.
30 Adorable Animal Photography Examples | Digital Photography Shots. Animal Photography is probably the toughest type of photography.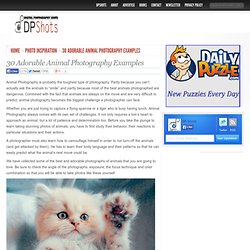 Partly because you can't actually ask the animals to "smile" and partly because most of the best animals photographed are dangerous. Combined with the fact that animals are always on the move and are very difficult to predict, animal photography becomes the biggest challenge a photographer can face. Whether you are just trying to capture a flying sparrow or a tiger who is busy having lunch, Animal Photography always comes with its own set of challenges. It not only requires a loin's heart to approach an animal, but a lot of patience and determination too. Before you take the plunge to learn taking stunning photos of animals, you have to first study their behavior, their reactions to particular situations and their actions.
50 Most Adorable Pets That Will Always Make You Smile | The Pets Central. Animals That Love To Smile. 25 LOL Animal Pics (2.12.11) | Really funny stuff - These funny animals (46 pics) Strange and Bizarre Creatures. Featured, Science — By BB Admin on January 12, 2011 4:53 pm Human beings seek out the strange and unusual in books, movies, television, video games, and comic books.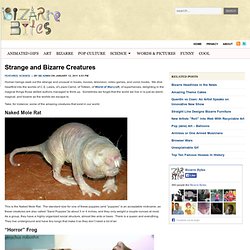 We dive headfirst into the worlds of C.S. Lewis, of Lewis Carrol, of Tolkien, of World of Warcraft, of superheroes, delighting in the magical things those skilled authors managed to think up. Sometimes we forget that the world we live in is just as weird, magical, and bizarre as the worlds we escape to. Take, for instance, some of the amazing creatures that exist in our world.
Animals As Incredible Parents. Animals that are better than you. Adawable [15 PICS] Cutest Book Ever: ZooBorns Internet Craze Moves to Print | Wired Science. 10 Amazing Facts About Animals. 25 Photos of Camouflaged Animals. 22 Animals With Invisible Stuff. 50 LOL Animal Pics (1.22.11) | The Strangest Animals In Danger Of Extinction | Orange Donkey - Best Pet, Happy Pets, Pets Photos. Animals Who Like To Paint. Animal Magic. Bizarre Animals Facts. Zoo Installation Shows Trouble In Wildlife Paradise. Blankets And Baby Bats. Green Gardener: So Sweetly Sleeping. Heart Warming Photos in the Animal Kingdom. Find Me If You Can. 15 Adorable Animal Athletes | Photography Center. Nature's Oddities: The Strangest Creatures on Earth. 25 Tips for a Successful Workout on Snuzzy.
---