Sweets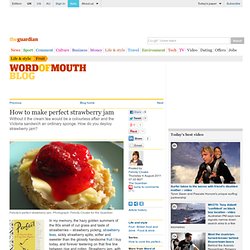 Buy Felicity Cloake's Perfect for £12.99 from the Guardian bookshop In my memory, the hazy golden summers of the 80s smell of cut grass and taste of strawberries – strawberry picking, strawberry teas, sickly strawberry splits; softer and sweeter than the glossily handsome fruit I buy today, and forever teetering on that fine line between ripe and rotten. Strawberry jam, with its mushy, slightly leathery fruit and syrupy flavour, always takes me back to those sunburnt days, when rollerskates were supercool, and summer fruit came with a lurid scoop of Gino Ginelli rather than a sprinkling of black pepper. In jam form, of course, the strawberry is the perfect compliment to those other stalwarts of the rose-tinted picnic rug of summers past, the scone and the Victoria sponge.
How to make perfect strawberry jam | Life and style
I like a wild-looking rose, a little unkempt and blowsy. Anything that will climb and clothe a tree wins favour with me. I also like a rose that will look after itself: if I have to worry how to hide its bare legs or prune it into the right shape, I look the other way. So it's a good thing I inherited 'Albéric Barbier', which is a hardy, semi-evergreen rambler.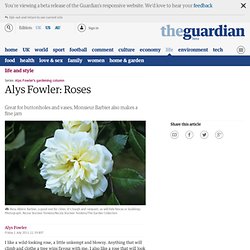 Alys Fowler: Roses | Life and style
I'm not the only one who is sometimes confounded by the French language. We recently had lunch at Café des Musées and my (French) partner ordered the entrecôte. Which I was eyeing on the menu, as I always do. But since I just finished a holiday food binge of epic proportions (plus a recent trip to San Francisco, where I gorged on tortillas, chow fun, and burritos), I decided to be a little more prudent and order the daily chalkboard special, a game dish that came with a salade de saison. Americans have an interesting relationship with steaks and beef: Before ordering, most people want to know what cut they're going to get. Fair enough, as the French have their own specific cuts, such as bavette, onglet, rumsteack, and faux filet, among others.
Brussels Sprouts + Bacon + Maple Syrup + Mustard, while the weather's still cool March 31, 2014 I've recently renewed my committment to Brussels sprouts. I've always loved them, but never made them as often as I have in the past month or two. Maybe it's because I'm holed up in Connecticut, where the wind whips off the pond and winter seems endless. (It snowed, sleeted and hailed this morning!)
Dorie Greenspan