ESL
This is a terrific activity that can work great for drama students, but it could also be incorporated into any class that involves writing, advertising, or public speaking. It works best with a full classroom, between 18 and 30 participants. As a teacher, I often use this activity at the beginning of the semester because it serves as a terrific ice-breaker, and it creates a fun and productive classroom environment.
Ice Breaker Activity - Create a Commercial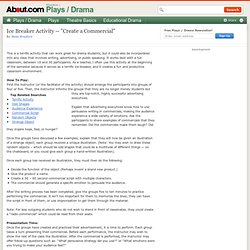 ESL Lessons - I've Never
We've created this page to provide resources, lessons, and ideas on teaching conversation. There are printable materials for classroom use, a discussion forum and links to other web sites about teaching. Ideas for Using Conversation Questions Lessons The Expert Game - A fun, fast-paced conversation activity for high-beginner through advanced students. Find Out If - A conversation activity for intermediate and advanced learners.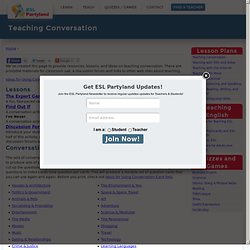 This site is no longer being actively maintained, but I've received enough grateful emails from teachers over the years to know that it's still being used. I guess pedagogy never grows old, it just gets rediscovered! (The Links page, on the other hand, was hopelessly out of date, but I've just tidied that up too). — March 2012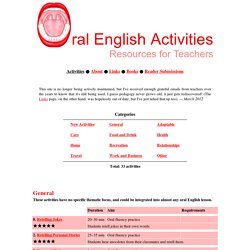 Oral English Activities